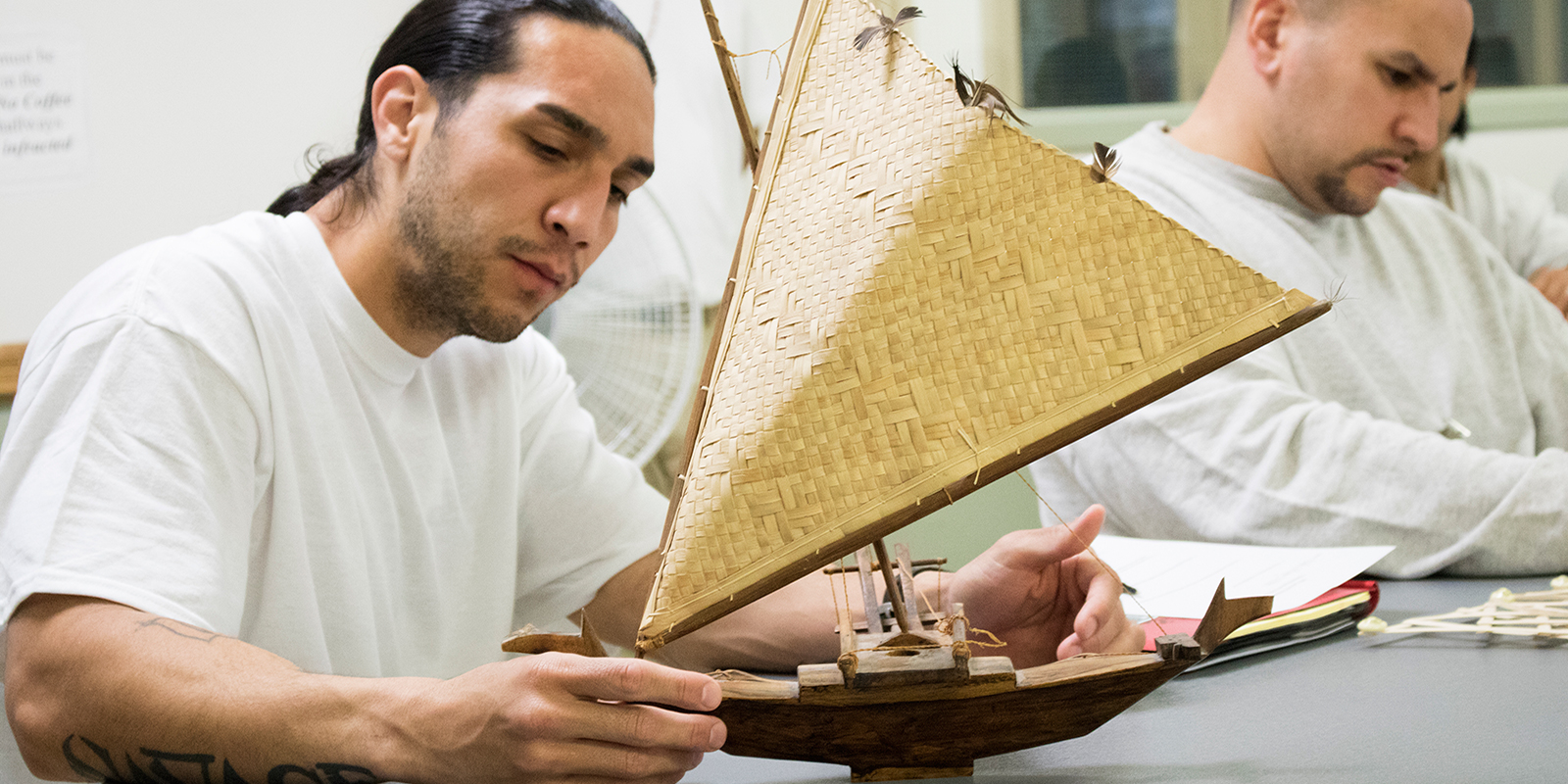 Photo: Andrea Godinez/Burke Museum
Photo: Andrea Godinez/Burke Museum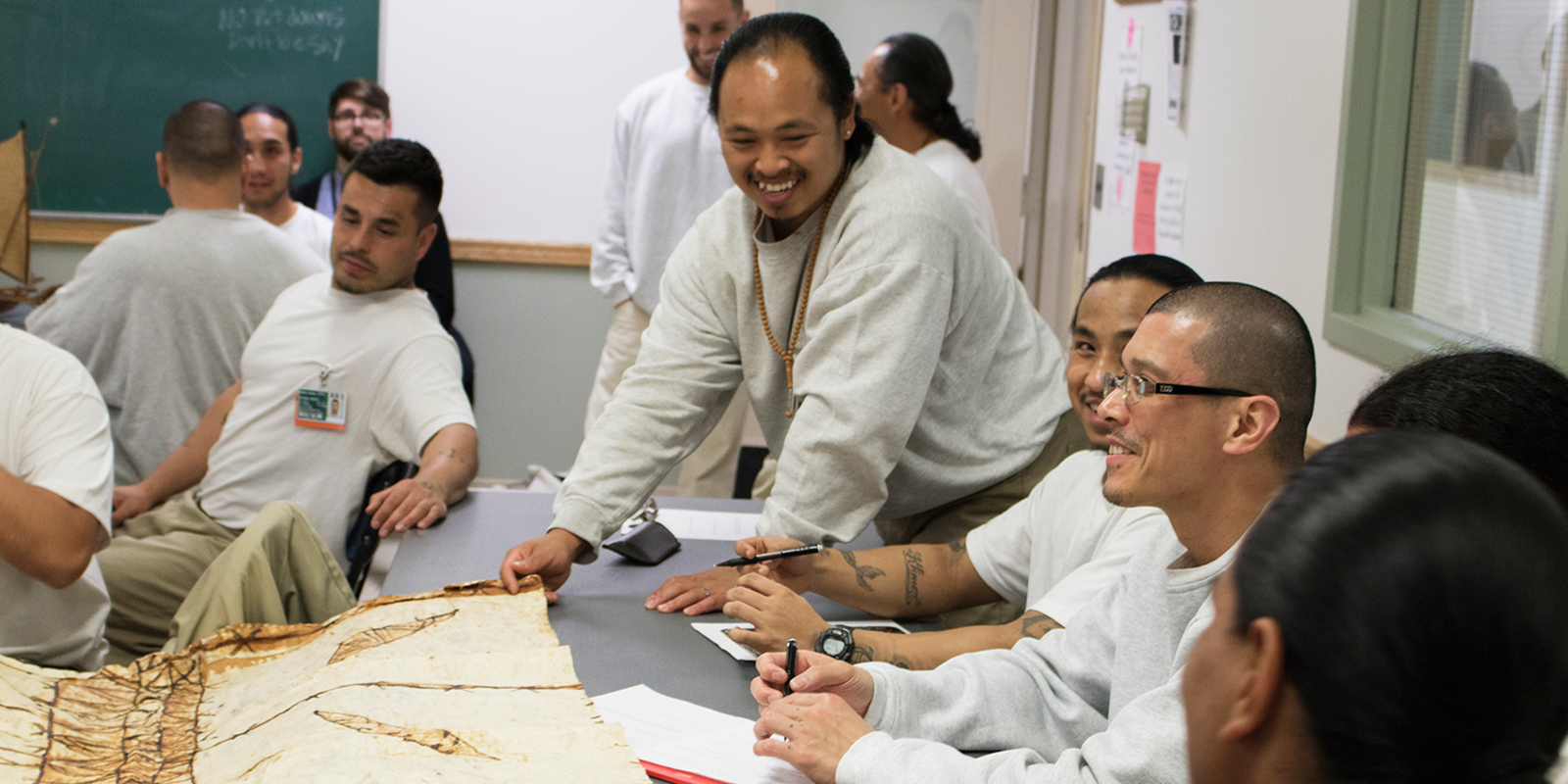 Photo: Andrea Godinez/Burke Museum
Photo: Andrea Godinez/Burke Museum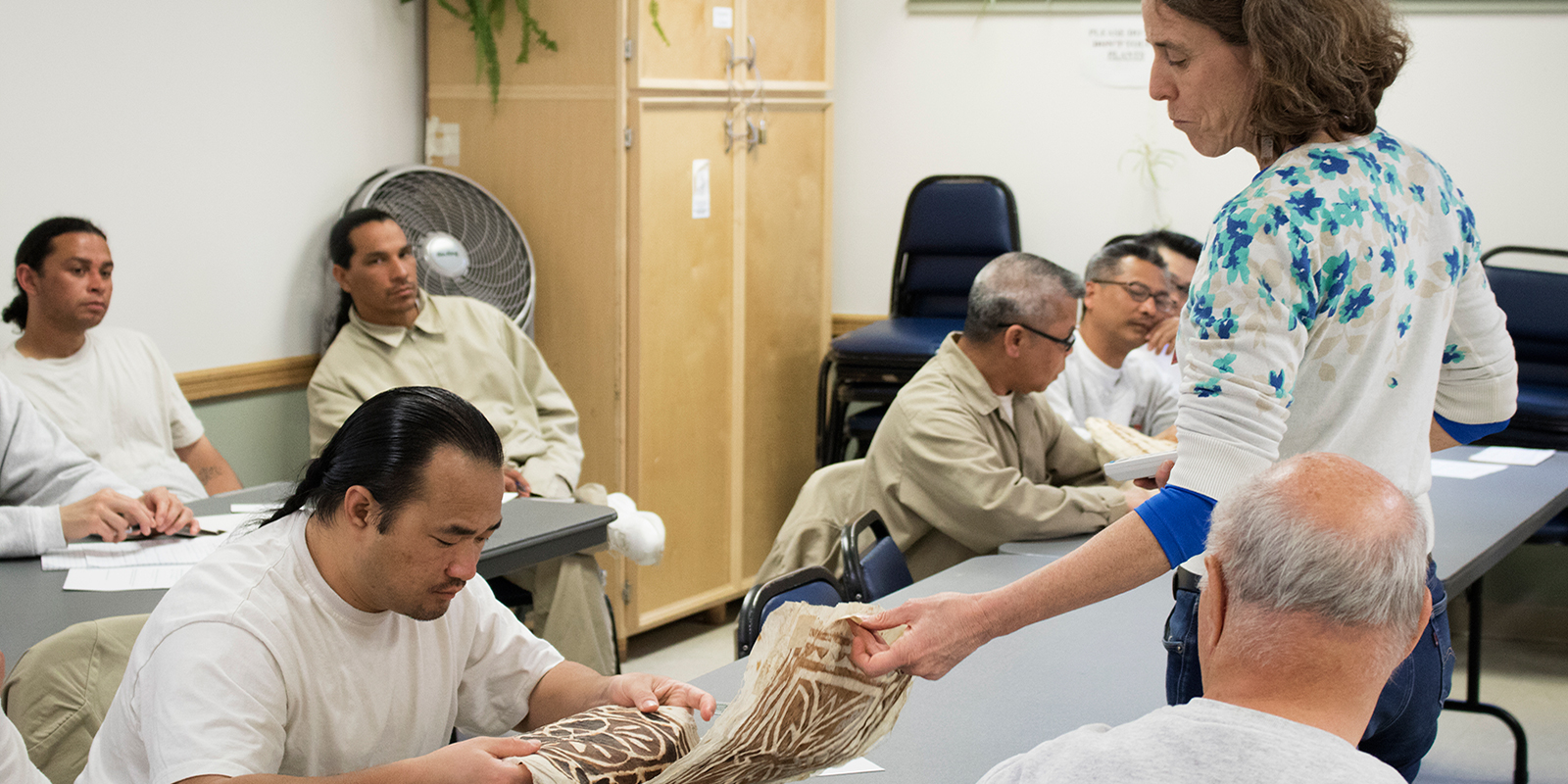 Photo: Andrea Godinez/Burke Museum
Photo: Andrea Godinez/Burke Museum
Photo: Andrea Godinez/Burke Museum
Photo: Andrea Godinez/Burke Museum
The class was part of a multi-week course created by inmates at the WSRU who are a part of the API community. The inmates were not only the students, but also facilitated classes and the lesson plans themselves. The API course is a part of the University Beyond Bars (UBB) program, which offers a range of credit and non-credit bearing college courses for prisoners and enriching educational experiences while incarcerated, bringing critical skills with them upon their release.
An outrigger canoe from the Marshall Islands, tapa cloths, and an island navigational stick map came with Barker to the class. The class covered traditional Oceania boat-building and navigation, along with cultural resiliency in spite of the long term impacts of nuclear testing during the Cold War. Barker and the students discussed how Indigenous science and research methods, including oral histories and community-based learning, are essential aspects of understanding the objects and cultural practices.
Many of the students are of API heritage, and expressed how important it is to connect to their ancestors as a source of strength and healing. "We have to know our story to know what happened. We want to know more about our families and what we had to endure to be where we're at today. We don't know," a UBB student named Josh said.
When asked about how the objects aided in his learning, "It helps me visualize what was and the potential our culture [has] contemporarily, as old skills are adapted to today's understanding of ship-building," a UBB student named James said.
"Being able to touch and handle the boat gave a more deep and meaningful connection to the craftsmanship," a UBB student named Ralph said.
"The collections at the Burke belong to the people of Washington state, and it is our obligation to make sure all people have a chance to experience the excitement that comes from accessing the creativity, brilliance and beauty of the pieces," Barker said. "I absolutely love working with the API group; they have wonderful insights and questions, and were some of the most actively engaged students I have worked with! I find myself looking forward to the visits for weeks before they occur. I am impressed that they are creating their curriculum and reaching out to places like the Burke, and I'm happy and honored to support their ideas to the best of my abilities."
Being able to touch and handle the boat gave a more deep and meaningful connection to the craftsmanship.
The course was designed in collaboration with the API Cultural Group at WSRU and with the participation of API community organizations FIGHT and API Chaya.
"This is the third iteration of the course UBB has been able to offer," UBB Program Director Joel Strom said. "Holly always provides an unforgettable classroom experience and the inclusion of artifacts from the Burke this year was something very special indeed. We believe that education has the power to be transformative even behind prison walls. The level of student engagement in this course is proof of that."
"University Beyond Bars has had the most positive impact in my 18 years of prison so far. It has given me the ability to see more positive options for myself, especially for my eventual release back into the community," a UBB student named Ralph said.
This visit is one of several classes being taught by Barker, who is teaching other API groups in prison facilities across the state. In addition, the Burke and UBB are collaborating with other cultural groups to assist with new courses they're developing.
"No matter where you are in life, history and the importance of knowing has no limits," a UBB student named Mark said.
---
If you are interested in volunteering with University Beyond Bars or you would like to learn more about the organization, contact Program Director Joel Strom, info@universitybeyondbars.org or visit UBB's website.