What COVID safety precautions is the Burke taking for in-person summer camps?
Safety is our #1 priority. Burke camps will operate in the large open air gallery spaces of the museum and will go outdoors for lunch and snack. Campers will only interact with Burke camp staff and their camp group. Staff are experienced members of our professional educator team who are vaccinated and fully trained in current COVID protocol. We will be strictly enforcing symptom attestations, handwashing, proper mask wearing, and six feet of distance between campers in compliance with UW's COVID policies and procedures. This camp focuses on visual thinking strategies and does not involve any shared materials. All hands-on materials will be packaged individually for your camper. Each camper will have their own 4' desk where they can store their belongings. All Burke Youth programs are reviewed and approved by UW's department of Environmental Health and Safety and are registered with the UW Office of Youth Development and Support.
Why are you only offering single-day camps?
In compliance with UW's current youth safety requirements and staffing ratios, we are only offering camps on Mondays when the museum is closed to the public.
Can I sign up for both Little Dinos Sessions?
The curriculum on July 12 will be exactly the same as the curriculum on July 19. We do not recommend signing up for both dates. 
What should we bring to camp?
Please send your child with a water bottle, sun protection, any needed medications, comfortable layered clothing, a morning snack, and a substantial lunch with items they can open themselves.
Your Welcome Letter will include a link to a camp parking pass. This pass will allow you to temporarily park in the University of Washington N1 lot (the lot closest to the Burke Museum). For more information about parking, please visit our Directions & Parking page.
Can I send my child with money to buy lunch at the café?
We have a busy activity schedule and will unfortunately not have time to visit the cafe during camp hours.
How many campers will be in each group?
There will be a maximum of 25 campers in the galleries.
What is the schedule for Little Dinos?
Tentative schedule:
8:45–9 AM
Group A check in
9–9:15 AM
Group B check in
9:15–9:45 AM
Introductions
9:45–10:30 AM  
Dino Hunt 
10:30–11 AM      
Snack
11–11:15 AM
Story
11:15–11:40 AM
Microfossil Sorting and Identification
11:40 AM –12:30 PM
Paleo Puzzle
12:30–1 PM
Lunch
1–1:30 PM
Bird Walk
1:30–2 PM
Story
2–2:15 PM
Dino Dance Party
2:15–2:45 PM
Check out
2:30–4 PM
Aftercare (if applicable)
What is the schedule for the Mystery Museum Takeover?
Tentative schedule:
8:45–9 AM
Group A check in
9–9:15 AM
Group B check in
9:15–9:45 AM
Introductions
9:45–10:30 AM  
Craft
10:30–10:50 AM      
Snack
10:15–11 AM
Mystery
11 AM – 12:30 PM
Gallery Games
12:30–1:15 PM
Lunch
1:15–2:45 PM
Team Word Puzzle
2:45–3:15 PM
Solve the Mystery
3:15–3:45 PM
Check out
3:30–5 PM
Aftercare (if applicable)
What is your refund policy?
Due to the short registration timeline this year, we are not able to offer refunds for our summer programs.
My child is advanced for their grade level. Can I enroll them in a camp for older students?
In order to ensure that we have enough spaces available to serve the intended audience of each camp, we must maintain our grade requirements. This also ensures that our camp activities and staff-to-camper ratios are appropriate, and that our campers are able to work well together. 
My child requires special accomodations, please advise.
We will make every effort to accommodate your child. Please give a detailed description of your child's needs while registering them for camp. You (or an aide) are welcome to stay with your child during camp. We recommend this if your child has an IEP in school. '
To request UW disability accommodations, contact Disability Services Office at the University of Washington at least 10 days in advance: 206.543.6450 (voice), 206.543.6452 (TTY), or dso@uw.edu.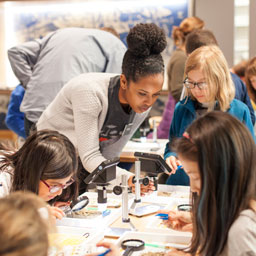 Support Education
Your gift supports high-quality science and cultural programs for students of all ages in Washington state and innovative programs for the entire community.
Photo: Rachel Ormiston/Burke Museum
Photo: Rachel Ormiston/Burke Museum