Partner Camp
Join local educators for a week of action-packed fun at the Burke Museum.
Camp content is co-developed with the Burke. Registration and facilitation is managed by the local non-profit partner organization.
Scribes Writing Camp with Hugo House
Grades 5–6
July 10-14, 2023
10 a.m. - 3 p.m.
Designed for students entering Grades 5-6 in the 2023-2024 school year.
In this camp, a partnership between Hugo House and the Burke, students will participate in creative activities and write to prompts inspired by their experience at the Burke, deepening their understanding of natural history and culture in the process. Students will engage in a wide range of creative writing genres, from fantasy and poetry, memoir to playwriting, and everything in between, including cross-genre and hybrid forms.
This camp is for students entering Grades 5-6 in Fall 2023 and will take place in-person at the Burke Museum. Camp breaks for lunch from 12-1 p.m. each day.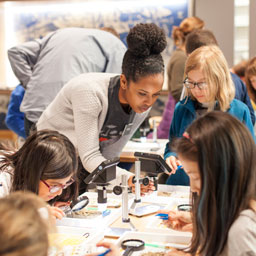 Support Education
Your gift supports high-quality science and cultural programs for students of all ages in Washington state and innovative programs for the entire community.
Photo: Rachel Ormiston/Burke Museum
Photo: Rachel Ormiston/Burke Museum