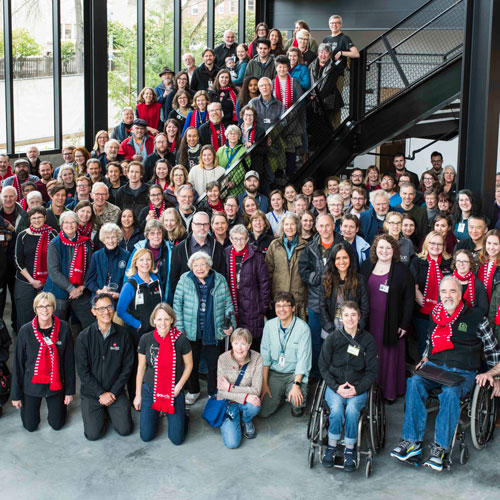 Photo: Sven Haakanson/Burke Museum
Photo: Sven Haakanson/Burke Museum
Employment Opportunities
Employment at the Burke Museum is managed by the University of Washington. Career positions offer competitive benefits, including medical and dental insurance, museum membership, and a tuition exemption program. To learn more, visit the UW Benefits & Work/Life page. 
The University of Washington is an affirmative action and equal opportunity employer. All qualified applicants will receive consideration for employment without regard to race, color, religion, sex, sexual orientation, gender identity, national origin, age, protected veteran or disabled status, or genetic information.
Details for current openings may be found on the University of Washington's employment page.
Current Openings
Current openings at the Burke Museum
are listed below if available.
For a full job description and application instructions for each position, select "Apply now" under the job opportunity in which you are interested. 
Please do not send unsolicited resumes to Burke Museum staff.
---
Executive Director
Our esteemed UW leadership alongside Campbell & Company, the executive search firm who's leading this Executive Director search, has begun the recruitment and hiring process. 
Assistant Registrar & NAGPRA Coordinator (100% FTE)
Provides registration support to ensure legal and ethical compliance, and adherence to professional best practices. Assists with accessioning and deaccessioning, generating legal documents and reports, fulfilling research requests, records management and preservation, access to collections information, and other registration-related tasks as assigned. Assists Registrar and Culture Department in fulfilling NAGPRA legal responsibilities, implementation, reporting, and public requests. Assists with incoming/outgoing loans and exhibits, development, implementation of policies and procedures, and institutional planning. Assists with institutional archives processing and administration of the fine art collection. In absence of Registrar, supervises hourly employees, interns, volunteers and researchers.
Bill Holm Center Program Assistant (75% FTE):
The Assistant Program Specialist for the Bill Holm Center for the Study of Northwest Native Art at the Burke Museum assists BHC Program Specialist with all planning and implementation for Bill Holm Center programming including visiting researchers, onsite artist workshops, demonstrations in the artist studio, and outreach travel to artists' gatherings in the local region. This includes establishing and maintaining relationships with individuals, artists, tribal governments and art organizations, coordinating research and tribal visits, conducting tours, arranging for collections visits, and assisting researchers.
Development & Membership Coordinator (75% FTE)
Under the direction of the Membership Manager and the Annual Giving & Stewardship Manager, the Development & Membership Coordinator provides logistical and administrative support to the Burke's fundraising and membership programs, primarily through gift processing, membership fulfillment and acknowledgement.  This position also coordinates the mailings and appeals that encourage membership sales and annual fund donations, and supports efforts to steward members and donors as needed. As a member of both the Membership and Development teams, this position will also contribute to the spirit of collaboration and partnership between both programs.
Diversity, Equity, Access, Inclusion, & Decolonization Coordinator (100% FTE)
Reporting to the Tribal Liaison, the Diversity, Equity, Access, Inclusion & Decolonization (DEAI &D) Coordinator is responsible for managing all aspects of the Burke's DEAI efforts across the museum. This includes administrative coordination to ensure developing and implementing DEAI & D strategic goals that align with the Museum's overall mission and goals, facilitate internal updates and communication with the Director of Communications which will support the creation of a 3-year institutional road map for DEAI and Decolonization work at the Burke. This position is responsible to support all departments to identify and implement the DEAI institutional plan.
Reporting to the Operations Supervisor, the Operations Coordinator supports the Operations division at the Burke Museum. This position is responsible for providing effective support for the division's building management and related clerical processes. The Operations Coordinator will be fully trained to perform thorough facility checks, properly open/close the building and assist with complex clerical tasks. This position requires excellent customer service, attention to detail, and the ability to consistently follow procedures.
Paleobotany Collections & Laboratory Manager (100% FTE)
The Burke Museum is seeking to add an expert in paleobotany to our team of collections staff who can focus on these collections, as well as manage the labs associated with paleobotanical research in our collections. In addition, some of the actively used paleobotanical collections are prepared, studied, and housed in the Biology Department, located in the Life Sciences Building on the UW campus; curation of these collections needs to be better integrated into the mission of Burke Paleobotany overall.
Private Events Assistant (Hourly)
The Private Events Assistant will be responsible for assisting the Private Events Manager in planning, logistical coordination, and day-of event production for events hosted at the Burke Museum. This position should have a background in event production and/or hospitality and project management.
Private Events Staff (Hourly)
The Private Events Staff will be responsible for assisting the Private Events Manager with day-of event production, including set-up and breakdown of events hosted at the Burke Museum. This position would benefit from a background in event production, customer service, and/or hospitality.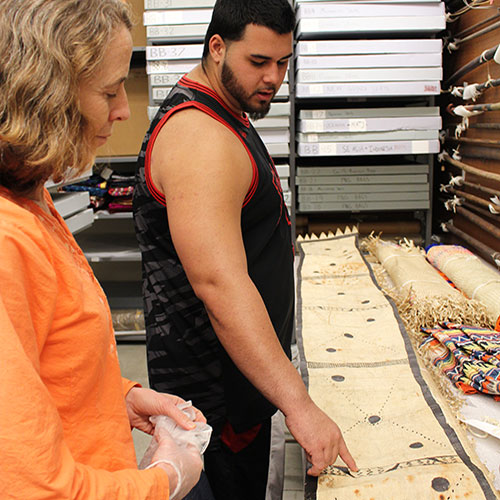 Our Work
At the Burke, we bring together people, objects and the stories that make them meaningful.
Photo: Mark Stone/University of Washington
Photo: Mark Stone/University of Washington