By Car
From I-5, exit east onto NE 45th Street. Travel east on NE 45th Street to 15th Avenue NE. The museum is off of NE 45th Street between 15th and 17th Avenue NE (aka, Memorial Way NE).

By Bus
Many buses serve the University District and can drop you within a block or two of the museum entrance. For timetables, routes and help, consult King County Metro's trip planner tool.

By Bike
Plan the safest route by with the City of Seattle's Interactive Bicycle Map. The museum is just a half-mile north of the Burke Gilman Trail, and there are bike racks near the front entrance of the museum.

By Train
The University of Washington light rail station is located next to Husky Stadium. For schedules, visit the Sound Transit Link light rail website. The Burke Museum is a 20-minute walk through campus or a short bus ride on route 43 or 44.
Parking
PARKING ON CAMPUS
Stop by the north University of Washington (UW) parking gatehouse on 17th Ave. NE/Memorial Way NE to ask if parking is available near the Burke. The closest lots to the Burke are: N4, C1-C6 Central Plaza Garage (entrance off of 15th Ave NE), N28 (Monday – Friday only). Pay station parking for visitors is available on the Padelford garage levels N20 and N21.
UW Parking Rates:
Weekdays 6 am - 4 pm , $4/hr or $17 all-day; $6 flat fee after 4 pm

$6 flat fee on Saturdays until noon, except C1-C6 Central Plaza Garage, where the flat fee is $12 

Free Saturday after noon and all-day Sunday
For more information, visit the UW parking website.
OTHER NEARBY PARKING
There are several public pay-to-park lots within a few blocks of the Burke. City of Seattle street parking available near the Burke with parking limits between two and four hours. The closest street parking is found along 15th Ave. NE, 16th Ave. NE and 17th Ave. NE.
ACCESSIBLE PARKING
Accessible parking is available in all UW parking lots. The closest accessible spaces to the Burke are in UW lots N1 and N4. Visit the UW Transportation website for more information.
BUS PARKING
Bus parking for groups visiting the Burke Museum is available in the roundabout in front of the Burke's main entrance.
Land Acknowledgement
The Burke Museum stands on the lands of the Coast Salish Peoples, whose ancestors resided here since time immemorial. Many Indigenous peoples thrive in this place—alive and strong.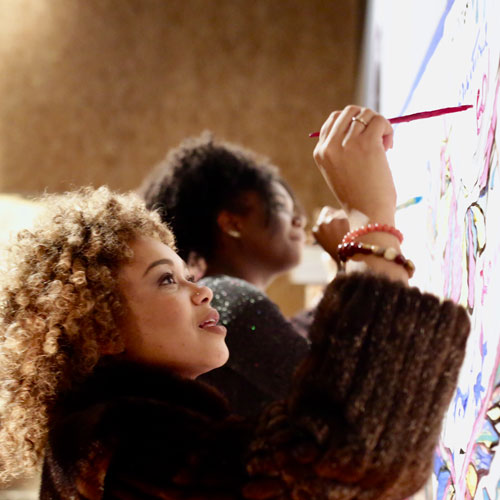 Get an Inside Look
Sign up for our monthly Inside Look email newsletter to hear what's new and what's coming up at the Burke.
Photo: Andrea Godinez/Burke Museum
Photo: Andrea Godinez/Burke Museum