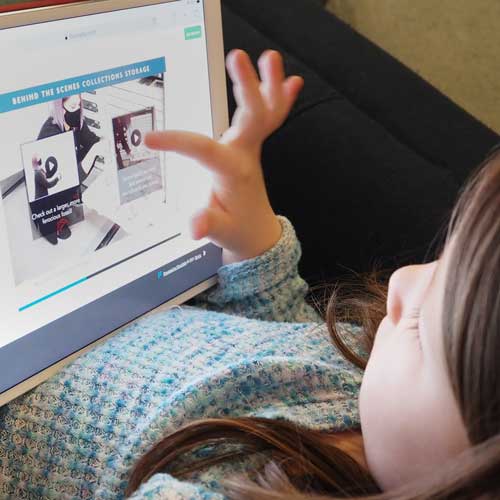 Photo: Rachel Ormiston/Burke Museum
Photo: Rachel Ormiston/Burke Museum
Virtual Field Trips
Visit the Burke Museum from the comfort of your own home or classroom!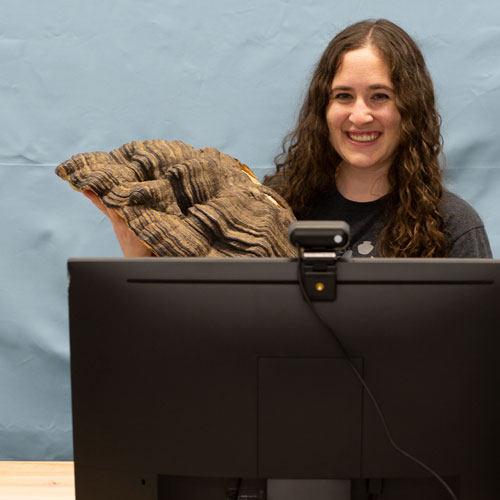 Photo: Rachel Ormiston/Burke Museum
Photo: Rachel Ormiston/Burke Museum
Burke Live!
Burke Live! programs put a Burke educator in the same room with your learners via video conferencing.
What's the difference between a Burke Live! program and a Virtual Field Trip?
Burke Live! lessons are live virtual lessons—a Burke educator joins your group via video conferencing, sharing activities and discussions that focus on a specific topic. Burke Live! lessons are 45-minute long events.
Virtual Field Trips are web-based tours that your group can complete at your own pace. They consist of a series of videos, photos, and text prompts that bring you behind the scenes into research spaces as well as into galleries within the Burke Museum. Groups can choose to project this tour in front of a classroom or do screen-sharing with remote students in order to go through the tour together as a group. Or, you can assign sections of this tour to students to view independently on individual computers. Virtual Field Trips are accessible for one full month, which gives you time to review the material yourself, and make a plan for how you would like your students to engage with the material.
I'm not a teaching professional. Can I book a Virtual Field Trip or Burke Live! program?
Absolutely! Our virtual offerings have been designed for youth learning in a variety of settings including school groups, homeschool groups, micro-schools, after school programs, community groups, early learning or childcare centers and libraries. If you have questions about whether a virtual program is a good fit for your group, we are always happy to discuss your needs and help you find which program will be the best fit. Reach out to us at burked@uw.edu.
How do Burke Live! programs work? What technology do I or my students need?
Burke Live! programs will take place over the secure video conferencing platform (Zoom, Microsoft Teams, Google Meet, etc.) used by your school, district or organization. Using your organization's preferred platform, you will need to set up and share a meeting link with the Burke Education team. The Burke Educator will join your virtual meeting as a guest to lead the program. During the program, please enable screen-sharing for the Burke Educator.
If your students will be each joining from individual computers:
Be prepared to help your Burke Educator to call on students to participate in the lesson, as well as monitoring any comments in the chat.
If your class will be all together in one room for their lesson, there are a few setup logistics that are helpful:
Consider setting up your webcam or video feed so the Burke educator can see your students during the lesson.

Your computer microphone may not pick up the voices of all of your students. During the lesson, please be prepared to repeat student responses so that your Burke educator can respond to their questions and comments accurately.

Consider what your students will see and hear. Make sure you know how to project your video feed in front of your classroom, or have multiple computers available for your students to use at their individual desks.
Can I book access to a Virtual Field Trip for more than one month?
Yes, however our virtual field trip URL and password is changed each month. If you'd like to request access to a virtual field trip for an additional month, please submit your request for the month you'd like access to begin, then send us a follow-up email at burked@uw.edu to let us know you'd like to extend your access. We will book your access for the months you indicate in your email. Each month of access costs $40, and you will be invoiced accordingly. 
Is there a minimum/maximum number of students who can participate in a Burke Live! program?
Burke Live! Programs have been designed for groups of learners, rather than individual students, and we require a minimum group size of five participants. If you have less than five students in your group, we recommend booking a Virtual Field Trip or Burke Box program. Both of these programs work well for individuals, as well as small groups.
In order to ensure the best experience for every student, the maximum group size for each 45-minute program is 35 participants. If you have more than 35 participants, then multiple sessions can be booked to accommodate larger groups.
What days and times are Burke Live! programs available?
During the school year (September – June), Burke Live! programs are available Monday through Friday between 9 AM and 4 PM.
Stay tuned for Summer 2022 availability!
Can I make changes to my program?
Yes, if you need to change or cancel a reservation, please call the Education office at burked@uw.edu as soon as possible.
Cancellations must be made a minimum of two weeks before the scheduled program for a refund. Cancellations made with less than two weeks notice will be charged the full fee. We will work with you to reschedule the program for a different date if possible.
Do you offer cost assistance or scholarships for your programs?
Yes! Our generous donors make it possible for us to offer cost assistance to schools, families, and programs across the state. For more information please visit our Cost Assistance information page.
How does your reservation process work?
If you have any questions about our virtual offerings, please contact us via email before submitting a request. When you're ready, you can submit your request via our online form. Once we have received your request, we will respond with more information. If we can accommodate your request, you will receive an email with your reservation details and a link to confirm or decline the reservation. If we are unable to accommodate your request, we will contact you to discuss alternative dates or options.
Once your program is finalized, you will receive an invoice and pre-program materials via email. You can pay for your program by check, credit card or purchase order. For Burke Live! programs, payment is due on or before the date of your program.
For Virtual Field Trips payment is due on or before your access end date. If you choose to pay by credit card, you can do so via our online portal. You will receive a link to this portal when you confirm your reservation.
Please note:
Placing a hold on a tentative date and time will hold your program for one week. If you do not confirm your program within one week of placing a hold, your hold will be released.
 
Cancellation for Virtual Field Trips and Burke Live! programs must be made two weeks in advance in order to receive a refund. Efforts will be made to reschedule your program if you must cancel within two weeks prior to your program, but refunds cannot be offered.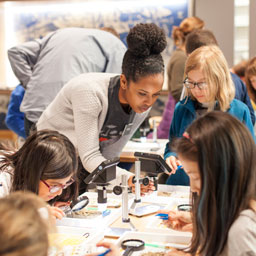 Support Education
Your gift supports high-quality science and cultural programs for students of all ages in Washington state and innovative programs for the entire community.
Photo: Rachel Ormiston/Burke Museum
Photo: Rachel Ormiston/Burke Museum