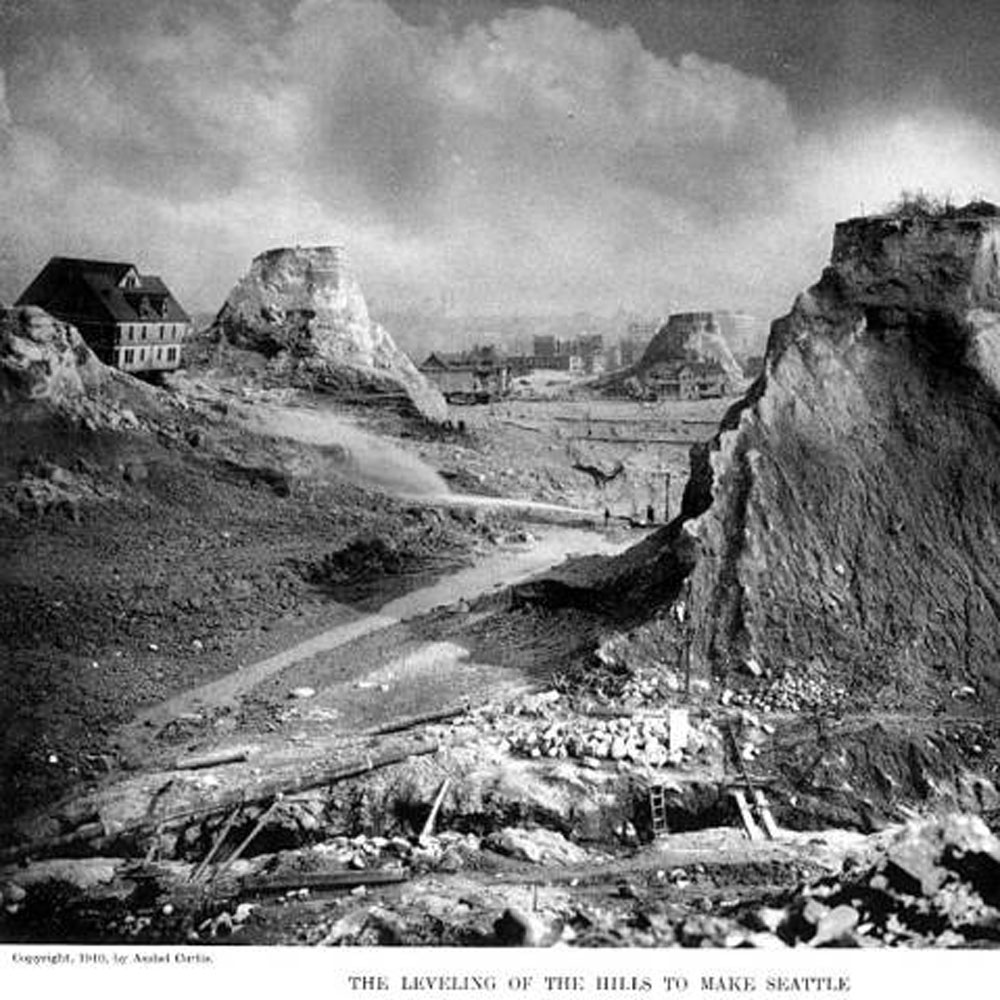 Photo: Denny Hill Regrade, Asahel Curtis, University of Washington Libraries, Special Collections, UW4812.
Photo: Denny Hill Regrade, Asahel Curtis, University of Washington Libraries, Special Collections, UW4812.
Denny Hill in process of being flattened, circa 1910.
The Duwamish River transforming into the Duwamish Waterway, 1922.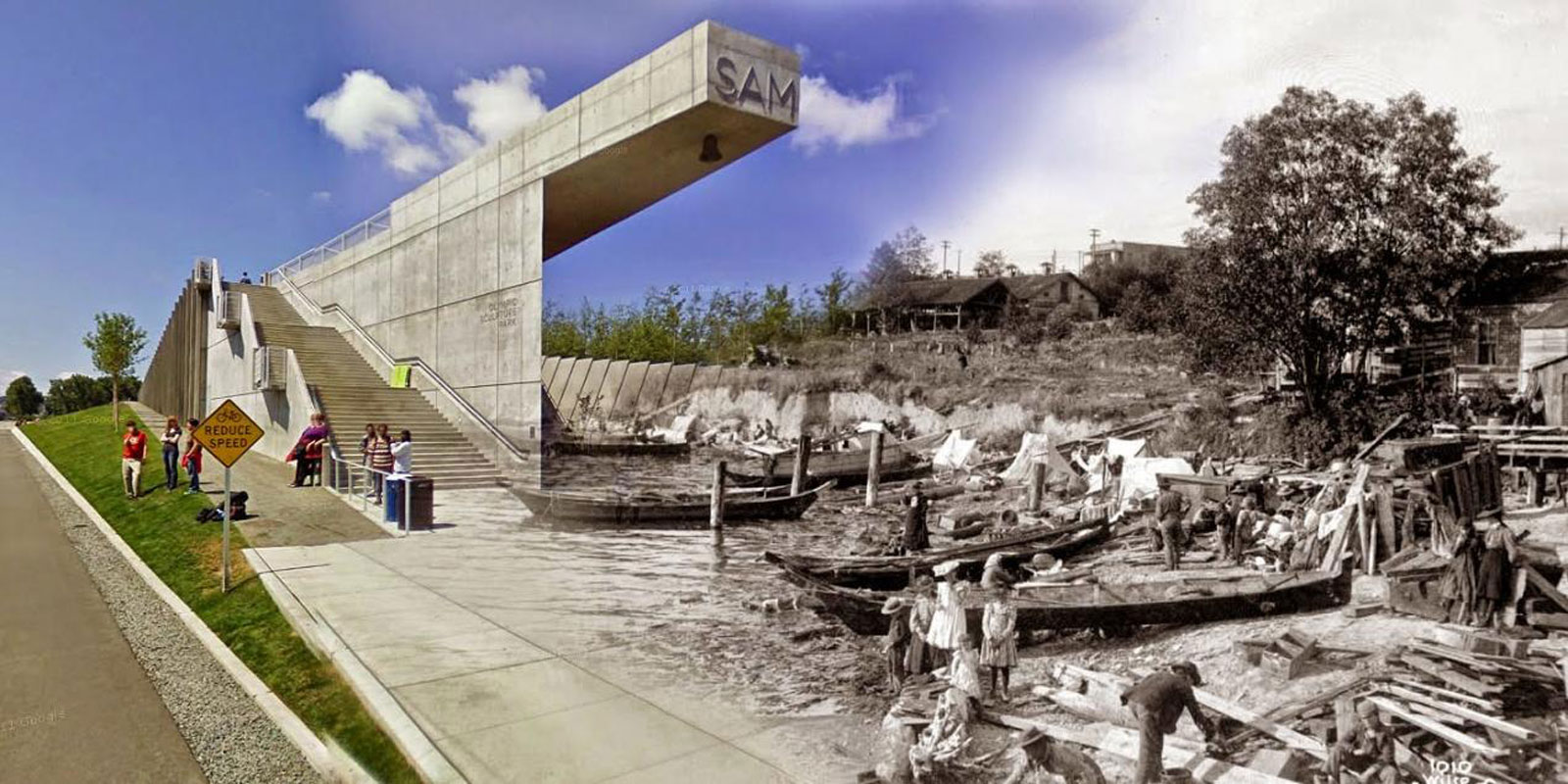 Photo: Then & Again photo by Clayton Kauzlaric.
Photo: Then & Again photo by Clayton Kauzlaric.
Watch this Waterlines Project animation of Pioneer Square area of Seattle transforming from Native village to metropolis.
Ultimately, with each new river rerouting or tidal flat filling, the fragile connection between memory and landscape was broken, and with it a certain kind of wisdom was lost. These projects brought dubious benefits and cost more than money. The price of ecosystem disruption and impacts on the people who depended on them were rarely considered in the days before Environmental Impact Statements.
As much as we might blame some humans for ill-advised remodeling decisions, nature wins the award for heaviest hand. From glacial gouging that make east-west travel in the city so difficult today, to huge tectonic events that shook our city and washed it with tsunamis, natural forces play a co-starring role as Seattle's landscape designers. This Waterlines Project video showcases the huge natural forces at play over the past 20,000 years.
Only time will tell what landscape changes will occur in the future. For instance, nature and humans both seem to be collaborating to raise sea levels through polar ice melt and shrinking glaciers that could make our city much more "maritime oriented" than it is now.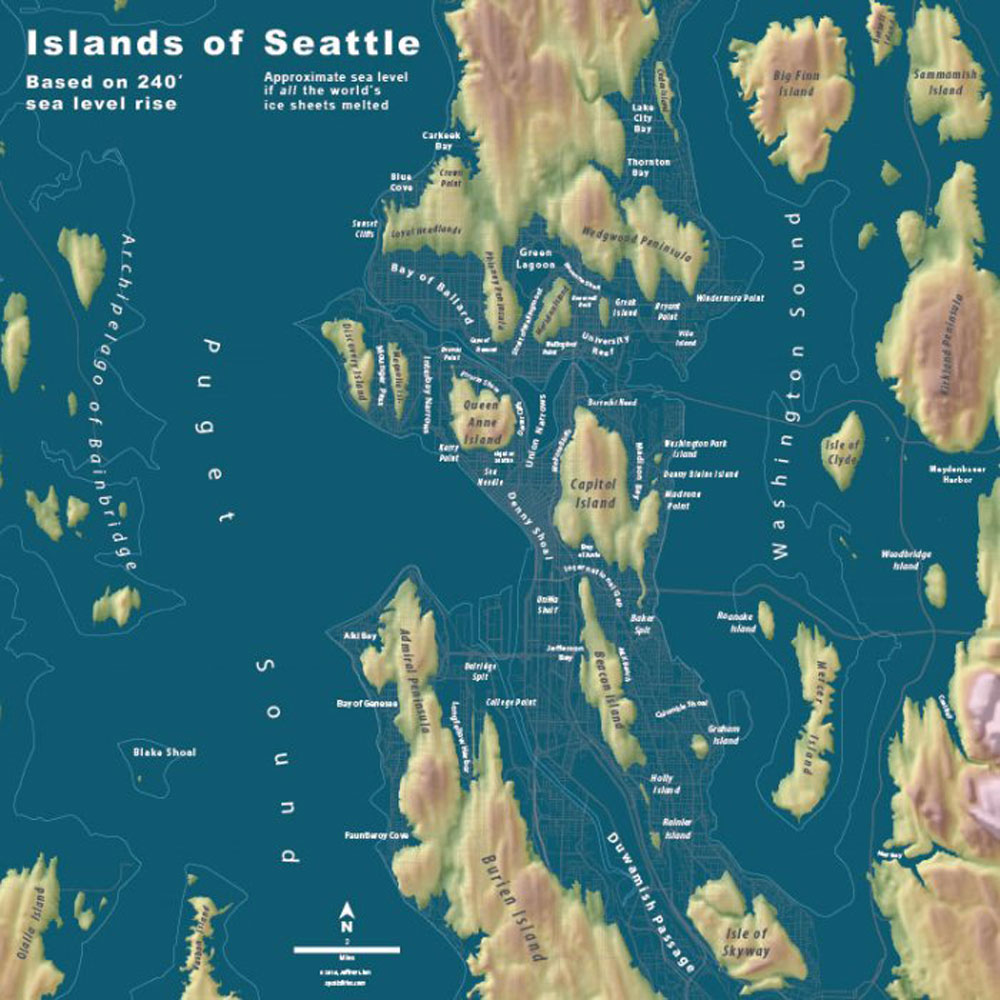 Today, we can only wonder what is gone for good in our landscape or where we might catch glimpses of these ghost landscapes.
To help reconnect to our ghost past as we try to reconnect to our urban waterfront, the Waterlines Project team of researchers, artists and graphic designers, with funding help from 4Culture, has published a map as a guide. The Waterlines Map is a rendering of the Seattle area in the mid-19th century, just prior to non-Native settlement, created using photorealistic aerial views collaged with hand painting. It integrates research from the sciences, natural and cultural histories, with informed imagining.
The front of the map shows Seattle's current shoreline overlaid onto the mid-19th century past. You'll notice the Duwamish River, reconnected to Lake Washington through the Black River (before the lake was lowered 9 feet), is there in all of its curvy 'organic' glory. It also includes fresh and salt water marshes, prairies, forests and beaches—all labeled with Coast Salish place names and villages to reflect Native peoples heritage and ongoing connections to the city. 
The back of the map shows four areas of the city, and can act as a guide to experience the subtle ways our past landscapes still exist if you know where, and how, to look. The map is free and can be picked up at the Burke Museum and other spots around town, or you can download a full-size pdf version of the map. (Hint: It looks excellent hung up in your kitchen!)
This Halloween season, you can encounter real ghosts of Seattle's past—its shorelines. Try kayaking on the Duwamish to find pieces of the old river still in place. Take a bike ride to see some of the huge gifts the glaciers left behind 14,000 years ago. Or take a walk through Pioneer Square—once a sand spit, lagoon, promontory and Coast Salish village site—now smothered under sawdust, building rubble and gravel washed down from Seattle's steeper hills. 
If you peer into the pits of the many building construction sites around Seattle, you might just see remnants of a ghost shoreline or two.
Learn More
The Waterlines Project team leadership is comprised of archaeologist Peter Lape, artist Don Fels and researcher Amir Sheikh. To learn more about the effort, visit The Waterlines Project website. View a full-size PDF version of the Waterlines Project Map.