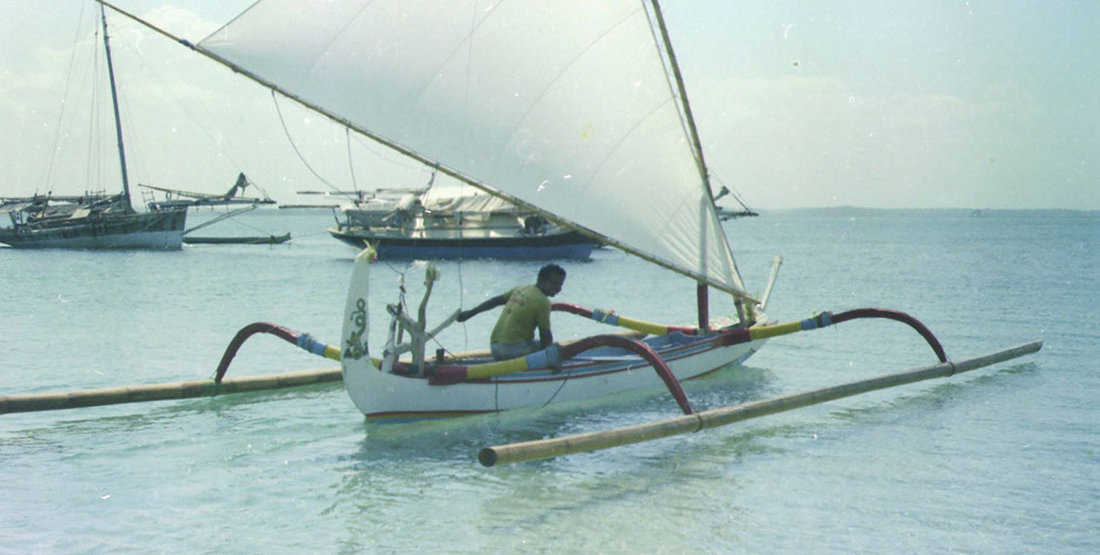 Photo: Nick Burningham, Western Australian Maritime Museum
Photo: Nick Burningham, Western Australian Maritime Museum
Unfortunately, jukung are disappearing. Since the 1970s there has been loss of fishing grounds due to pollution, loss of beach access for fishermen due to tourist development along beaches and overfishing. Tourists who want local transportation to snorkeling, surfing or fishing spots desire the speed and reliability of outboard motors instead of sails. And there are fewer large trees available to make dugout hulls
The outboard fiberglass boats that have replaced jukung don't have elaborate decorations or complex sailing rigs. As of 2016, traditional sailing jukung are hard to find outside of remote fishing villages far from the tourist areas. Boatbuilders who know how to build them are no longer passing down their skills to the younger generation.
The Burke Museum has a traditional jukung in its Culture collections, but until recently its origins were a mystery. All that we knew was that it was brought to Seattle by a private collector and eventually was rescued by the Center for Wooden Boats, which donated it to the Burke in 2002. It had sustained some damage to the fragile bow and stern decorations, but was largely complete.
For the past several years, I have been searching for the origins of the Burke's jukung as a side project during trips to Indonesia for archaeological research. After several years of dead ends, a trip in July 2016 finally yielded some new information.
In between presentations at an archaeology conference in Nusa Dua, Bali, I chatted with a group of boatbuilders who maintained a beachside workshop sandwiched between huge tourist resorts. After looking at photos on my cell phone, an older craftsman recognized the decorations of the Burke jukung, particularly the "earrings," and was certain the boat had been built in the village of Kusamba. Each coastal village in Bali had distinctive jukung decorations and styles, and fisherman could often tell where someone comes from based on their boat.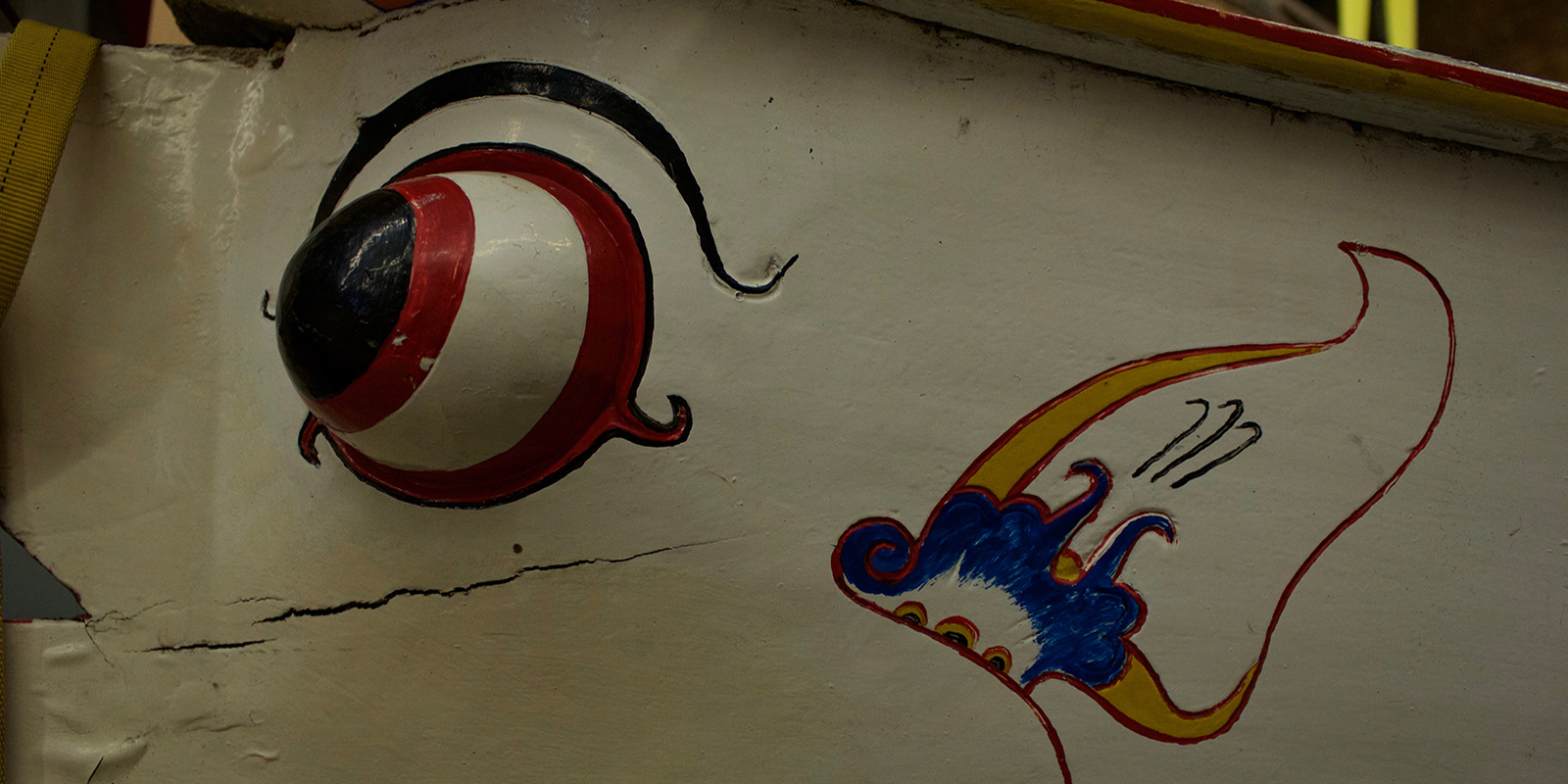 Photo: Burke Museum
Photo: Burke Museum
As soon as I could, I chartered a car with several archaeology colleagues to take us to Kusamba, about two hours away on the east coast. Kusamba turned out to be a fishing- and salt-producing village on a black sand beach with no tourists in sight.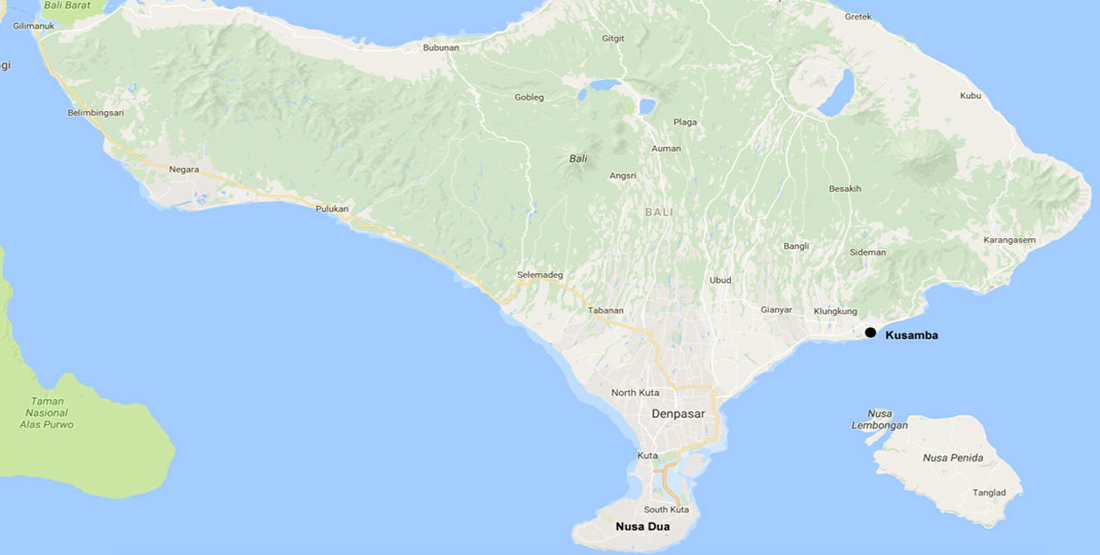 Photo: John Krigbaum
Photo: John Krigbaum
After a quick show of my cell phone photos to some fishermen on the beach, we were ushered to the house of the last traditional boatbuilder in town (who was sound asleep for his mid-day nap), Pak Bakri.
Pak Bakri immediately recognized the Burke's jukung as a Kusamba-built boat, based on the hull colors, decoration styles and many other distinguishing features. He guessed it was built in the early to mid 1970s, and that he could have been the builder (or it could have been one of the five-or-six other builders active at the time).
Pak Bakri also showed us some of his boatbuilding tools, jukung models and traditional fishing gear, and entertained us with dramatic tales of catching huge tuna and shark, getting lost in storms and how quickly things have changed since outboard motors became widely available in the 1980s.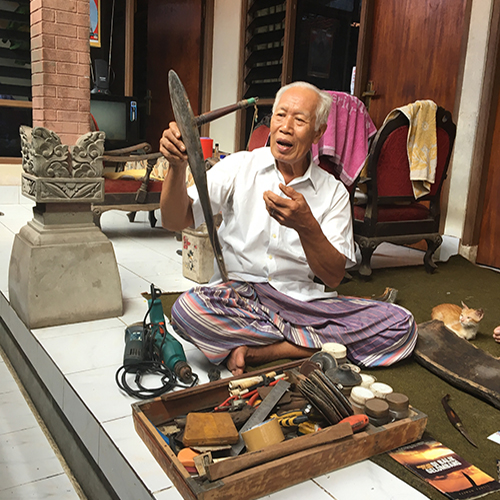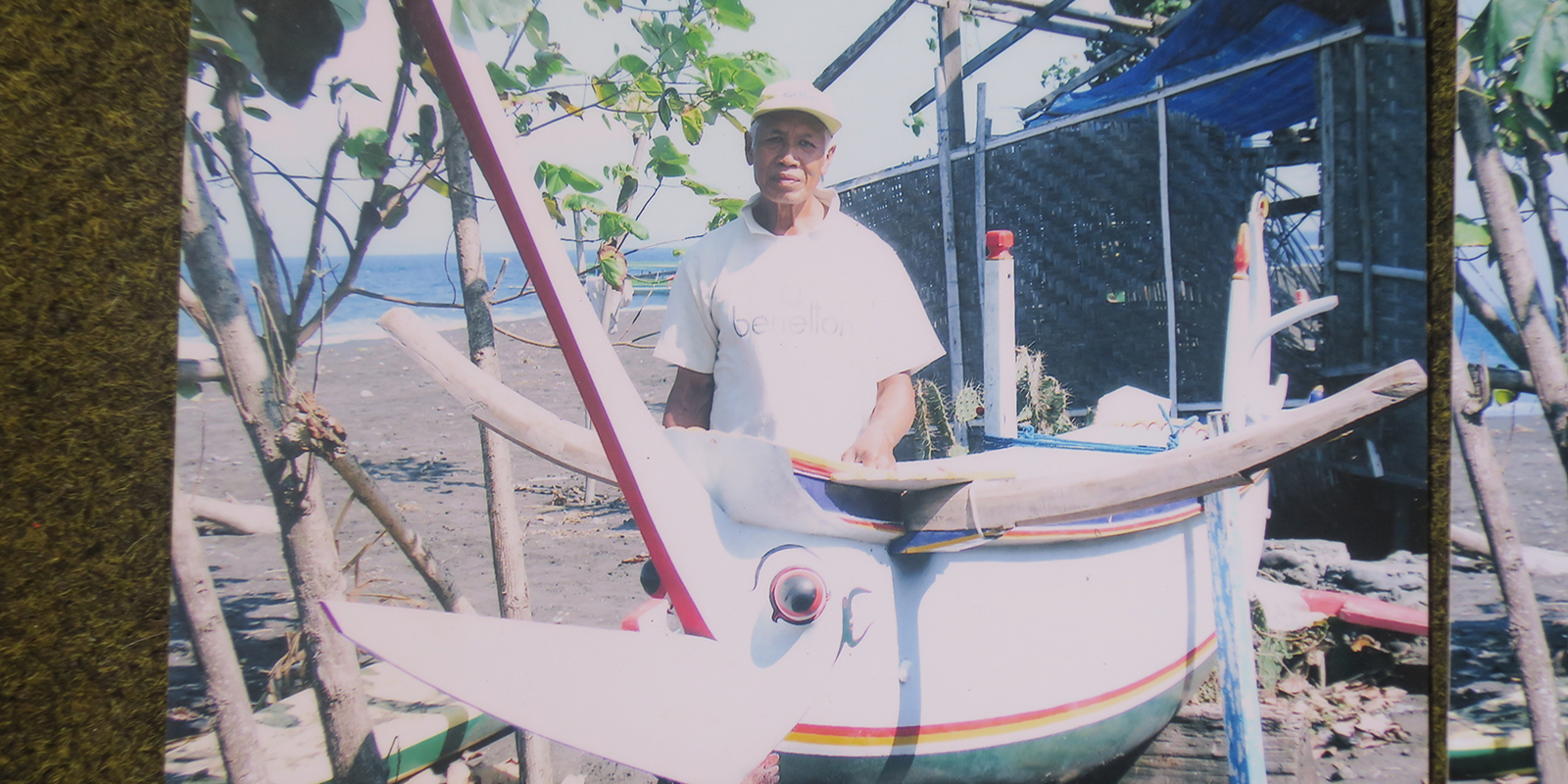 Photo: Courtesy of Pak Bakri
Photo: Courtesy of Pak Bakri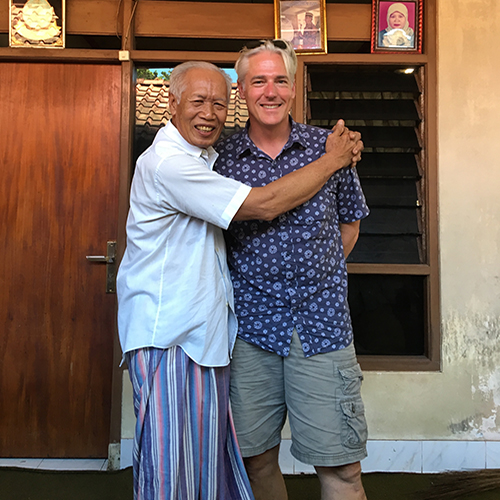 Photo: John Krigbaum
Photo: John Krigbaum
All too quickly, I had to leave to catch my flight back to Seattle. However, I plan to return with fellow Burke Museum curator Sven Haakanson to spend more time with Pak Bakri and fully document the Kusamba boat traditions.
---
Help us solve the mystery: If you know anything about how this boat got from Kusamba to Seattle, please contact the Burke Museum.
Learn more about the Culture collections at the Burke Museum.