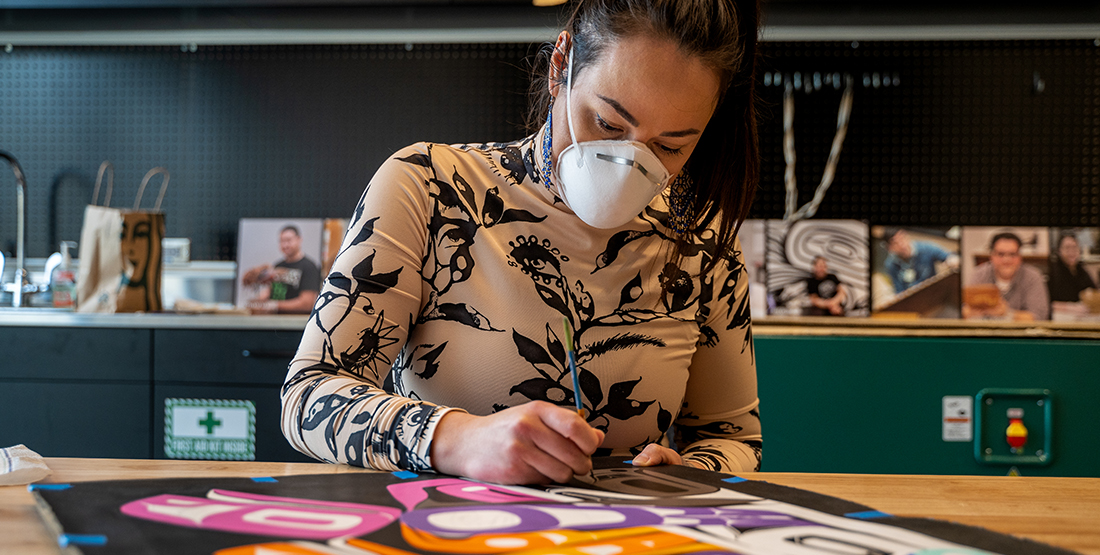 Photo: Timothy Kenney/Burke Museum.
Photo: Timothy Kenney/Burke Museum.
The Bill Holm Center Visiting Research grants provide funds for artists and researchers to travel to Seattle and study the Burke Museum's collection. The grant includes an honorarium, travel costs, lodging, as well as funds to cover materials or supplies.
Recipients of this grant will be joining us throughout the year to research the Burke's cultural collections and draw inspiration for current or future projects. Recipients will also have the opportunity to apply what they have learned through working in the Burke's publicly-viewable Artist Studio. Visitors can watch their process during their residency, check burkemuseum.org/calendar for times. 
The Bill Holm Center's Connections to Culture grant program is generously supported by the Henry Luce Foundation.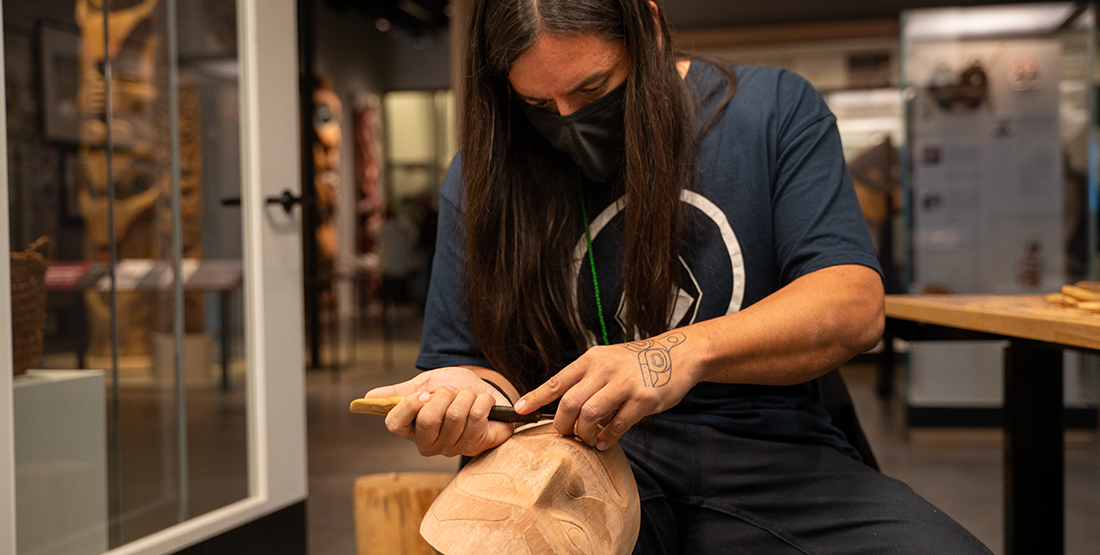 Photo: Timothy Kenney/Burke Museum.
Photo: Timothy Kenney/Burke Museum.
2022 Bill Holm Center Grantees:
Lucy Bell (Haida) and Amelia Rea (Haida)
Bell and Rea bring with them an extensive history and dedication to Haida cultural research, language perpetuation, and museological experience. Bell and Rea will be continuing their research within the Burke's collection through learning from traditional regalia materials and recreating a button blanket in the Artist Studio.
Alison Bremner (Tlingit)
Bremner's contemporary art practice has explored Tlingit artistry through a multitude of mediums such as painting, woodcarving, and digital collage. Bremner will be further developing her artistic practice through exploring the Burke's collection of Tlingit beadwork, formulating new techniques, patterns, and compositions for the work she will be creating within the Artist Studio during her residency.
Heather Cannon (Sun'aq) and Jessica Towns-Camara (Native Village of Pilot Point)
Cannon and Towns-Camara's dedication to increasing knowledge of Sugpiaq ways of creating and design has led them to explore the Burke's collection of skin-sewn garments used for both everyday wear and ceremony. Cannon and Towns-Camara will be replicating what they learn in the Artist Studio with their own skin-sewn garments.
Lily Hope (Tlingit) and Ursala Hudson (Tlingit)
Sisters Hope and Hudson aim to deepen their weaving knowledge by engaging with the Chilkat weavings and Tlingit baskets of the collection, inspiring new techniques and designs. Their research findings will further be explored during their Artist Studio demonstration where together they bridge traditional patterns and designs to their artistic practice.
James Johnson (Tlingit)
Largely self-taught, Johnson has been determined to uplift his Tlingit heritage through his exploration of carving techniques and craftsmanship. Johnson aims to further advance his knowledge of the Tlingit art form through the examination of boxes, paddles, bowls, spoons, and other Tlingit creations. He plans to apply what he learns within the Artist Studio through carving demonstrations.
Justin Ketah (Tlingit)
Ketah's exploration of his Tlingit identity drew him to delve into traditional Tlingit paddle carving and design. Ketah will be exploring our collection of paddles, carefully documenting their craftsmanship, and creating schematics for future paddle replicas.
Nick Labonte (The Confederated Tribes of Grand Ronde)
Labonte's artistic career is founded on the desire to carry the Columbia River arts forward into future generations. His work is rooted in "reaffirming sovereignty, kinship, and historical continuity", as well as underlining the importance of researching within a museum setting as it "asserts our community's authority and control over the research process." Labonte will be joining us at the Burke to learn from Chinookan works throughout the Columbia River region and plan for future projects.
David Logan (Iñupiaq)
Logan's research is rooted in reconnecting with his Iñupiaq identity, allowing historical and ancestral examples to guide his artistic practice. Specifically, Logan has been drawn towards replicating full-sized Iñupiaq qayat. Logan will be exploring our maritime collection from the Bering Strait region to plan for his future boat-building projects. 
Michelle Lombard (Cowlitz) and Daryl Gardener (Tlingit and Haida)
Lombard's objective for her residency is to strengthen her knowledge and connection with the Coast Salish art form, bridging the traditional medium to her own artistic practice, and sharing this knowledge back with her community through her work and future projects.
Stacia Morfin (Nez Perce) and Ciarra Greene (Nez Perce)
Sisters Morfin and Greene are dedicated to reconnecting and sharing Nez Perce traditional knowledge that lives within museum collections back into their communities. Their project goal is to conduct thorough research and documentation on Nez Perce belongings to regenerate youth connections and reignite interest for future generations.
Golga Oscar (Yup'ik/Kasigluk Traditional Council) and Michelle Smith (Curyung Tribal Council)
With nine years of artistic experience, Oscar has been exploring the unique ways of producing garments that reflect Yup'ik culture and revitalizing traditional cultural knowledge. Oscar and Smith's goals during their residency are to observe the techniques and style of a Yup'ik attire and craftsmanship and demonstrate these techniques by recreating garments within the Artist Studio.
Jenny Williams (Omaha/Nez Perce) and Lydia McCloud (Umatilla/Nez Perce)
Williams and McCloud's research and artistic practice are rooted in preserving and passing down the practice of Nez Perce weavings using materials such as dogbane, cornhusk, pine needles, cedar bark, and bear grass. During their residency, they will be exploring and documenting Plateau basketry, as well as demonstrating their dogbane weaving in the artist studio.
Reporters interested in high resolution images and interviews, please contact burkepr@uw.edu.