Instead, these tall multi-figured poles originated much farther north on the Pacific coast and represent the crests of clans and family histories of the indigenous people of Coastal Alaska and Canada. The appropriation of this symbol by Seattle dates to the late 1800s when entrepreneurial civic leaders sought to position Seattle as the "Gateway to Alaska" by installing an Alaskan pole downtown. 
In August 1899, a group of Seattle businessmen sailed to Alaska in search of a pole. Their skipper took them to the Tlingit village of Tongass, which appeared abandoned because most of the residents were temporarily away for the summer fishing and cannery season. The Seattle group cut down a 60-foot-tall pole belonging to Chief Kininook's family and towed it to Seattle. 
The pole was formally presented to the Seattle City Council on October 17, 1899, and raised at Pioneer Place the next day in honor of a woman named "Chief-of-all-Women," but became known as the "Seattle Totem." Images of the pole were featured on tourist information, and local curio shops began marketing model poles based on it. It was not until 1940 when University of Washington anthropologist, Dr. Viola Garfield, published a history of the pole that corrected decades of misinformation.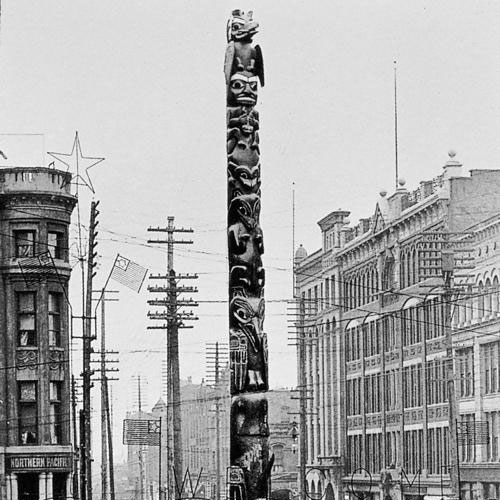 Kininnook's pole in Pioneer Square, Seattle.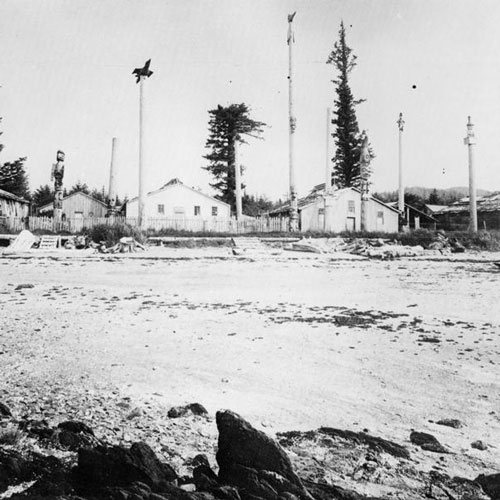 Kininnook's pole, Tongass, Alaska, pre-1899.
Not to be outdone by Seattle, a group of Tacoma businessmen commissioned a taller pole (76 feet) to be carved in secret on Vashon Island and erected in front of the Tacoma Hotel, in advance of a 1903 visit by President Theodore Roosevelt. Said to have been carved by "two Alaska or British Columbia Indians" or "Tlingit Kagwantan carvers from Sitka," there remains a question as to who actually carved the pole. 
The price paid for the commission ($3,000) is much higher than the fees Native carvers were paid at the time, and the style of the carving differs in several ways from traditional Tlingit or Haida poles. Given that the carvers' identities were kept secret, it is most likely that non-Native carvers created this pole based on photographs of northern poles. The pole was later moved to Fireman's Park and has been restored several times, most recently in 1975, when it was given Tlingit-style aprons.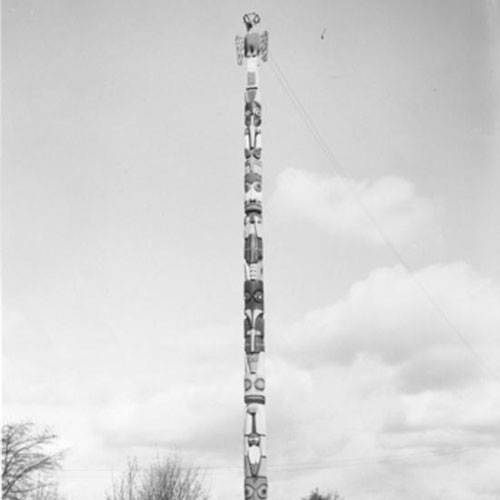 Fireman's Park pole, Tacoma, 1903.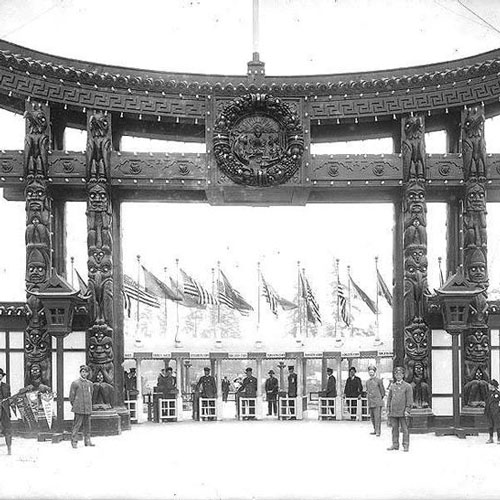 The totem pole became much more prominent as a symbol of Seattle during the Alaska Yukon Pacific (AYP) Exposition in 1909. One of the boosters of the World's Fair was James Stanley, owner of the Ye Old Curiosity Shop in downtown Seattle. Stanley marketed model totem poles in his store, and promoted them as a symbol of the fair. A loose sketch of the Kininook "Seattle" pole appeared on the cover of each AYP official daily program. An image of the pole was also placed on a poster and used on the handles of AYP souvenir spoons, postcards, and other memorabilia.
Other pseudo-totem poles were installed throughout the AYP grounds, including a Japanese Torii gate design at the south gate with supporting posts made to look like totem poles. (Light bulbs in the eye sockets even lit up at night!) Similar poles were installed on the Pay Streak Gate and as light posts throughout the fair.
It was not until a decade after this fair that local Coast Salish artists began to carve "Story Poles"—interior house posts and grave monuments. These were single-figure posts, not the multiple-figure heraldic crest poles like those to the north. Still, largely because of the Pioneer Square pole and the AYP marketing, tourists assumed the local Native artists would carve totem poles. In response to public demand as well as to raise awareness of the First Peoples of western Washington, William Shelton at Tulalip and Joseph Hillaire at Lummi began carving Coast Salish-style story poles in the 1920s and '30s.