The team proposed "The Weaver's Welcome," an iconic figure representing Salish traditions of weaving and respect for the knowledge of past generations. The glass figure will combine Salish motifs with imagery found in historical objects in the Burke's collection, including baskets and carved wooden objects.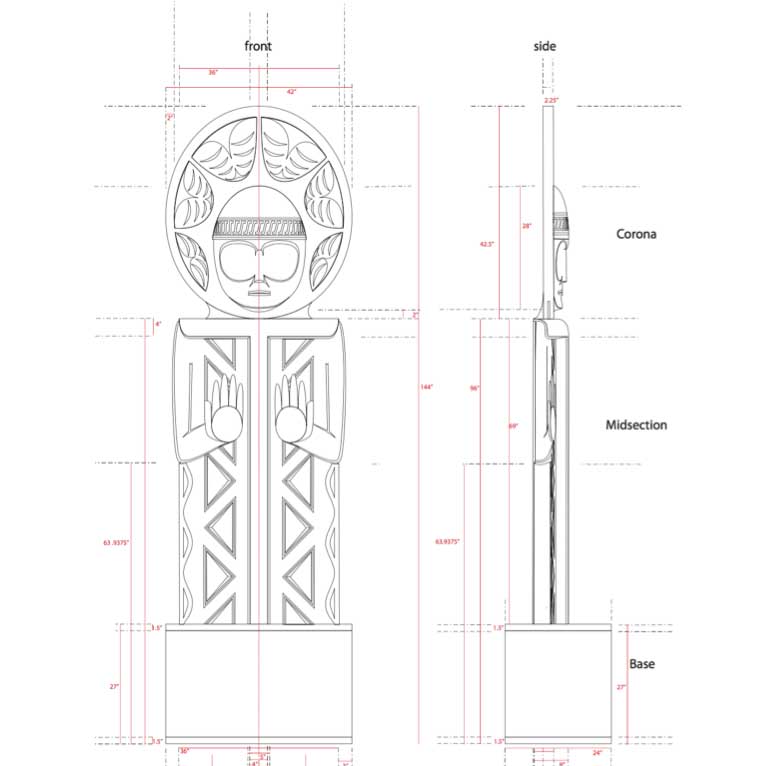 Image courtesy of Preston Singletary Studio
Image courtesy of Preston Singletary Studio
The art piece will welcome visitors to the New Burke in the tradition of the Native peoples of Puget Sound. It will be installed in the lower lobby of the new facility—a soaring, two-story windowed space facing 15th Ave NE and NE 43rd St.
"Our approach bridges the cultural diversity of the Northwest Coast. While our team is deeply versed in traditional knowledge and skills, each artist has applied these traditions to historic and contemporary mediums alike. Our team embraces a contemporary, architecturally integrated design approach rooted in a deep knowledge of traditional techniques," said the artists.
An eight-person selection committee, which included Burke Museum staff and curators and four cultural advisers from Western and Eastern Washington, reviewed proposals from 30 artists and conducted interviews with artists representing four finalist proposals.
The committee sought proposals that extended a Salish welcome to visitors and fit within the architectural and environmental criteria of the south-facing, natural-light lobby, from artists with demonstrated experience and ability to create and install a large public artwork. Before producing final proposals, all four finalists visited the Burke Museum and had the opportunity to discuss the project as well as explore the museum's collections for inspiration.
The budget for this project is $200,000 and was generously supported by a grant from the Margaret A. Cargill Philanthropies.
Selection Panel Members and Advisors
Thank you to the selection panel members and advisors:
Katie Bunn-Marcuse, Curator of Northwest Native Art for the Burke Museum / Director of the Bill Holm Center

Ralph Forquera, Executive Director for Seattle Indian Health Board

Sven Haakanson, Curator of Native American Anthropology for the Burke Museum

Michael Holloman, Associate Professor / Head of the American Indian Studies program at Washington State University

Warren King George, Oral Historian for Muckleshoot Indian Tribe

Peter Lape, Curator of Archaeology for the Burke Museum

Lydia Sigo, Curator and Activist for Suquamish Museum

Julie K. Stein, Executive Director of the Burke Museum
---
Visit the New Burke Project page for more information about the project.
Read more New Burke updates.