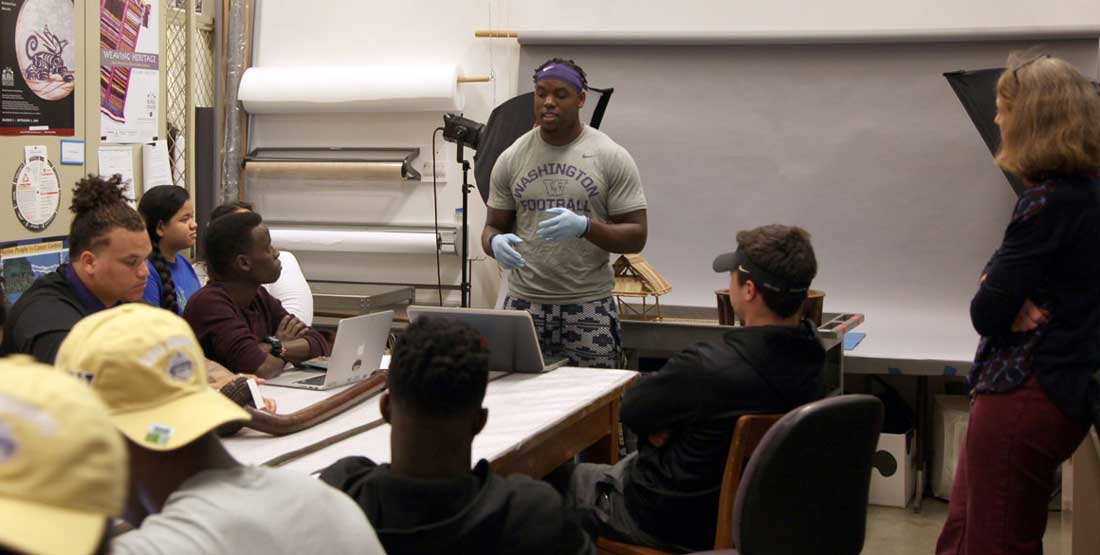 Photo: Cathy Morris/Burke Museum
Photo: Cathy Morris/Burke Museum
Each of the students is either a man of color, a student-athlete on the University of Washington football team, or both—two groups that often face stereotypes in academia. At the UW, black undergraduate students account for just 2% of the student population. Pacific Islanders are 0.7%. Native American/Alaskans are 1.5%.
They come from diverse backgrounds and life experiences, but have come together under the leadership of Holly Barker, Burke Museum curator for Oceanic and Asian Culture and senior lecturer of anthropology, to explore indigenous research methods at the Burke as part of an independent study course she teaches.
"They learn to research in their own way," said Holly. "What is most exciting about their research is that it reflects who they are as people."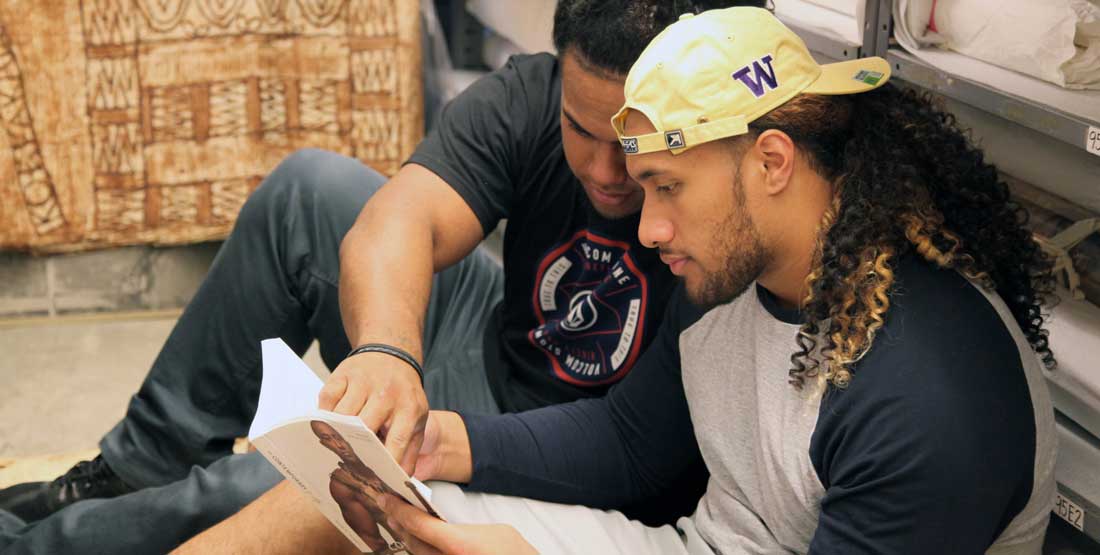 Photo: Cathy Morris/Burke Museum
Photo: Cathy Morris/Burke Museum
This quarter, Holly asked each student to represent themselves as researchers on their own terms, an exercise designed to challenge preconceived biases about their academic contributions. They each created a "Portrait of a Researcher" poster, choosing a location and object within the Burke collection that they felt represented their research and would challenge other representations of themselves.
"They often get represented in ways that are out of their control," said Holly, "this 'Portrait of a Researcher' project is a way for them to take that control back."
They were asked questions about their research and the legacy they want to have as leaders—as people who inspire youth and others in the community—particularly for a group of students they mentored this quarter at Foster High School. "I wish everyone had an opportunity to see these students at work," said Holly, "they're smart, inquisitive, motivated, and most of all they're deeply committed to supporting one another."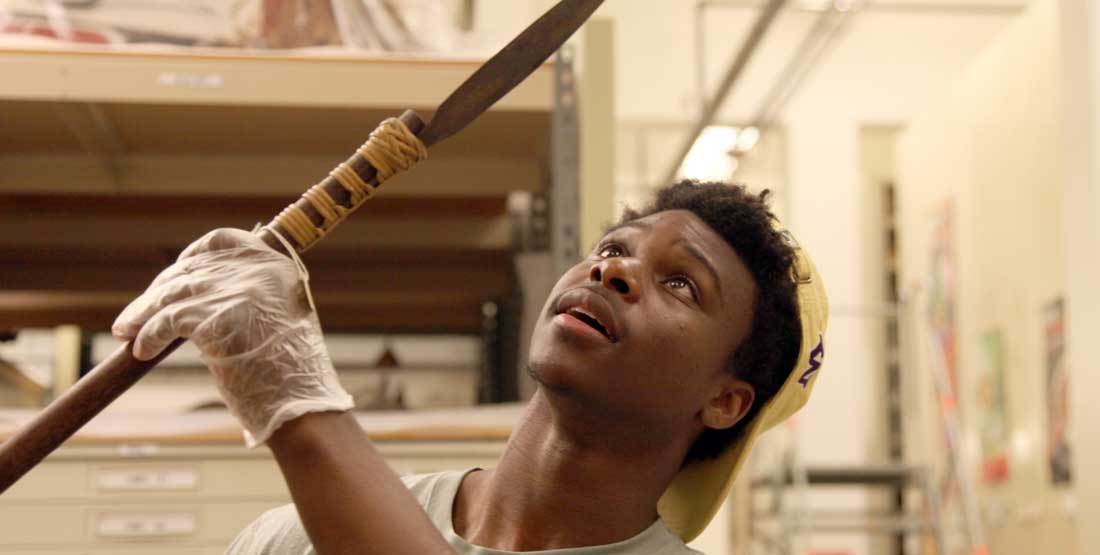 Photo: Cathy Morris/Burke Museum
Photo: Cathy Morris/Burke Museum
"I want to inspire younger kids to enjoy school because there is a lot to learn about each and everyday. I can be a leader by showing younger kids that you can become brighter and more knowledgeable through different thinking."
– Jomon Dotson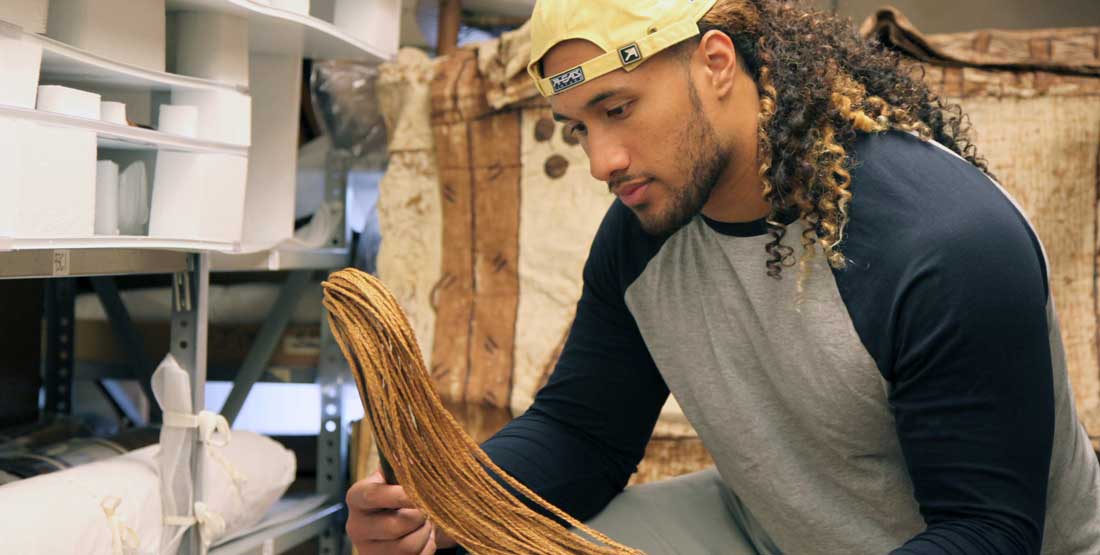 Photo: Cathy Morris/Burke Museum
Photo: Cathy Morris/Burke Museum
"It is important for me to help others understand that I am more than just a football player and more than just a stereotypical Samoan. Be yourself and go against the grain when you are put into a false stereotype—it does not feel good to be boxed into an image that society creates."
– Benning Tamatane Potoa'e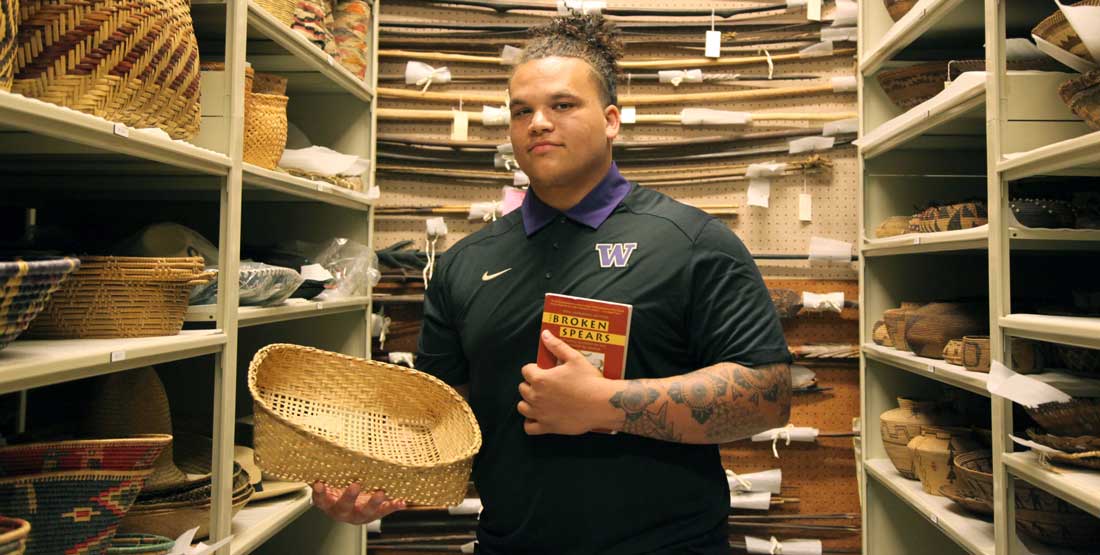 Photo: Cathy Morris/Burke Museum
Photo: Cathy Morris/Burke Museum
"I want to be a resource and a role model/mentor for Native kids as I study hard to learn more about my culture and hopefully become an expert in the field."
– Ricky S. McCoy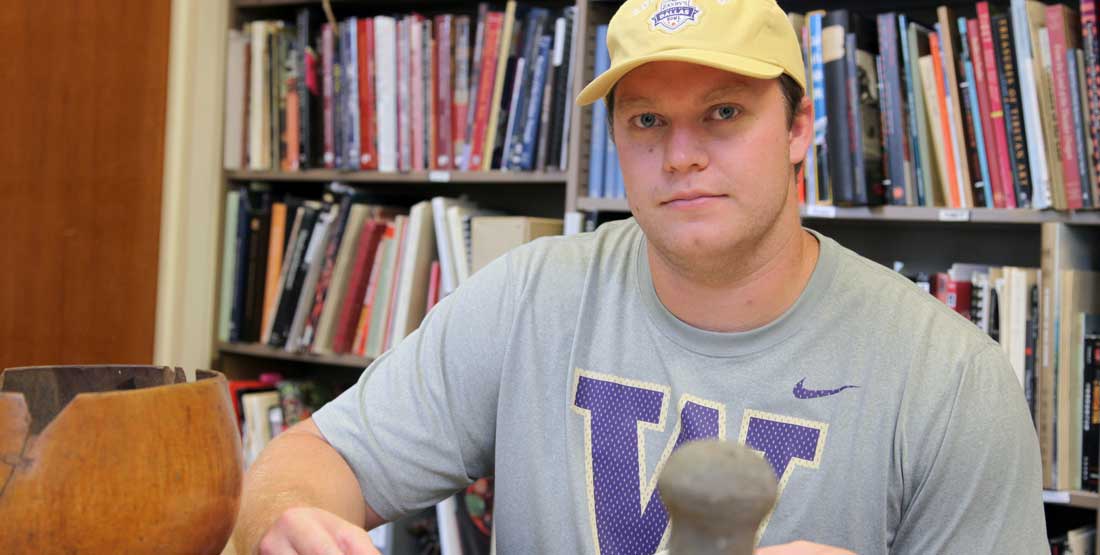 Photo: Cathy Morris/Burke Museum
Photo: Cathy Morris/Burke Museum
"The best way I can help change the stereotypes surrounding student-athletes is by succeeding in the classroom, and making people realize that we can excel on and off the field."
– Shane Brostek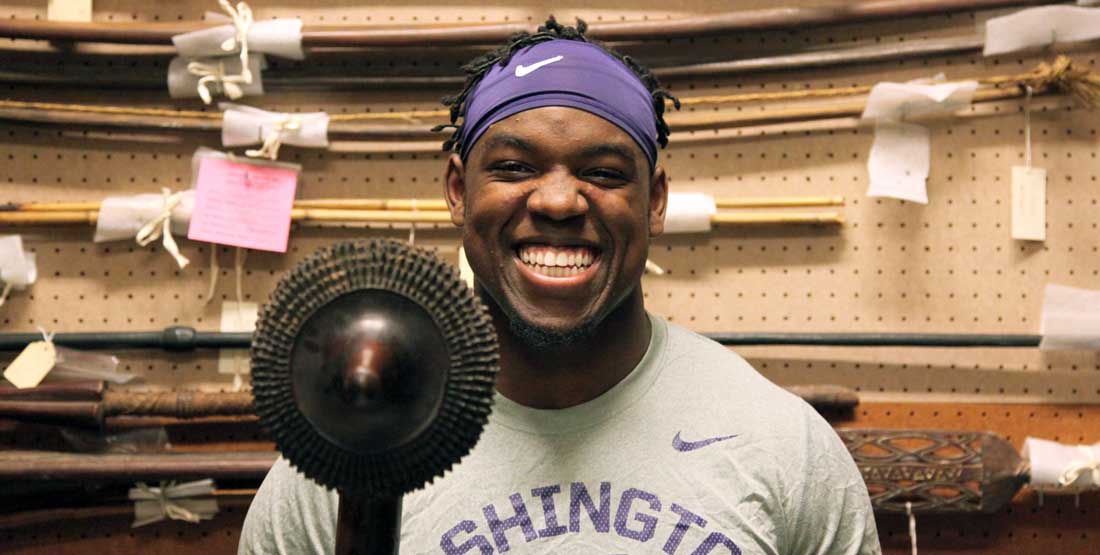 Photo: Cathy Morris/Burke Museum
Photo: Cathy Morris/Burke Museum
"I don't want my life to depend on my athleticism, so I feel the need to show people that athletes excel in multiple ways."
– Lavon Coleman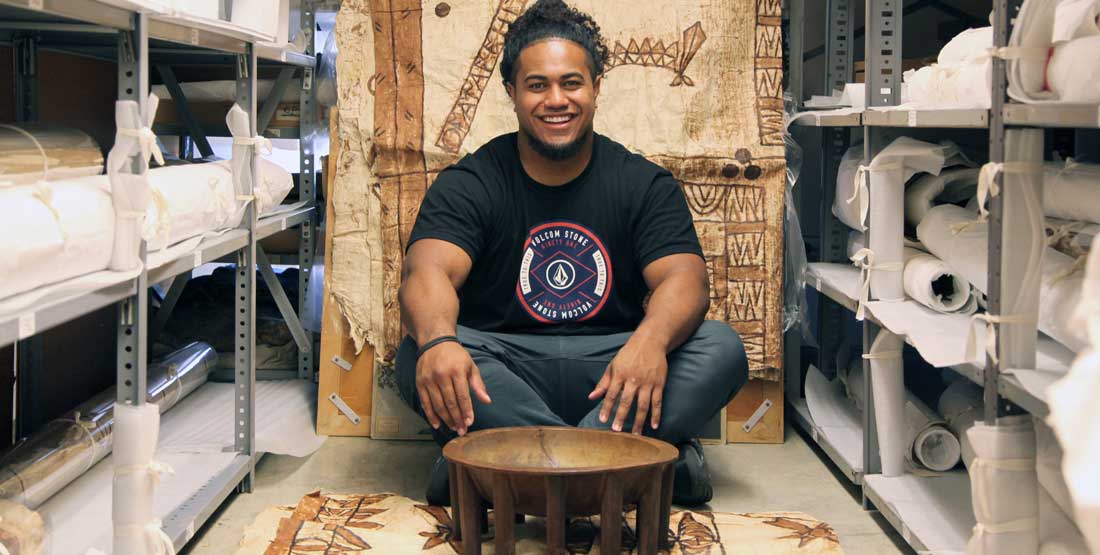 Photo: Cathy Morris/Burke Museum
Photo: Cathy Morris/Burke Museum
"I feel that treating everyone with respect, love, and care is a way of me spreading my culture to the different ethnicities I come across."
– Tevita Tuliakiono Tuipuloto Mosese Va'hae Faletau Vea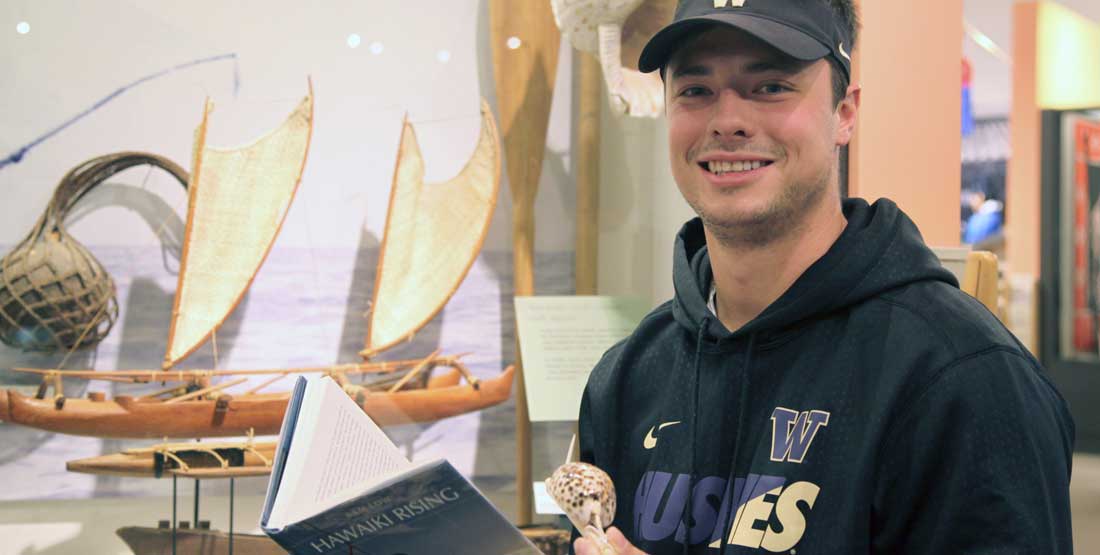 Photo: Cathy Morris/Burke Museum
Photo: Cathy Morris/Burke Museum
"Being able to study a culture that is far different from your own gives you a broader perspective on where people come from and their heritage. Doing so in a study abroad environment gives the opportunity to do research in a 'hands-on' style and the things you learn have much more significance."
– Max Ryan Masel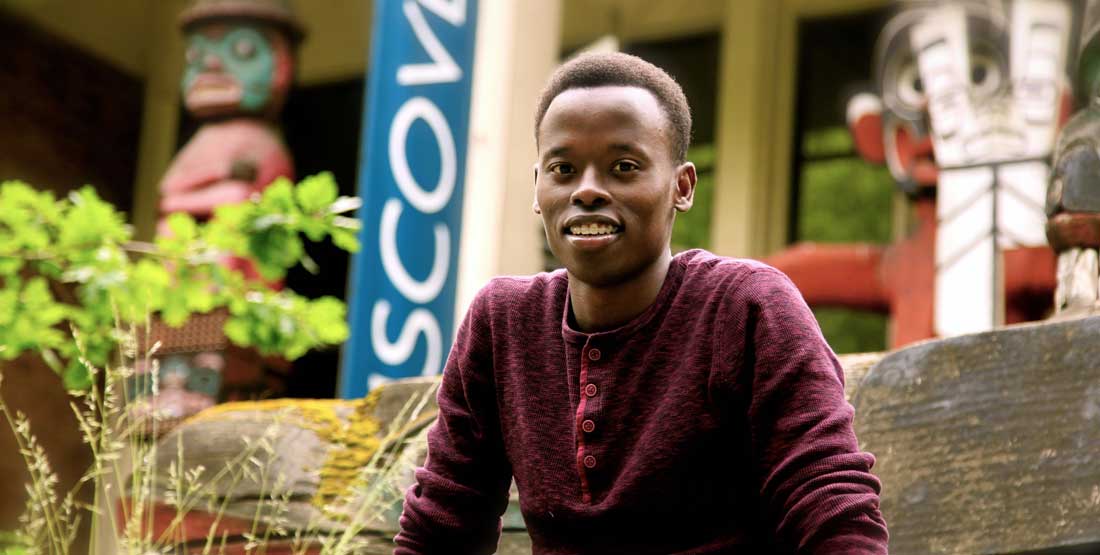 Photo: Cathy Morris/Burke Museum
Photo: Cathy Morris/Burke Museum
"The STEM and medical fields are often dominated with white people and not people of color. As a person of color pursuing a career in medicine, I want to challenge these stereotypes."
– Larry Mose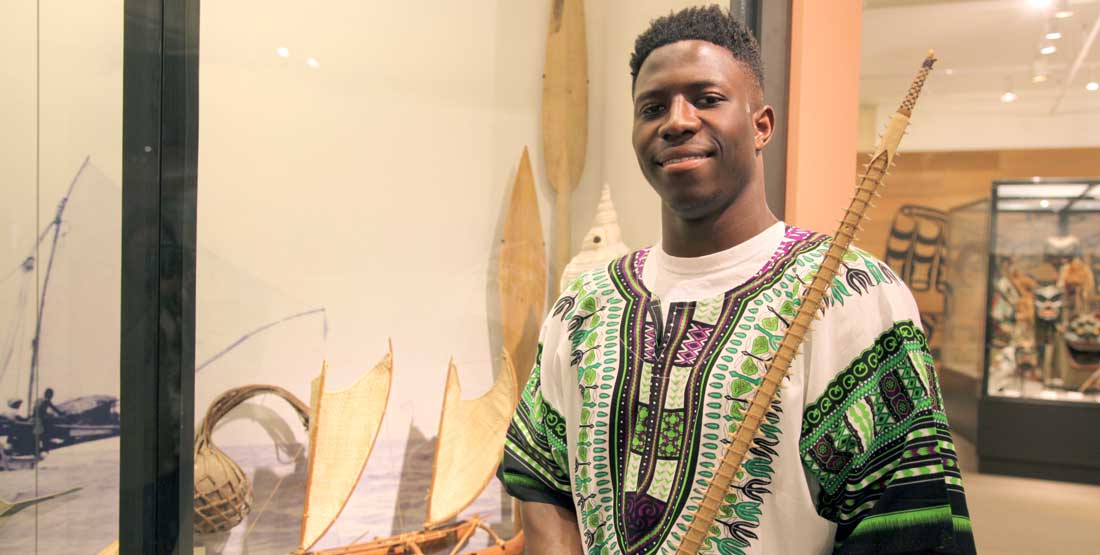 Photo: Cathy Morris/Burke Museum
Photo: Cathy Morris/Burke Museum
"I've been asked several times on campus if I am on the football team (I am not) due to the color of my skin. People tend to assume that the only way I could attend the UW is if I was on a sports team. I hope to provide insight on my past and current academic achievements to show people that I am more than a guy with an athletic build."
– Malik Ceesay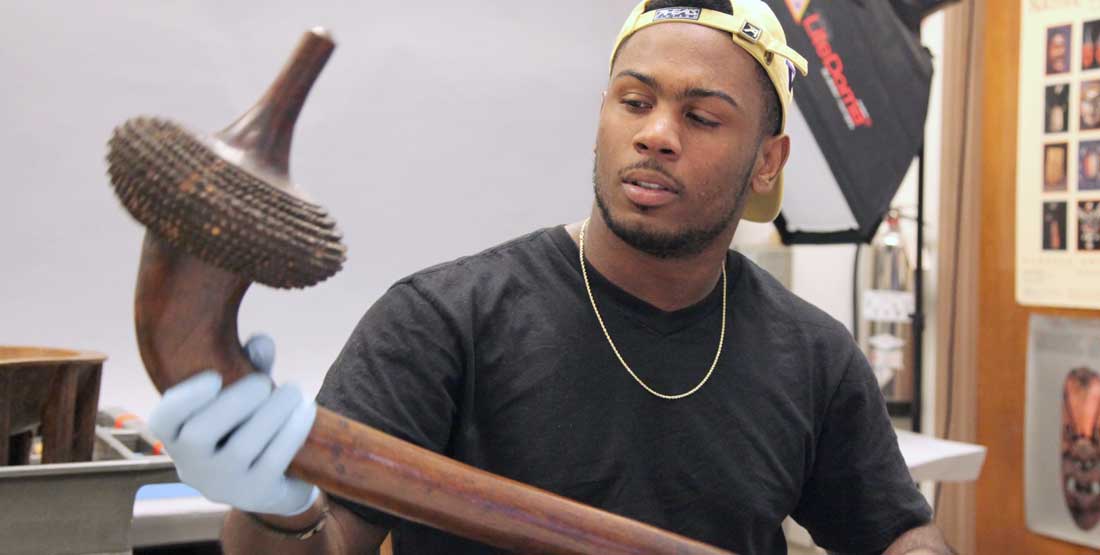 Photo: Cathy Morris/Burke Museum
Photo: Cathy Morris/Burke Museum
"I always want to remain connected to my community. Being comfortable and knowing who I am is a true goal for me. The location, expression, and object I chose for this photograph all represent who I am as a student and my desire to learn and continue to educate myself."
– Keishawn Bierria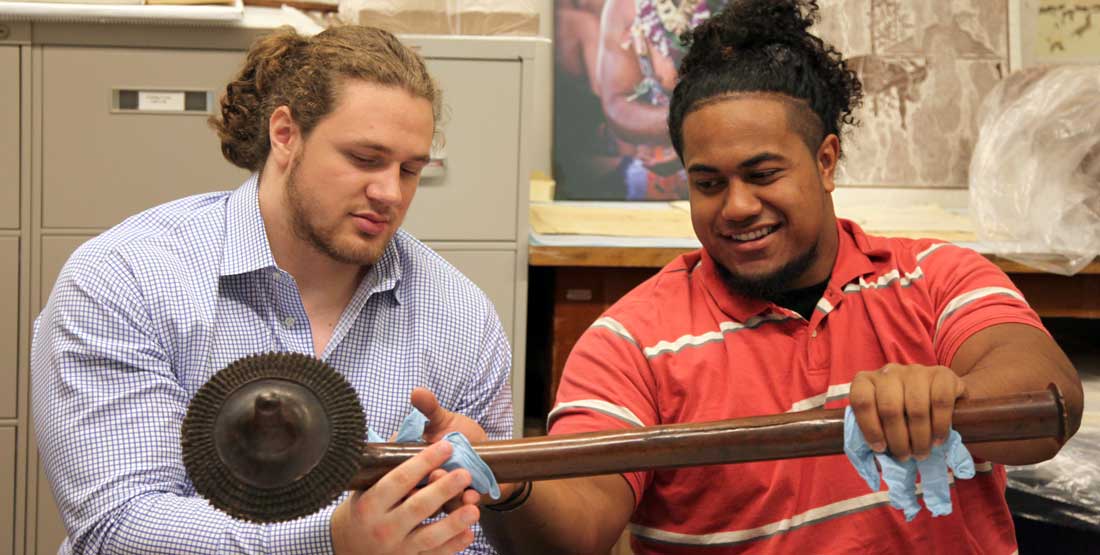 Photo: Cathy Morris/Burke Museum
Photo: Cathy Morris/Burke Museum