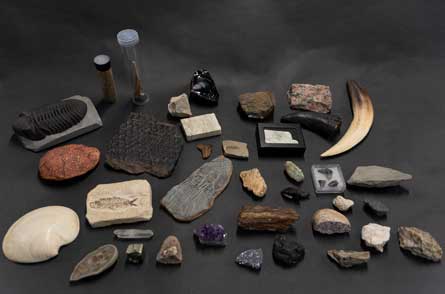 DIG: Foundations
This portable kit is filled with real and replica fossils, lesson plans, and resources that will familiarize your students with the basics of geology, fossil formation, and geologic time. This Box is a foundational resource to help provide students with the base knowledge necessary for the DIG: Microfossils Box. 
DIG: Foundations Box Lesson Plans
Lesson 1: A Rocky Start
In this lesson, students will view a PowerPoint and participate in station activities to investigate some foundational geologic concepts. This lesson combines field journal notes with DIG Box Specimens to examine the relationship between minerals, rocks, and rock formation methods. Options for scaling activities down to younger age ranges or extending them further are included.
Lesson 2: Fossil Fun
Students investigate how fossils form. In this lesson, students will make observations and hypotheses about what defines a fossil and their connection to rocks. After a PowerPoint lesson, students will amend or update their hypotheses, and work in groups to create a fictionalized storyboard about one of the DIG Box fossil specimens.
Lesson 3: A Time and a Place
Students learn about the major eons and eras of Earth and how they are defined by major geologic and evolutionary events. Students then conceptualize deep time by building their own timeline of Earth's major events, analyzing and comparing data to reach their conclusions.
Thank you so much for the [DIG Foundations] Box!  My students love it!!!  I am already thinking about next year and how I can make the experience for my students even better… The lessons were very fun and informative and easy to differentiate for any level!
—Dian B.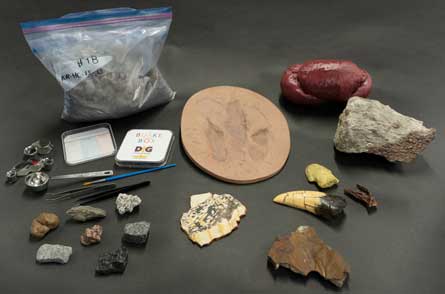 DIG: Microfossils
Get your hands dirty again! With this Box you'll receive lesson plans, collection specimens, a bag of fossiliferous sediment, and sorting materials. Lead your learners through planning a dig, finding and identifying real microfossils, and curating a fossil exhibit for their peers. Your students are active participants in real UW research: the fossils they separate and identify are sent back to the Burke for curation. Note: This curriculum is currently designed for Hell Creek participants only.
DIG: Microfossils Box Lesson Plans
Lesson 1: Digging In
How do paleontologists find fossils? In this lesson, students will start their field journals, learn how paleontologists determine where to dig for fossils, and then work in small groups to plan a dig in the United States to look for an assigned fossil type. 
Lesson 2: Microfossil Sorting
Students will sort through field sediment from the Hell Creek Formation in Montana, identify microfossils within the sediment, and categorize them using special ID guides. Students will use foundational paleontological knowledge, as well as observational skills and critical analysis to complete this two-part lesson. Students will use foundational paleontological knowledge, observational skills, and critical analysis to complete this two-part lesson.  
Want to preview this lesson?
Lesson 3: Interdisciplinary Mystery
Students will work in large groups to analyze fossil data, examine specimens and build conclusions about the paleoenvironment at the Hell Creek Formation. Groups will individually determine how their conclusions are supported or refuted by the microfossil specimens they found in the previous lesson.  
Lesson 4: From Field to Table
Students will synthesize the knowledge they've gained about the paleoenvironment of the Hell Creek Formation at the end of the Cretaceous Period and the information about the microfossils they've found to create interpretive materials for an in-class museum exhibit! 
DIG Microfossil Mini Series 1: Setting the Paleocene
DIG Microfossils Mini Series 2: Macro vs. Micro
I just wanted to send a quick email to say how AMAZING the new Microfossils Box is.  The updates are great!  It is such a great resource and the students I've been working with so far have loved all the pieces I've been able to use.  So, excellent work with the updates!  This has to be one of the coolest resources I've ever had come through my classroom. Thanks!!!
—Ben O.
The DIG [Microfossils] Box is so cool! …it facilitated a nice discussion of micro vs. macro fossil inferences.  …My [students] range from 12-17, and all of them were engaged—a huge win. The hand lenses and brushes really encouraged them to slow down and take their time looking for fossils. We also voted on which fossil was the "best find."
—Kelly H.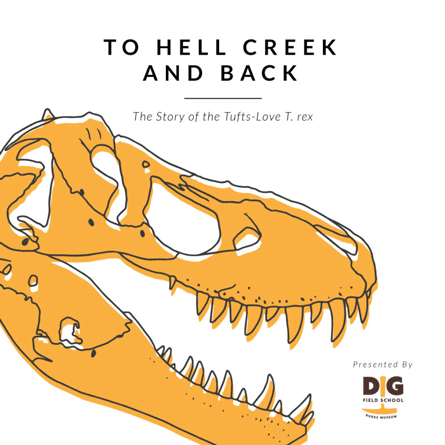 Introducing a new pilot podcast from DIG Field School and the Burke
DIG Field School instructor and Idaho State University Assistant Professor Dr. Brandon Peecook, and former DIG participant, instructor and high school science teacher Kristy Mar weave together the stories and personalities surrounding paleontological research and discovery.
This podcast focuses on the "Tufts-Love" T. rex—one of the most complete and well-preserved T. rex skulls ever found—and its journey from initial discovery in the badlands of northeastern Montana to the Burke.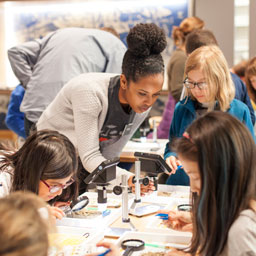 Support Education
Your gift supports high-quality science and cultural programs for students of all ages in Washington state and innovative programs for the entire community.
Photo: Rachel Ormiston/Burke Museum
Photo: Rachel Ormiston/Burke Museum