Hands-on Experience
The Discoveries in Geosciences (DIG) Field School is a unique, non-profit education and outreach program for K–12 teachers created by Burke Museum paleontologists.
Photo: Dennis Wise/University of Washington
Photo: Dennis Wise/University of Washington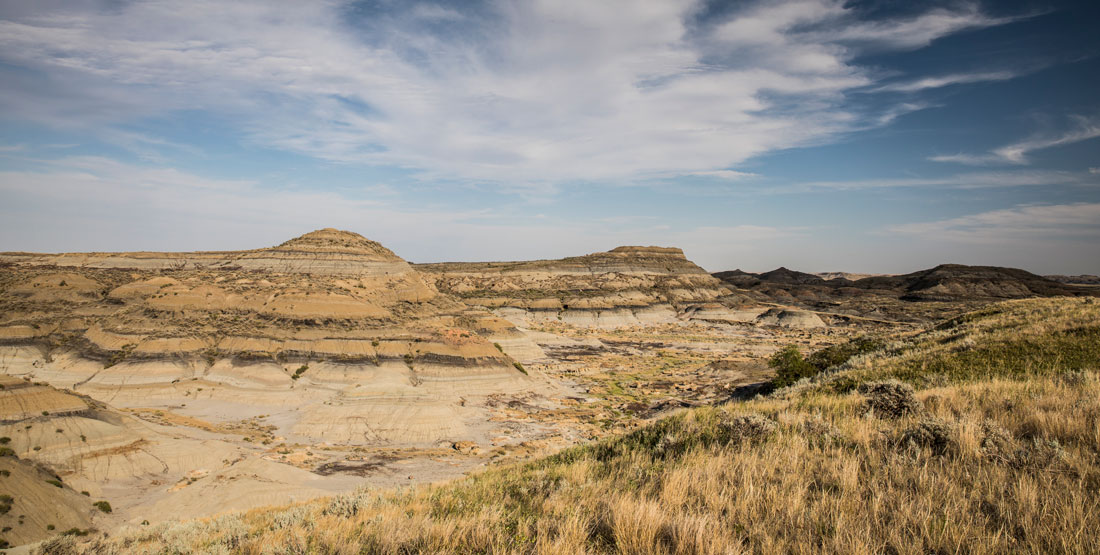 The field school component of the DIG takes place each summer and is a four-day, hands-on introduction to paleontology and geology offered to K–12 teachers. It takes place at the Hell Creek State Park near Jordan, MT—an area famous for preserving dinosaur fossils like Triceratops and Tyrannosaurus rex. The Hell Creek area is also renowned for its preservation of fossils from just before and just after the Cretaceous–Paleogene (K–Pg) mass extinction event, which occurred approximately 66 million years ago and marked the end of all non-avian dinosaurs. This area is an epicenter for paleontologists, geologists, and other scientists around the world, and is an excellent outdoor classroom.
Participants in the program work side-by-side with leading researchers in paleontology and geology from world-class institutions and receive hands-on training in field collecting and research techniques—including collecting dinosaurs and other fossils! They also engage in activities and discussions surrounding STEM education, pedagogy, and the Next Generation Science Standards. This immersive professional development opportunity provides educators with authentic fieldwork and research experience as well as added depth and breadth to their background in science.
Each year, we accept approximately 30–35 teachers into the program, which typically takes place at the end of July. We invite teachers of all age groups and backgrounds to apply to the program, and we encourage anyone from communities representing Black, Indigenous, and people of color to apply. Program participants can receive continuing education credits.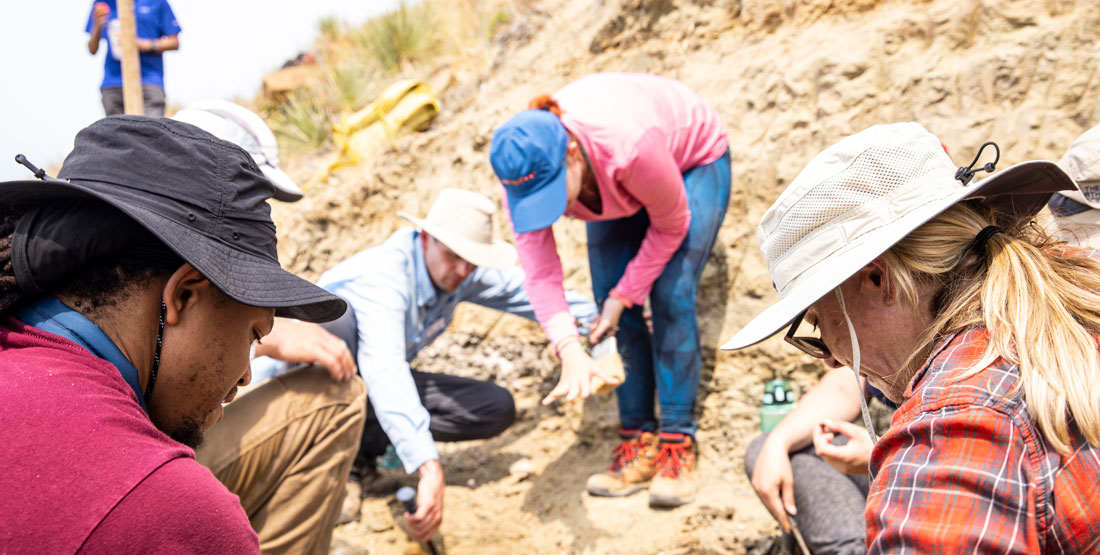 In addition to the field school component of the DIG, we provide K–12 educators and classrooms with educational resources available throughout the year. These resources include hands-on learning tools, classroom activities, and lesson plans developed by the Burke Museum Department of Education and DIG team. With these resources, students in K–12 classrooms participate in real UW research as they look for microfossils in sediment samples, examine fossil casts, and connect with scientists from many institutions. DIG's curriculum supports the Next Generation Science Standards (NGSS).
Greg Wilson Mantilla, PhD is the Director of the DIG and is a Professor in the Department of Biology, Curator of Vertebrate Paleontology at the Burke Museum, and an Adjunct Professor in the Department of Earth and Space Sciences at the University of Washington. He is also a Research Associate at the University of California Museum of Paleontology and was a Curator of Vertebrate Paleontology at the Denver Museum of Nature & Science. He has been published in a number of prestigious scientific journals including Nature, Science, Geological Society of America Special Papers, Paleobiology, Journal of Vertebrate Paleontology, and Scientific Reports and has appeared in on-line reporting for the Huffington Post for his work in Hell Creek, Montana as well as Nature Podcasts and Science Daily. His research has been funded by a number of organizations including the National Geographic Society, NSF, USDA Forest Service, the American Philosophical Society, and the Paleontological Society. 
Greg attended Stanford University as an undergraduate and received his PhD in Integrative Biology from the University of California, Berkeley in 2004 and was an NSF Postdoctoral Fellow at the University of Helsinki in 2005. 
Brody Hovatter is a graduate student in the Wilson Mantilla Lab and assists DIG Director Dr. Greg Wilson Mantilla with management of the program. Brody is also a DIG Field School instructor and has worked with the program since 2015.
Katharine Canning is Assistant Director of School & Teacher Programs, leading Burke programs and initiatives that serve teachers and students across Washington state and beyond. She led recent efforts to update DIG classroom resources and is excited to continue to build on those efforts to increase access to this amazing program and continue to support program participants in connecting students with authentic research and real-world STEM. Katharine has worked in both informal and formal learning settings. Prior to finding her niche in museums, Katharine taught 7th grade science in California public schools. She is energized by the ways informal and formal education can work together to ignite curiosity and encourage a life-long love of learning. 
Devin Leatherman is Burke Box Manager, designing and building the Burke Museum's Burke Boxes. These interactive programs use real museum collections to enhance learning opportunities in classrooms, libraries, homeschool environments, afterschool programs and even memory care facilities across Washington state. The launch of the redesigned DIG Boxes means Devin's content now has a nationwide reach. With over a decade of experience in informal education, Devin built and implemented programming for several major museums in the greater Seattle area. She has a deep passion for using museum outreach programs to disseminate accessible, high quality, hands-on informal learning experiences to learners across the nation. 
DIG Field School Instructors are a diverse group of university professors, postdoctoral researchers, graduate students, and postbaccalaureates from many different institutions including the University of Washington, University of California, Virginia Tech, University of Alabama, and more. These instructors bring their passion for paleontology and teaching every summer and are an invaluable part of the program.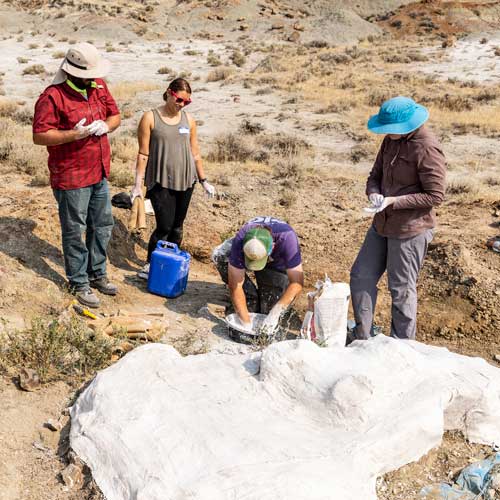 Stay in touch
Sign up for updates from the DIG Field School, including info about field work and research, application deadlines, and more.
Photo: Rachel Ormiston/Burke Museum
Photo: Rachel Ormiston/Burke Museum