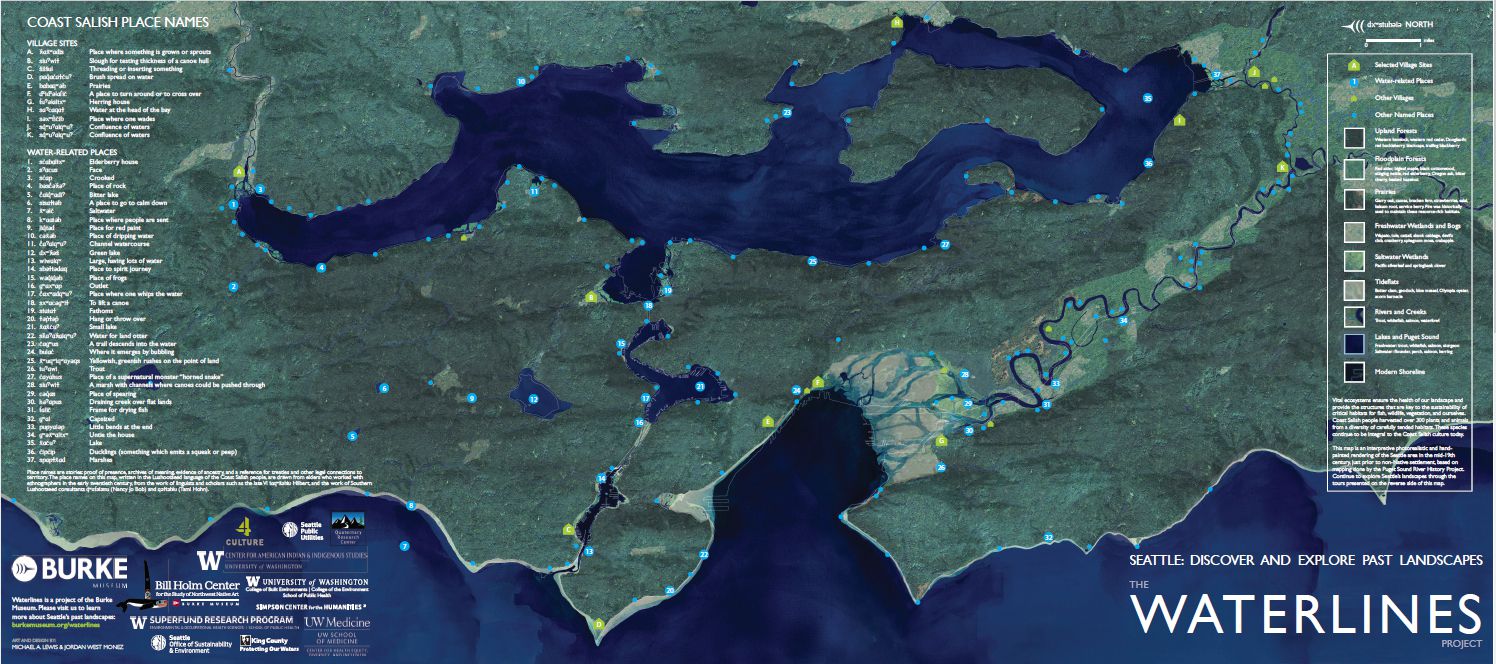 The Waterlines Map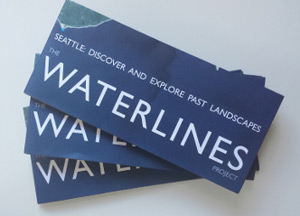 The Waterlines Project Map (PDF) is a rendering of the Seattle region in the mid-19th century, just prior to non-Indigenous settlement, created using photorealistic aerial views collaged with hand painting. The map content integrates research from the sciences, natural and cultural histories, and informed imaginings.
The place names on this map, written in the Southern Lushootseed language of the Coast Salish people in the Seattle area, are drawn from elders who worked with ethnographers in the early twentieth century, from the work of linguists and scholars such as the late Vi taqʷšəblu Hilbert, and the research of q́ʷat́ələmu (Nancy Jo Bob) and qəɬtəblu (Tami Hohn).
Place names are stories: proof of presence, archives of meaning, evidence of ancestry, and a reference for treaties and other legal connections to territory. They provide context to the ongoing presence and strong connections to the city for Indigenous people as co-managers of our shared resources.
The historical landscape conditions are based on mapping done by the Puget Sound River History Project for guiding regional issues of resource management, restoration, and environmental planning. These studies can inform urban design decisions related to green infrastructure, flood management, and other contemporary planning issues surrounding sustainability and resilience.
Find copies around Seattle:
Burke Museum (when open on October 12, 2019)
and various other spots around Seattle
Credits:
Production and creative direction by Amir Sheikh in collaboration with Brian Collins, Don Fels, Peter Lape, Joyce LeCompte, Coll Thrush, Cynthia Updegrave, and David Williams. We also thank Brian Atwater, Brian Boram, B.J. Cummings, Steve Denton, Jolene Hass, Warren King George, Lorraine McConaghy, Jess Milhausen, Megon Noble, Laura Phillips, Aaron Raymond, and Ken Yocom. Southern Lushootseed research supported by Muckleshoot Indian Tribe. Southern Lushootseed Font: SL Lushootseed Style created by Tami Hohn (Puyallup Tribe). Map designed by Michael Lewis and Jordan Monez of About Nature. Waterlines is a project of the Burke Museum.
This project was supported, in part, by an award from 4Culture.