The SEA diaspora is incredibly diverse and, while experiences are not singular, the histories of the region—including Brunei, Cambodia, Indonesia, Laos, Malaysia, Burma [Myanmar], the Philippines, Singapore, Thailand, and Vietnam—are tied through language, religion, arts, cuisine, and difficult histories of colonialism and imperialism. I chose this community because it is also a part of my own identity, as a daughter of two Philippine immigrants. Growing up I had some sense of what being Filipino meant, but it wasn't until I began my undergraduate studies at the UW and majored in Anthropology that I had this never-ending need to learn more about my heritage. During my studies, one of the many things I learned was about the harm museums have done to those who have been marginalized and colonial efforts to extract knowledge and materials from those communities.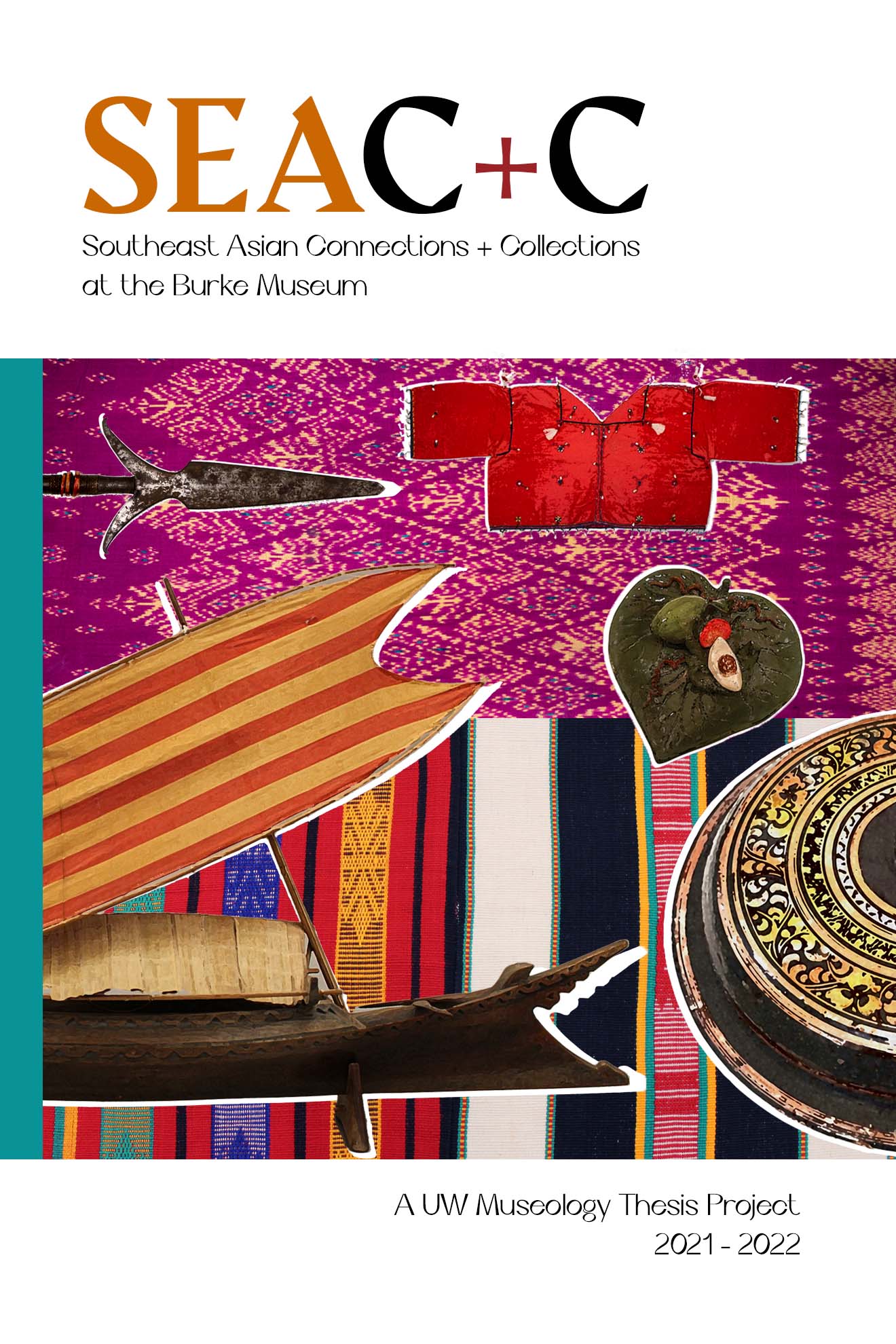 Going into the museum field seemed very unattainable, especially with remarks from my parents. It wasn't that they didn't believe in me; it was more about how museums give off this restrictive and premier atmosphere and my parents were both under the assumption that the institution is mostly for the wealthy and those with PhDs. Working on decolonization efforts, community-inclusive projects at museums have become more important and even more numerous in the past few decades and the Burke is no exception. This project was only possible because of the organizational readiness to invite communities who have historically been and felt excluded from museums while reminders of their cultures are displayed as objects. The Southeast Asian Connections + Collections at the Burke Museum zine depicts how collections can be used by communities to connect with their own heritages, whose ties are fading or missing.
Acknowledgements
Huge thank you and gratitude to the zine contributors: Kathleen Escarcha, Leah Huff, Kimberly Il, Amie Le, Kelsey Leong, Swam Lin, Rose Mathison, Jessica Rubenacker, Camille Ungco, and the Filipino-American Student Association (FASA sa UW).
 
About the Author
Gabbie Mangaser is a recent graduate of the University of Washington's Museology Program. She received her Bachelor's in Anthropology at the UW in 2019. There are few things that she loves more than dogs and Vietnamese coffee, and her hobby is buying books although she's had a growing stack of so many that she hasn't read yet.