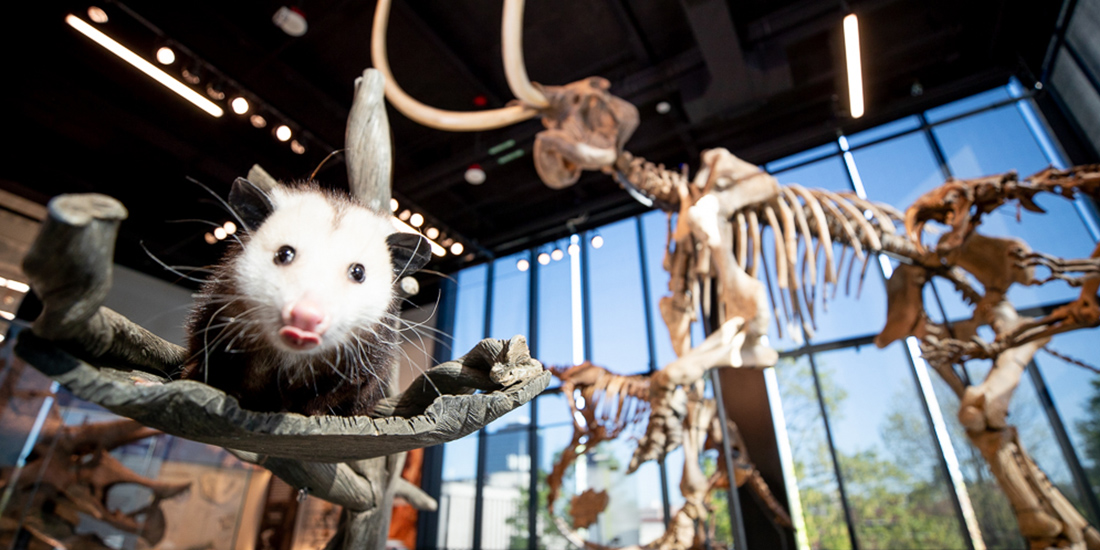 Photo: Jeremy Dwyer-Lindgren, Woodland Park Zoo
Photo: Jeremy Dwyer-Lindgren, Woodland Park Zoo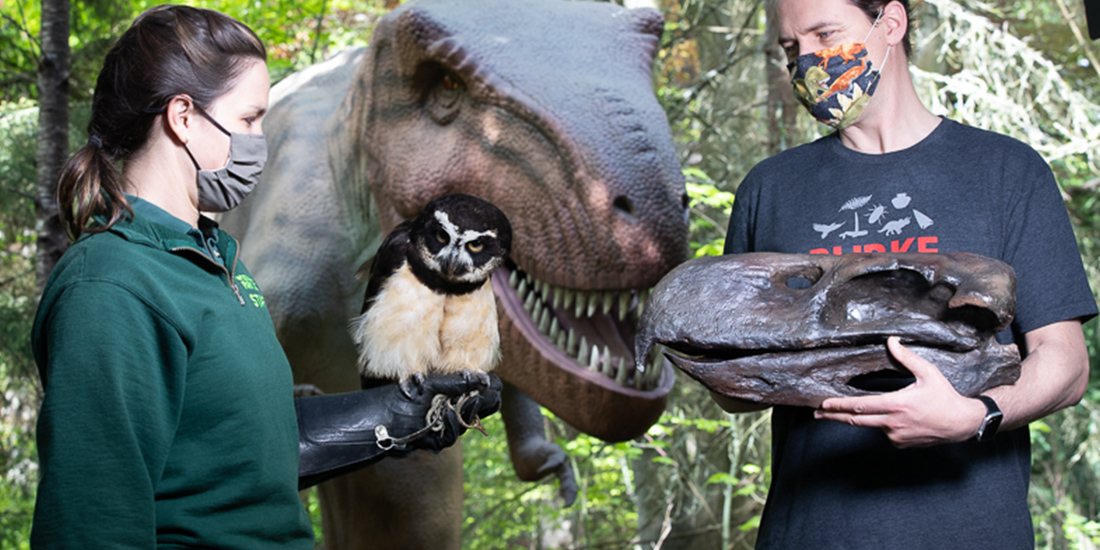 Photo: Jeremy Dwyer-Lindgren, Woodland Park Zoo
Photo: Jeremy Dwyer-Lindgren, Woodland Park Zoo
After the Burke Museum visit, the partners checked out the new Dinosaur Discovery at Woodland Park Zoo. Coba the spectacled owl, a species native to South America, got a look at a Paraphysornis, a giant flightless terror bird from Brazil. Coba was cared for by Animal Keeper Susie Semler, and the terror bird was managed by Burke Museum Curator of Vertebrate Paleontology, Dr. Christian Sidor. Sidor stuck around to size up one of the Burke's 5-foot Tyrannosaurus rex femur fossils against the giant T. rex!
"Woodland Park Zoo and the Burke Museum have a shared commitment to learning, science and species. Many of the animals who pass away at the zoo move on to the Burke so that we may all continue to learn from them and understand the importance of conservation and preservation," said Woodland Park Zoo President and CEO Alejandro Grajal, PhD. "Our friendship and partnership have existed for 100 years. And with the connection between our birds and their dinosaurs, together we represent way more than 100 million years!"
"The Burke Museum and Woodland Park Zoo are great places to learn about the life before us, and the life we see today. Understanding what has been here and what is here now helps us understand how the world is constantly changing―and the impact humans have on the world's ecosystems, and them on us," said Burke Museum Executive Director Julie K. Stein, PhD. "We hope everyone will visit the Woodland Park Zoo's Dinosaur Discovery exhibit to see how these amazing ancient animals may have looked when alive, and also visit their ancient fossil relatives at the Burke!"
For extra behind-the-scenes video and fun facts from Semler and Sidor, visit the Burke Museum and Woodland Park Zoo's social media pages.
If you're loving the dinosaurs and want to get in on the action, there are plenty of ways you can get involved this month!
In Person
Vi

sit Woodland Park Zoo's new Dinosaur Discovery exhibit presented by T-Mobile, open now through Labor Day! Learn more at www.zoo.org/dinosaurs

Visit the

Burke Museum

to see real dinosaur fossils, as well as cultural and biological collections. Learn more at

www.burkemuseum.org
Online
Tune in for BurkeFromHome Trivia with special partners Woodland Park Zoo on Thursday, May 20, at 8 p.m. Register at

www.burkemuseum.org/calendar

. 

 
Dig into Zoo to You for a free online family activity packet with dinosaur-themed crafts, activities and more

:

www.zoo.org/zootoyou

 

Take a Virtual Field Trip of the Burke Museum's paleontology exhibits and get a behind-the-scenes look at the labs and fossil collections!

www.burkemuseum.org/education
Arts, science and heritage are the heart of Seattle. We are a vibrant and rich community of cultural partners -- from artists to actors to animal lovers, museums to musicians, and singers to scientists. We are all Wild at Heart, and we celebrate our unique and collective contributions that bring life to this city. To learn more about Wild at Heart, visit www.zoo.org/together.