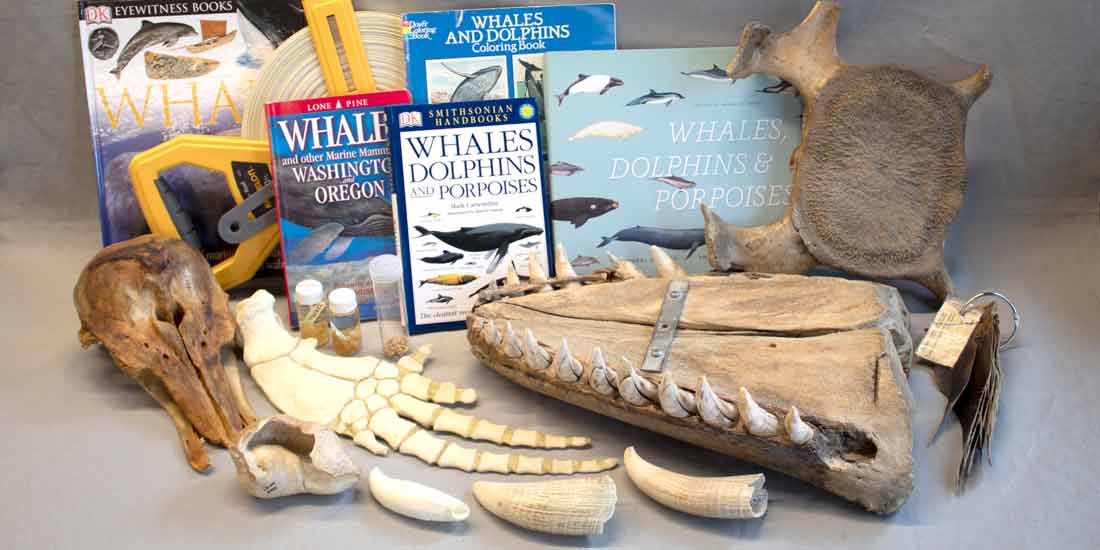 Burke Boxes include museum-quality objects and artifacts, as well as activities that can be tailored to many different ages and interests.
Bottle-nosed Dolphin Pectoral Fin Replica
Bowhead Whale Baleen
Whale Cervical Vertebra
Fin Whale Ear Bone
Krill in Vial
Orca Rostrum
Porpoise Skull, Jaw & Teeth
Porpoise Ear Bone
Sperm Whale Teeth
Smithsonian Guides: Whales, Dolphins & Porpoises, by Mark Carwardine
Whales, Dolphins, and Porpoises: A Natural History and Species Guide, by Annalisa Berta
DK Eyewitness Books: Whales, by Vassili Papastavrou
Whales and Other Marine Mammals of Washington, by Tamara Hartson
Krill the Card Game
300-foot Fiberglass Tape Measure
What is a Burke Box physically like?
Burke Boxes are big and heavy. Our larger size is 24" long and 18" tall. The weight of each Box varies, but many Boxes are over 25 pounds. They are hard-sided shipping cases with a handle on top for carrying. Some Boxes also have side handles. Each Box  has at least one buckle strap to keep the lid and interior contents secure during transport. 
Burke Boxes have foam and plastic trays inside that store and protect the collection pieces and teaching materials. Many collection pieces have bubble wrap or foam wrappings. Sticker labels help identify which collection pieces belong in which compartments. Each Box varies, but some Burke Boxes have upwards of 40 collection pieces inside!
How far in advance should I book a Burke Box?
Boxes are a very popular resource, both during the school year and during summer break. Our most popular titles can have back to back bookings for two months or more. Burke Box rental requests must be made a minimum of two (2) weeks in advance of the desired start date through our online request form, but we encourage clients to request their Boxes earlier when possible. Rental requests can be submitted up to six months ahead of the desired rental start date.
How does the Burke Box reservation process work?
Burke Box rentals require a minimum of two weeks advance booking. Rental requests are submitted through our online request form. 
Once we have received your request, we will respond within three business days. If we can accommodate your request, we will place a temporary hold on your desired Burke Box for you. You will then receive an email with your reservation details, our terms and conditions, and a link to confirm or decline the reservation. If we are unable to accommodate your request, we will contact you to discuss alternative dates or titles.
Once your Burke Box rental is confirmed, you will receive a detailed invoice via email. You can pay for your program by check, credit card or purchase order. You can pay for your rental at the time of your rental confirmation, or defer payment to a later date. Payment is due on the final day of your Burke Box rental.
Please note:
Temporary holds on requested Burke Boxes will last three (3) days after the confirmation link is sent. If you do not confirm your program via the emailed link within three (3) days of the link being sent, your hold will be released.

Cancellation for Burke Box rentals must be made two weeks in advance of the rental start date to receive a refund. Burke Box rentals canceled less than two weeks prior to their start date will not be refunded, but may potentially be rescheduled.
How much do Burke Boxes cost?
A Burke Box rental costs*:
$50 for 1 week 
$60 for 2 weeks
$20 for each additional week
Please note: Pricing for Backyard Scientist Backpacks is structured differently from other Burke Boxes. Please see the Early Learners Backpacks page for pricing.
Payment can be made online through our webform or in person via credit card, check, or purchase order no later than the last date of the rental period.
*Does not include shipping costs.
Do you offer cost assistance or scholarships?
Yes! Our generous donors make it possible for us to offer cost assistance to schools, families, and programs across the state. Read more about our Cost Assistance program to see if you qualify. If so, fill out the cost assistance section in your rental request.
Can Burke Boxes be shipped?
Yes, Burke Boxes can be mailed to Washington State residents outside of King County*. Thanks to our generous donors, prepaid return shipping labels are provided with mailed Boxes. To return a Burke Box, clients should place the provided return shipping label over the original label and deliver the Box to their carrier of choice no later than the last day of the rental period. 
*Some shipping restrictions apply: Boxes with few jarred wet specimens will be shipped without them. Boxes with many jarred wet specimens (this includes the Boxes titled Amphibians & Reptiles and Whales) cannot be shipped to clients.
In addition to classrooms around the state, Burke Boxes have been used by homeschooling parents, after school groups, community groups, virtual learning groups, early learning and assisted living facilities and libraries! 
Burke Box lesson plans are written at an elementary level, but can be adjusted for younger or older learners. Burke Boxes can also be used without their lesson plans. 
Thinking about using a Burke Box for a virtual class or event? Check out our tips for teaching remotely with Burke Boxes.
How is a Backpack different from a Burke Box?
Burke Boxes include large museum-quality collections, multiple books and predesigned lesson plans written at an elementary level. They are physically big, and are typically used by large groups of students. 
Our Backyard Scientist Backpacks only include a handful of specimens, a single book and some tools and guidelines for scientific exploration. Intended for preschool level learners, they are a child-sized experience intended for one or two learners at a time. Backpacks can be rented individually, or in groupings of 6 to use in early learning environments. Individual Backpacks also have a different pricing structure than standard Burke Boxes. Click the Backyard Scientist Backpack link above for more details on pricing. 
Is a Burke Box safe to use with coronavirus circulating?
Yes. Handling a Burke Box is a safe experience for clients and staff. We encourage clients to follow local COVID guidelines and general health practices while using a Burke Box.
 
Why does my Burke Box rental have to start and end on specific days of the week?
Between cleaning, repairs and complex staffing patterns, our rental schedule allows us to provide the best, most consistent Burke Box experience possible for all our clients.
We recognize this schedule can be challenging for educators to accommodate; for this reason, reservation holders can send anyone in their stead to pick up or return their Burke Box. If it is impossible to coordinate a Burke Box pick up or drop off on the days assigned, please contact Burke Education at burked@uw.edu.
Where do I go to pick up and return my Burke Box?
You can pick up your Burke Box on the first day of your rental from the Burke Museum Business Entrance at the northeast corner of the building (or the far right corner when viewing the building from the N1 parking lot) between 8 AM – 4 PM. Use the call button to provide the renter's name and Box title to initiate your pick up or drop off. Burke Boxes are not available at the main museum entrance. Clients load and unload Burke Boxes into their vehicles, but accessibility accommodations can be requested in the reservation process. 
Burke Boxes are big and heavy. You may park in the loading zone outside of the business entrance for easiest loading when picking up or dropping off your Burke Box. The N1 parking lot next to the Burke is a paid parking lot. Leaving your vehicle in a parking lot stall while picking up or returning your Burke Box without paying could result in receiving a parking ticket.
The Burke Museum address is 4303 Memorial Way NE, Seattle. The University District light rail station and several bus stops are within walking distance of the Burke, but do remember that Burke Boxes are heavy and bulky.
If you have questions or concerns about your ability to retrieve or drop off your Burke Box, please email Burke Education at burked@uw.edu.
When does my Burke Box need to be returned?
Your Burke Boxes should be returned to the Burke Museum Business Entrance by 4 PM on the last day of your rental period. For shipped boxes, your Burke Box should be mailed with a carrier of your choice no later than the last day of your rental period. A late fee of $10 per day will be assessed on Burke Box returned after their rental end date.
Email burked@uw.edu as soon as possible if you are unable to return your Box on time for any reason.
Can I change or cancel my reservation?
If you are unable to pick-up or return a Burke Box on the scheduled date, or need to change or cancel a reservation, please email Burke Education at burked@uw.edu.
Cancellations must be made a minimum of two weeks before the scheduled ship or pick-up date for a refund. No refunds will be given on cancellations made with less than two weeks' notice.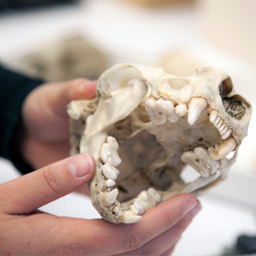 More Burke Boxes
With 18 Burke Box titles ranging from culture to earth and life sciences, there's something for everyone!