We've compiled answers to some of the most common questions related to Curation Services at the Burke Museum. Have another question that you need help with? Contact us.
Why should I contract with the Burke Museum?
The Burke Museum has it all: experienced staff, affiliation with a nationally recognized university, a mission to educate the public about the discipline of archaeology and the results of research in the state, expertise in management of archaeological collections and a positive history of working with government agencies and tribes. The Burke Museum has both the storage space and the workforce to properly curate collections ranging in size from tens of thousands of artifacts to single isolated finds.
Research access is an important component of the services we provide in our Held-in-Trust Program. As a department within the University of Washington, the Burke Museum is well positioned to facilitate access for students and other researchers.
Will the Burke Museum accept collections from private parties?
Absolutely! Collections from eligible lands may be donated to the museum.
Donation requires completion of a Deed of Gift form that transfers all rights in the collection to the Burke Museum prior to delivery of the collection. In-perpetuity fees may be assessed for donated collections on an ability-to-pay basis. All fees associated with private collections are considered a donation and are tax deductible.
How do I get a letter from the Burke Museum to attach to my state permit application?
The Washington Department of Archaeology and Historic Preservation requires a letter from a repository within Washington State meeting federal standards for curation of archaeological collections (36 CFR Part 79) stating the repository's willingness to accept material resulting from a proposed project. Please use our Curation Request Form to submit a request.
How long can I store collections at the Burke Museum?
We will accept held-in-trust collections for as long as the client requires our services. Our shortest contract to date is 6 months; our longest is 10 years, with a standard contract length of 5 years. 
We cannot accept held-in-trust collections in-perpetuity, as regular review of contracts is required. If in-perpetuity curation is requested, we require that the agency or private party donate the collection to the museum.
Who currently has held-in-trust collections at the Burke Museum?
We currently curate collections for several county, state, federal and tribal government agencies. We have also temporarily curated collections for corporations while they investigated permanent alternatives.
Who has access to held-in-trust collections?
Access varies by collection; however we encourage an open research access policy when negotiating curation contracts. 
In general, on-site, non-destructive analysis requests are administered directly by the Burke Museum while loans and destructive analysis require permission from the controlling agency. Collections under short-term curation contracts are typically closed to all research, unless approval is first authorized by the controlling agency.
How much do curation services cost?
Standard rates apply to all collections transferred to the Burke Museum for routine curation, including both deeded and held-in-trust collections; the latest rates are always available here.
For other curation services, such as collection rehousing, cataloging, preservation, preparation, or photography, please contact us to obtain an estimate of fees.
Why should I pay for curation when some museums will accept collections free of charge?
Federal and State laws require that collections stemming from permitted excavation on public lands in Washington be curated in repositories meeting federal standards for curation of archaeological collections set forth by 36 CFR Part 79.  Archaeologists conducting permitted fieldwork on public lands therefore accept the responsibility of planning for museum curation as part of the terms of their project permits. 
Curation in compliance with 36 CFR Part 79 requires specialized personnel, facilities, and procedures, and this in turn requires significant financial resources. The Burke meets these standards, but must receive the commensurate financial resources to be able to provide these specialized services. It is the responsibility of the permitted archaeologist(s) to plan for these costs. Many museums can accept collections at no cost in part because they do not meet these standards, although it remains illegal for archaeology collections stemming from permitted work on public lands to be donated to these museums upon completion of fieldwork and analysis.
No mandatory curation standards exist for collections stemming from private lands, although long-term preservation and accessibility of these collections is typically best served by museums which meet 36 CFR Part 79 standards. We therefore encourage curation to the highest standard whenever possible, even for privately-owned collections.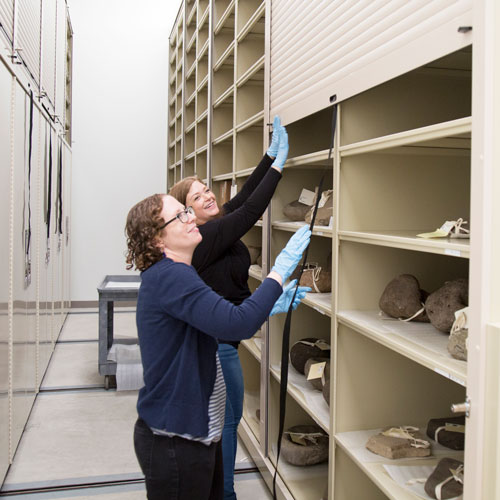 Support Archaeology
Your gift makes it possible! We couldn't do what we do without generous donor support for collections care, research and public outreach. 
Photo: Rachel Ormiston/Burke Museum
Photo: Rachel Ormiston/Burke Museum