Photo: Rachel Ormiston/Burke Museum
Photo: Rachel Ormiston/Burke Museum
Date & Time
October 14 – November 1, 2020
This event is in the past.
Tickets
Contest is FREE and open to all ages
Location
VIRTUAL EVENT
Join us from your home!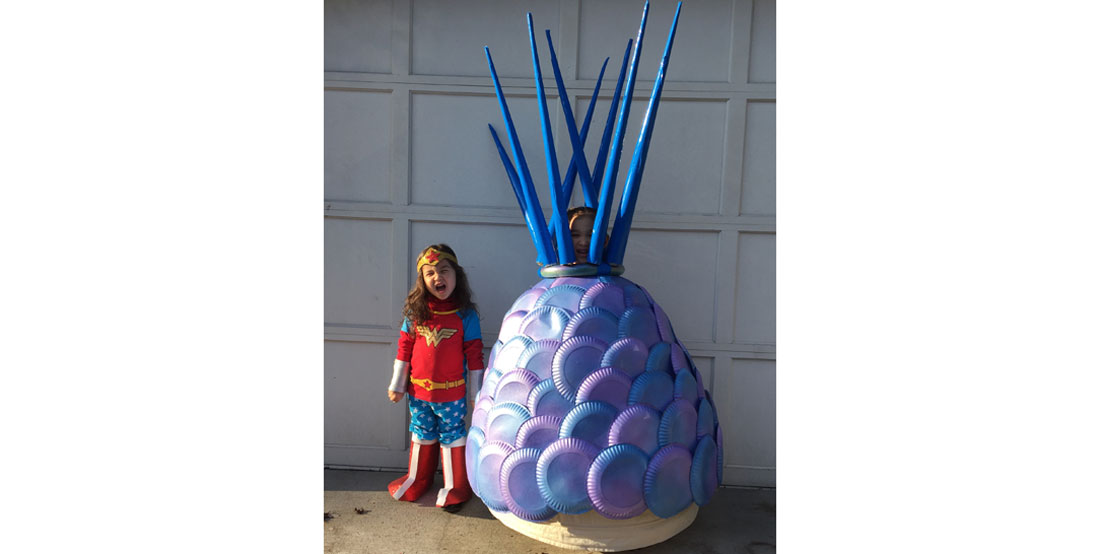 Photo: Courtesy of Lauren
Photo: Courtesy of Lauren
Celebrate the 11th anniversary of National Fossil Day on October 14 with the Burke's first Fossil Costume Contest!
How to play:
Find your costume inspiration in the Burke paleontology collections! Visit the museum to research a fossil on display, or refer to the Burke's Paleontology Database if you can't visit us in person.
 
Entries must be based on a fossil found at the Burke.
 
Your costume can depict a living version or fossilized form of an ancient plant or animal.
 
Share a photo of you wearing your costume on Instagram October 14 – November 1.
Include the following info with each entry:
What's your fossil? Include the name of the fossil you chose.
Share what you learned! Feature a fact about the fossil that you learned during your research.
Show off your creation! Tag your photos @burkemuseum and #burkefossilfashion so we can see your entry!
 
Costume Categories:
Best Paleozoic Lifeform(s) or Paleozoic Scene
This year's National Fossil Day theme celebrates the amazing aquatic creatures of the Paleozoic Era. Learn more.
 
Best Vertebrate
Fossil mammals, birds, dinosaurs, reptiles, amphibians and fishes.
 
Best Invertebrate
Fossil marine clams, snails, ammonoids, nautiloids, and microfossils.
 
Best Paleobotany Specimen 
Fossil leaves, flowers, seeds and fruits, wood, and plant microfossils.
 
Best Costume in the Museum
Wear your costume on your next visit to the Burke and take a picture in the Fossils Uncovered gallery. (Masks are required, even if you're a fossil!)
Prizes:
All participants will be entered in a drawing to win a Burke membership!
Wear your costume in the museum and save 10% in the museum store.
A basket of candy and fossil-inspired gifts will be awarded to each winning entry.
Contest runs October 14 through November 1, 2020. Multiple entries are encouraged, but only one prize will be awarded per person/group. Winners will be announced November 6, 2020. Prizes can be picked up at the museum November 6–30,  or will be mailed if applicable.
Questions? Contact burked@uw.edu.