Curatorship honors decades of contributions to the field of archaeology and repatriation
"I was praying all the time to understand what my elders told me: Bring the people home. I tried to stick with their word."
Wanapum Leader Rex Buck, Jr., spoke these words about ancestors held in museum collections to a close group of colleagues, friends, and fellow community members. The meeting was a special one; to honor the decades of work Rex has contributed to the Burke Museum, repatriation, and the field of archaeology as a whole. Along with celebrating Rex, the Burke Museum presented him with a new title: Archaeology Curatorial Associate.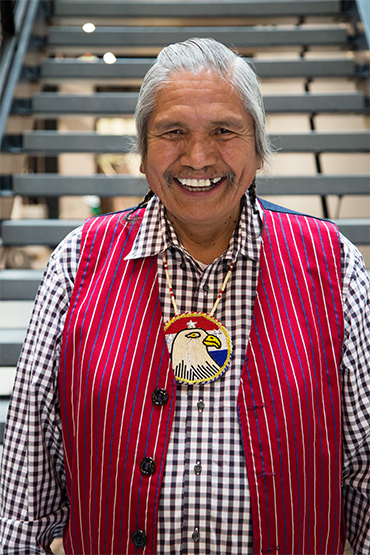 Photo: Rachel Ormiston/Burke Museum.
Photo: Rachel Ormiston/Burke Museum.
Curatorial Associate positions at the Burke are awarded to professionals who hold positions in other institutions, such as other universities or government agencies. These recognize contributions to Burke collections, research, exhibits and public programs. This newest title adds to other positions Rex holds at the Burke; Rex is also the museum's Native American Advisory Board Chair and a member of the Burke Museum Association. In addition to these important roles, Rex plays an integral part in the Burke's repatriation efforts. The Burke Museum became the court-appointed repository for The Ancient One (also known as Kennewick Man) in 1998, and Rex led the cultural protocol, ensuring proper care for the ancestor and Burke staff for 19 years until The Ancient One was repatriated in 2017. Rex also contributed greatly to coordinating the efforts of multiple Columbia River Tribal Nations and the Burke to repatriate hundreds of ancestors and tens of thousands of objects, as part of the Burke Museum's commitments under the Native American Graves Protection and Repatriation Act (NAGPRA).
"It is our honor to offer Rex the position of Archaeology Curatorial Associate at the Burke Museum of Natural History and Culture," said Burke Museum Executive Dr. Julie K. Stein. "The Burke curators and our entire staff recognize his long and distinguished contributions to Burke Museum collections, exhibits and research, as well as his service to the field of archaeology in Washington state, nationally and internationally." 
Photo: Rachel Ormiston/Burke Museum.
Photo: Rachel Ormiston/Burke Museum.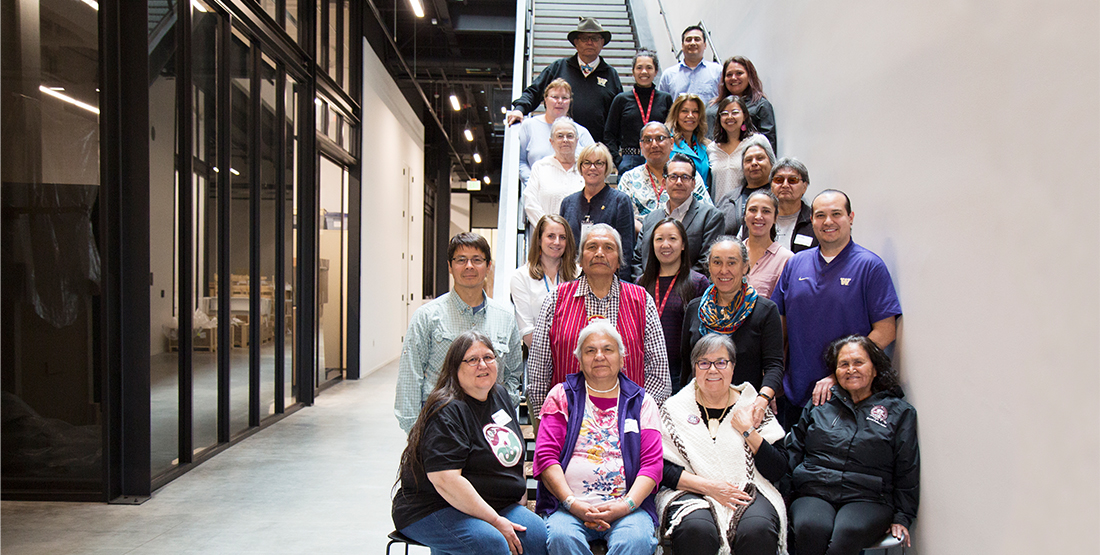 Photo: Rachel Ormiston/Burke Museum.
Photo: Rachel Ormiston/Burke Museum.
As the Burke Museum moved into its new building, Rex also led the cultural protocols of moving collections, honoring the old building, and welcoming staff, students, volunteers, tribal members, and the entire community into the new museum. Rex and his wife Angela Buck were lead contributors to the New Burke's Our Material World gallery, which opened in 2019. His guidance helped ensure all aspects of the New Burke—from the tiniest camas bulb to the 113,000-square-foot building—involved consultation, input, and cultural practices from Pacific Northwest Tribes. 
"The word 'curator' and the word 'care' are very closely related. Rex has taught me that we need this care not only for the objects and belongings that sit in the museum, but more importantly about the people who are involved in this work," said Burke Curator of Archaeology Dr. Peter Lape. "The last couple of years—in large part because of Rex's contributions and efforts—archaeologists across North America have changed the way we think about archaeology and are now putting people first. That's a monumental change to our field and we have Rex to thank for this."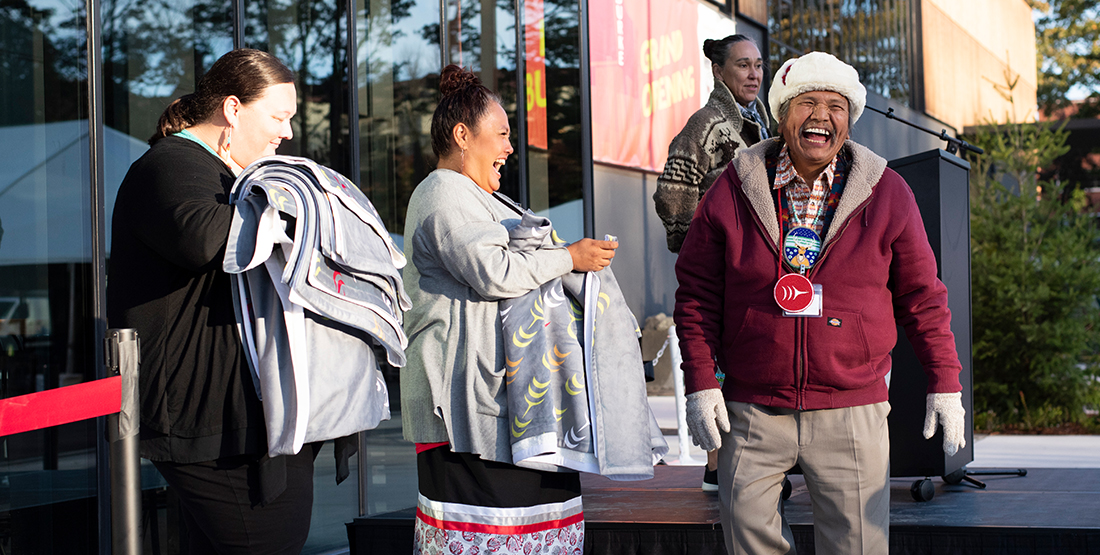 Photo: Andrew Waits.
Photo: Andrew Waits.
Rex's work extends to the entire community. He is the leader of the Wanapum Tribe and creator of the Wanapum Museum. Rex shares his expertise as a spiritual leader offering critical guidance on cultural stewardship to many agencies such as the US Army Corps of Engineers and Grant County PUD, to museums like the Smithsonian National Museum of the American Indian and the Smithsonian National Museum of Natural History. 
"Rex takes care of the land, the fish, the animals; the heritage and culture of the Wanapum people; he takes care of Priest Rapids village; he takes care of the Ancestors; and he takes care of those he works with and those who come into his orbit. Rex has been a curator all of his life. Any good curator wants their work to be understood and continued by those who come behind us," said Jacqueline Cook, Repatriation Specialist for the Confederated Tribes of the Colville Reservation. "As a good curator, Rex teaches us how to continue to take care of all that is sacred. He never turns away anyone who wants to learn. He teaches and instructs in the most gentle and traditional way."
"As the Burke's first Tribal Liaison, it is important for me to continue Rex's work through consultation," said Polly Olsen (Yakama), Burke Museum Tribal Liaison and Director of Decolonization, Diversity, Equity, Access and Inclusion. "As the chairman of our Native American Advisory Board, he has raised Native peoples' voices, our presence, and our leadership in museum work. It's an honor to collaborate with Rex and carry on all of the hard work Rex and others have done in partnership with the Burke Museum." 
As for the future of repatriation and tribal consultation, Rex so simply and powerfully stated: "One heart, one mind, be patient, move forward."
Reporters interested in high resolution images, please contact burkepr@uw.edu.