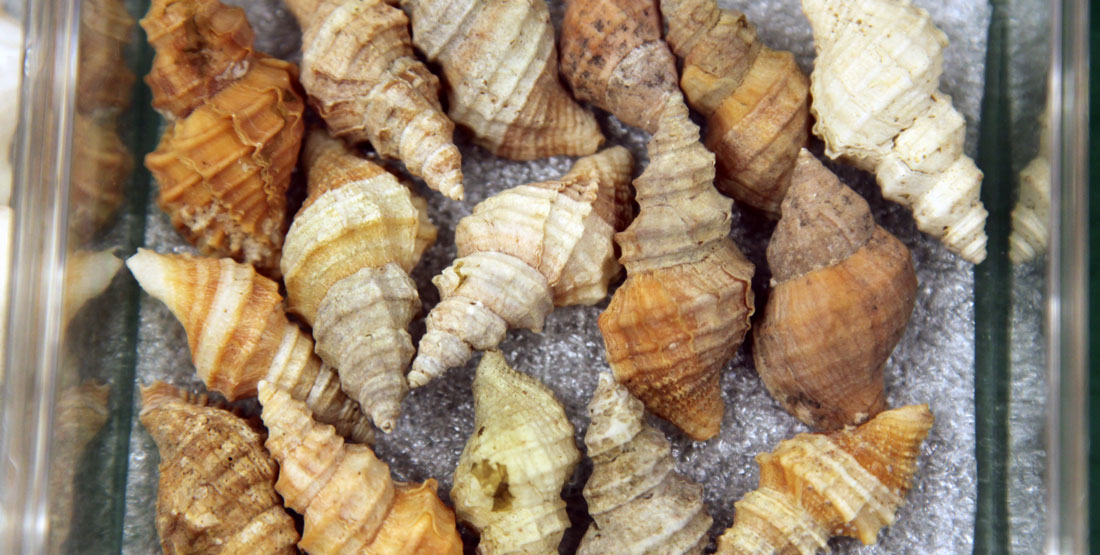 Photo: Cathy Morris/Burke Museum
Photo: Cathy Morris/Burke Museum
By mid-century, the collection had grown considerably in size, reaching more than 30,000 specimens. Dr. Alan Kohn was appointed Adjunct Curator of Malacology in 1965, and with the assistance of volunteers, he continued to meticulously curate and catalogue specimens obtained from public donations, other researchers, and his own collecting trips – the vast majority of which originated from the Indo-West Pacific. Overall, more than half of the collection can be accredited to Dr. Kohn's tenure at the Burke Museum, providing a vital legacy for the past, present, and future.
Today, the collection continues to grow steadily in both size and resources as the museum receives sizeable donations. In 2015, following the generous donation of Dr. Phil and Sandra Nudelman, the Burke Museum was able to hire its first Malacology Collection Manager, Dr. Melissa Frey.
The department was awarded a three-year Collection Stewardship grant from the Institute of Museum and Library Services (IMLS) in 2016, which provided the necessary resources to digitize and rehouse the entire collection in the New Burke. With the continued help of a dedicated team of volunteers, the collection and this stewardship work will be shared with visitors in the New Burke.
Currently, the UWBM Malacology Collection houses more than 150,0000 specimens. Based on size alone, the Burke Malacology Collection is estimated to rank 16th in the nation, 6th among university collections, and 1st in the Pacific Northwest. While extremely broad in geographical and ecological scope, the collection is best known for its Pacific Rim and marine focus. Given the scope of the collection, it offers enormous potential for use by researchers, artists, educators, students, and museum visitors.
For more information on collection access, specimen donations, and collection support, please contact us.