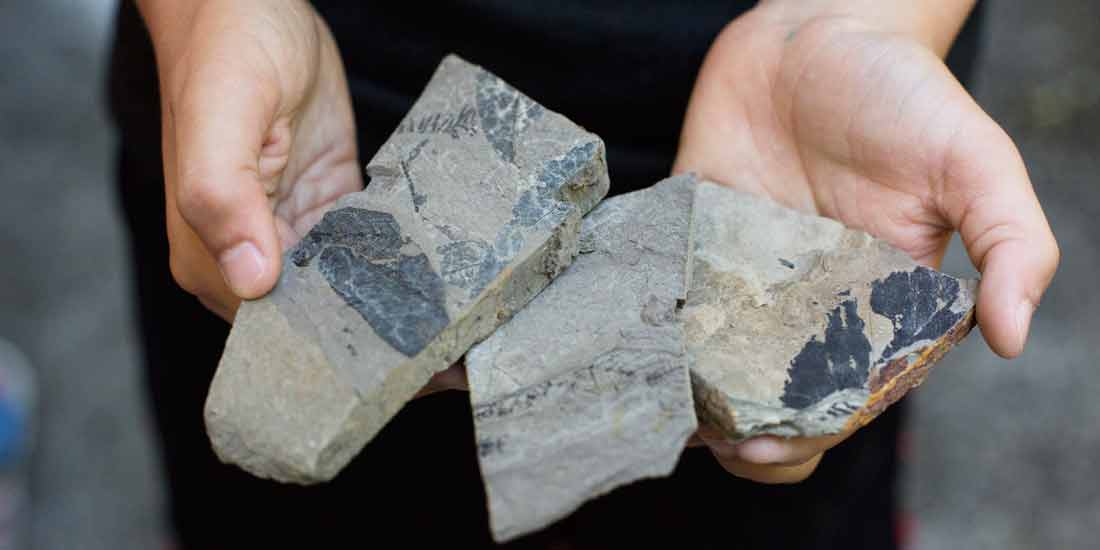 Rachel Ormiston/Burke Museum
Rachel Ormiston/Burke Museum
We've compiled some of the most common questions about Burke Museum field trips. Have another question that you need help with? Contact us.
What COVID safety precautions are in place for field trip groups?
Does the Burke have parking?
If you plan to arrive by bus, there is bus parking available in the lower parking lot in front of the museum. This parking is limited and must be reserved in advance of your visit. Please let us know that you will need bus parking when you book your program.
If you plan to arrive by car, personal vehicles are subject to University of Washington (UW) parking policies. Please visit our Directions & Parking page for campus parking information. For further questions about parking, please call UW Transportation Services at 206.685.1543.
How much do field trips cost?
Early Learner Programs: $150 per group of up to 30 students
Elementary & Middle School Programs: $200 per group of up to 35 students
Self-guided: $65 per group of up to 15 students
Do you offer cost assistance or scholarships?
Yes! Our generous donors make it possible for us to offer cost assistance to schools and programs across the state. To apply, please fill out our Field Trip Financial Assistance request form.
Can I make changes to my program?
Yes, if you need to change or cancel a reservation, please call the Education office at 206.543.5591 as soon as possible.
Cancellations must be made a minimum of two weeks before the scheduled program for a refund. Cancellations made with less than two weeks' notice will be charged the full fee. We will work with you to reschedule the program for a different date if possible.
Can I do a field trip on a Free First Thursday?
We do not offer facilitated or self-guided field trip programs on Free First Thursdays. Learn more about Free First Thursdays at the Burke Museum. 
How long are field trips and what do they include?
Early Learner programs are 60 minutes long and include a series of hands-on activities led by a museum educator. These activities will take place in a related gallery and learning space at the museum.

Elementary and Middle School programs are 90 minutes and include a 45 minute facilitated lesson led by a museum educator, and a 45 minute gallery connection which is self-guided. If you are bringing more than 70 students you will need to spend an additional 45 minutes at the museum to accommodate everyone. We ask that you decide in advance how your groups will spend their extra time. Enjoying another gallery is a great option!

Self-guided groups are free to move through the museum at their own pace. We recommend planning to be at the museum for at least 90 minutes.
Can we come early or stay after to see the rest of the museum?
After your program, you are welcome to stay and explore the other galleries in the museum. Should you need to leave and come back on the same day, re-entry is permitted. The museum is open from 10 a.m. – 5 p.m. each day.
We prefer groups stay after their program to see the rest of the museum, rather than arriving early. Please notify Burke Education in advance if this is something you would like to do.
Is there a minimum/maximum number of students for a field trip?
If you have less than 10 students in your group, we recommend choosing a self-guided visit to the museum. 
Maximum group size varies by program type:
Early Learners: 60 students max; groups over 30 will be divided in half during your program.
Elementary and Middle School: 105 students max; will be divided into groups of 35 max for activity rotations.
Self-guided: 90 students max, will be divided into groups of 30 per museum floor.
How many chaperones do you recommend we bring?
We request a minimum of one (1) chaperone for every seven (7) students participating in the program. Chaperones are admitted free to the museum with your group.
What should we bring with us for our field trip?
Groups do not need to bring anything on their field trip. Please leave valuables, backpacks, and other unnecessary belongings at home. Food, drinks, and backpacks are not allowed in the galleries (with the exception of chaperones carrying medical supplies). The Burke doesn't have secured storage space on-site and is not responsible for lost or stolen items.
Is there an indoor place to sit and eat?
Unfortunately the Burke doesn't have dedicated indoor space for groups to eat lunch, and food and drink is not permitted in the galleries. It is recommended that groups eat lunch at school if possible.
What disability accommodations are available?
If you are concerned about the facility's ability to meet your group's needs, please contact the Education Department at 206.543.5591.
To request additional disability accommodations, please contact the University of Washington Disability Services office at least 10 days prior to your visit to the museum. The office can be reached at 206.543.6450 (voice), 206.543.6452 (TTY), or dso@uw.edu.
How does your reservation process work?
School and group programs require a minimum of three weeks advance booking. Programs can be arranged online, by email at burked@uw.edu, or by phone 206.543.5591. 
If you have questions about our field trip programs, please contact us via email or by phone before submitting a request. When you're ready, you can submit your request via our online form. Once we have received your request, we will respond within three business days with more information. If we can accommodate your request, you will receive an email with your reservation details and a link to confirm or decline the reservation. If we are unable to accommodate your request, we will contact you to discuss alternative dates or options.
Once your field trip is finalized, you will receive an invoice and a packet of pre-visit information via email. You can pay for your program by check, credit card or purchase order. Payment is due on or before the date of your program. If you choose to pay by credit card, you can do so via our online portal. You will receive a link to this portal when you confirm your reservation.
Please note:
Placing a hold on a tentative date and time will hold your program for one week. If you do not confirm your program within one week of placing a hold, your hold will be released.
Cancellation for school programs must be made two weeks in advance in order to receive a refund. Efforts will be made to reschedule your program if you must cancel within two weeks prior to your program, but refunds cannot be offered.