Summer of Learning Celebration
"Superhero Summer" with The Seattle Public Library
Date & Time
Sunday, August 28, 2022
10 AM – 5 PM
 
This event is in the past.
Location
transparent
4303 Memorial Way NE
Seattle, WA, United States
0
0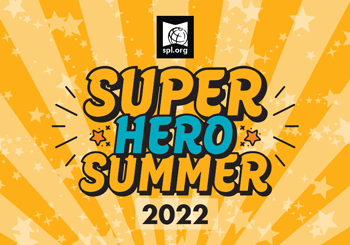 Join us for a special FREE day at the Burke to honor the youth participants of The Seattle Public Library's "Superhero Summer" Summer of Learning program.
All children, teens, and families who participated by reading and performing good deeds over the summer are invited to attend this event with their friends and families, which includes FREE access to all Burke exhibits. Families will have the opportunity to learn more about dinosaurs, fossils, Northwest Native art, plant and animal collections, and cultural pieces from across the globe.
Let's celebrate! The day will include lots of special activities.
– Dress up in your best superhero costume for the Superhero Selfie Station
– Hear the story How Mouse Moved the Mountain by Tulalip artist and storyteller Ty Juvinel
– Create puppets and act out their superpowers in the puppet theater
– Make Ethiopian clay pinch pots with Daniel Kebede
– Enjoy crafts and activities with Hindi Time Kids
– Listen to Haida language warrior, artist, and author Sondra Segundo share her latest work
– Visit The Seattle Public Library table to learn more about the Library and sign up for a library card
Talk to our partners!
---
What to expect during your visit
Do I need to reserve a free ticket online?
FREE tickets for the Summer of Learning Celebration will be available online OR at the Burke Museum Admission Desk. A reservation is not required, but advance timed tickets for this event are available here.
Advance timed tickets are offered every 30 minutes throughout the day. Please arrive within 30 minutes of the time listed on your ticket. There is a lot to see and do at the Burke Museum, so we suggest allowing between 1 1/2 and 2 hours time to make most of your visit, but you are welcome to stay as long as you like!
 
Should I wear a mask?
We welcome and strongly recommend mask wearing for the protection of the most vulnerable members of our community.
How do I get to the Burke?
Street parking and UW parking lots are free of charge on Sundays. The U District light rail station is a 3-minute walk from the Burke, and there are many convenient bus routes to the U District. 
Will there be food at the event?
Food and drinks can be consumed in the Cascade Room off the main lobby. You are welcome to take food outside onto the lovely terraced steps of the Burke Yard. 
Food is available for purchase at Off the Rez Café.
---
About the Summer of Learning program
What's your superpower? Listening? Curiosity? Kindness? This summer, The Seattle Public Library encourages kids and teens to explore their superpowers.  Now in its 103rd year, the Library's Summer of Learning offers ways for kids to read, learn, explore and grow all summer.  The Burke Museum has been a valuable partner on the Summer of Learning for over 15 years.
About The Seattle Public Library
The Seattle Public Library brings people, information and ideas together to enrich lives and build community. Our 27 welcoming neighborhood locations provide access to physical collections of books, DVDs, CDs and Wi-Fi hotspots, in-person information assistance, community meeting rooms, device charging stations and high-speed Wi-Fi. Our online Library at spl.org offers digital e-book, e-audiobook and streaming video collections, virtual educational programs for all ages, research databases and more. Our mobile and outreach services bring Library resources directly to communities with mobility, transportation, or other access issues; and we also offer one-on-one assistance with job searching, business resources and tutoring. The Library serves a Seattle population of over 737,000 people, partners with eight other regional library systems in reciprocal borrowing agreements, and circulates 10.7 million physical and digital items per year. We believe that the power of knowledge improves people's lives and that free, unrestricted access to information and knowledge is everyone's right.