Living Through the Arts: Tlingit Artist Shaadootlaa Tinaayeil Iyall
Date & Time
Thursday, April 20
7 p.m.
This event is in the past.
Tickets
FREE admission for all;
Registration required.
Location
transparent
VIRTUAL EVENT
Join us from your home!
0
0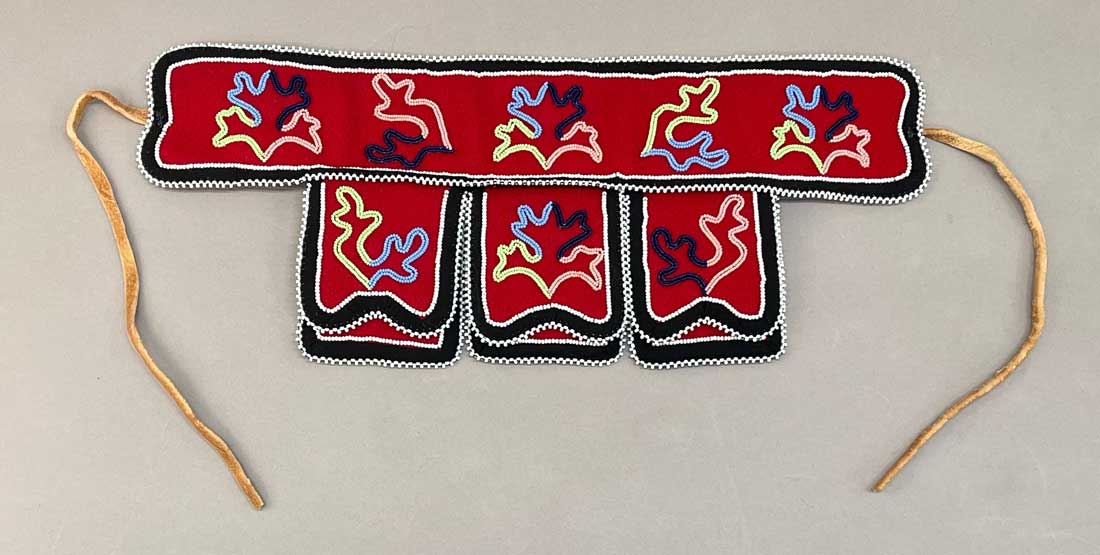 Tlingit artist Shaadootlaa Tinaayeil Iyall is a woman of many talents. She is a traditional herbalist, a weaver, a beader, a sewer, a tattooist, a singer, a dancer, a storyteller, a teacher, and a student, among other things. In this presentation, Iyall will discuss how her artistic life has developed through her close connection to Tlingit culture. She will share the latest weaving she
is working on, the time-consuming process of gathering and preparing materials to weave, and the weaving process itself. A true labor of love.
Iyall will also convey the history behind a sadat.at, beaded collar, titled Symbolic Repatriation Beaded Neck Shield. It was created as part of Iyall's anthropology capstone project for the University of Alaska Southeast, where she received her degree in 2022, and the Burke Museum was pleased to welcome this piece into its permanent collection last year. Ceremonial tattooing has also been an important part of Iyall's artistic journey. She will share the significance of this traditional practice and its return to prominence in recent years.
This event is FREE and open to all and is made possible with support from Friends of Native Art.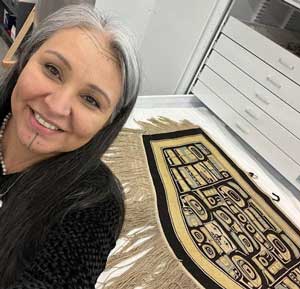 About the Artist
Tlingit Artist Shaadootlaa Tinaayeil Iyall (1970),born in Mexico City and raised in Southeast Alaska, she carries her mother's artist lineage of the Tlingitpeople. She is of the L'uknax.adi Raven Coho of Gunaaxoo Kwaan Dry Bay Alaska, from the Xixch'i Hit frog house, Granddaughter of the Wooshkeetaan Eagle Shark, of Hoonah Alaska. Growing up she was inspired to bead, sew, sing and dance within the Tlingit culture. Graduate of Native American Arts & Cultural Studies with Northwest Indian College, High Honors 2001. She's a graduate from University of Southeast Alaska,
Bachelor of Liberal Arts, Anthropology & Art, 2022. She has studied at the Institute of American Indian Arts and the Poeh Cultural Center in New Mexico. Today she practices and teaches as a traditional Herbalist and studies with Herbal Academy, clinical studies.
Shaadootlaa now lives on Salish Grounds with her husband David Iyall of the Nisqually tribe, you can find her beading octopus bags & jewelry, making regalia, skin sewing of moccasins & mukluk, weaving of cedar bark basketry, Raven's Tail & Chilkat loom weaving, singing and dancing with Alaska Kuteeyaa Dancers, storytelling and creating space for teachings, being a ceremonial tattooist, foraging and making traditional medicines, and most important having the roles as Mamma, Abuela and Wife.