Dino Lecture | Living Large: Life as a Sauropod
Lecture by University of Michigan Paleontologist Dr. Jeff Wilson Mantilla
Date & Time
Friday, June 23, 2023
7 p.m.
This event is in the past.
Tickets
FREE event; 
Registration required.
SOLD OUT
Location
transparent
Kane Hall
4069 Spokane Ln, Seattle, WA 98195
0
0
Being one of the largest animals to ever roam the earth has its upsides. Too big for most other animals to hunt, Sauropods could also reach food other dinosaurs could only view longingly. But being that big can also be a pain in the neck, especially when that neck is more than 25 feet long and weighs a couple tons. 
Join University of Michigan Paleontologist Dr. Jeff Wilson Mantilla for a trip 200 million years back in time to learn how these long-necked dinosaurs got so big in the first place and the adaptations that allowed them to thrive. Hear stories about field work in India, Brazil, and Jordan, where Dr. Wilson Mantilla excavates some seriously big bones in search of evolutionary clues.  
Transporting food from your mouth to your stomach isn't easy when your neck is five times longer than a giraffe's. Moving a few miles can be tough when you weigh more than seven school buses. Sauropods, like brontosaurus and titanosaurus, adapted over many millions of years to support and move their immense weight and size. Learn about all this and more at the Burke Museum's annual Dino Lecture, now bigger than ever! 
Please note: The location for this event is Kane Hall, UW Seattle Campus, 4069 Spokane Ln NE, Seattle, WA 98105.
Save with sauropods! Dino Lecture attendees receive a 20% discount in the Burke Store Friday, June 23 – Sunday, June 25.  
---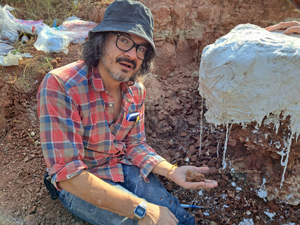 About the Speaker
Jeff Wilson Mantilla is a vertebrate paleontologist focusing on the evolution of sauropod dinosaurs and the paleobiogeography of the Indian Subcontinent. His work explores these two overlapping themes and the influence of external factors like tectonic movement on sauropod evolution. His research is specimen-based and balances empirical work with investigations of a more theoretical/synthetic nature. He has ongoing field-based projects in India and South America directly related to these themes.
This event is sponsored by Nathan Myhrvold and Rosemarie Havranek.