Are there additional discounts for Nonprofits?
We currently offer a flat fee for group visits of 15% off. Please email BurkeVis@uw.edu for additional inquiries.
How do I arrange bus parking?
Please let us know that you need parking when you fill out the Group Visit Request form. Bus parking is first come first serve, and we will do our best to accommodate your group.
Do you have guided tours?
The Burke Museum does not offer guided tours, but we do feature interactive opportunities on the weekends to learn about Burke research from SPARK gallery volunteers and speak with staff and volunteers working with collections during our Open Door moments. 
 
Where do I direct my guests to go?
Please tell your guests to check in by the Burke Museum Admission desk just inside the main entrance.
What is the cancellation policy?
Parties cancelled seven (7) or more days PRIOR to the reserved date will be refunded 50% of the total cost. We do not refund cancellations that are made with less than 1 week from the reserved date, but can work with you to move your booking to another date.
What if my group is larger than 30?
For groups larger than 30, our Visitor Services Team will work with you to schedule multiple smaller groups to enter at different times.
What if members of my group already get in free?
Visitors who get into the Burke with free admission are welcome to attend as part of your group. However, free admission tickets do not apply toward the minimum group size of 10 required to qualify for the 15% discount.
What are the options for K-12 Institutions?
We have a robust field trip program with a range of prices and options including self-guided and facilitated field trips. K-12 institutions should check out our field trips page. 
Can I apply other admission discounts to a group visit?
No. Only the 15% discount for groups of 10 or more paid guests can be applied to group visits.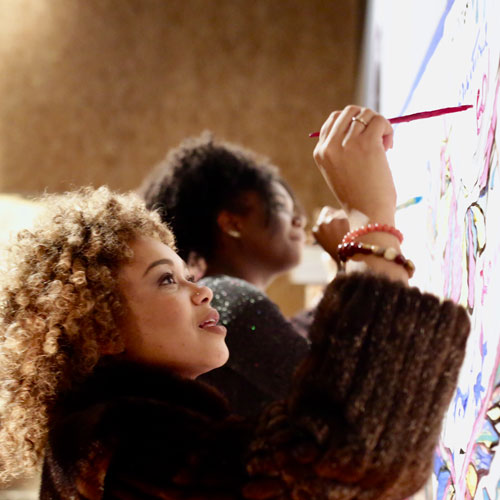 Get an Inside Look
Sign up for our monthly Inside Look email newsletter to hear what's new and what's coming up at the Burke.
Photo: Andrea Godinez/Burke Museum
Photo: Andrea Godinez/Burke Museum