Celebrate among the only real dinosaur fossils on display in Washington state
Discover the world of paleontology and the fascinating creatures that once roamed the earth. Our interactive Dino Dig party package includes a range of fun activities that will captivate and engage young dinosaur enthusiasts.
After the party, guests are free to roam the museum galleries where you may have the opportunity to see Burke paleontologists working on real fossils in the prep lab. Don't forget to visit our Fossils Uncovered gallery, which features one of the best-preserved T. rex skulls in the world!
All Dino Birthday Parties at the Burke include:
Private party room
Museum admission for all guests
Dinosaur craft
Scavenger hunt
Burke Members save 10%!
Join Today
DINO DIG BIRTHDAY
Up to 20 youth (ages 5-12)
Common Questions & Answers
What if I have more than 20 kids attending my birthday party?
The birthday party program comes with supplies that can only accommodate up to 20 youth, but we do have opportunities to rent a larger part (or all) of our venue for private events through our Event Rentals program. Please contact useburke@uw.edu for more information.
What kind of decorations can I bring?
You're welcome to bring table decorations, streamers, and any hats/costumes you would like! However, to protect our collections, we do not allow helium balloons, glitter, open flame, or anything that needs to be attached to a surface with more than painter's tape.
Do you have parking available for guests?
There is a UW parking lot directly adjacent to the Burke Museum that is available to all museum visitors, including birthday party guests. Please visit our Directions and Parking page for more information.
Who is included in the admission package?
Admission is included for up to 40 guests with the Dino Dig Birthday package and 25 with the Burke Birthday package.
Where do I direct my guests to go?
Please tell your guests to check in by the Burke Museum admission desk just inside the main entrance. Staff will direct them to the party room.  
Can I bring my own food or have the party catered?
Yes, outside food is allowed for birthday parties. Please let us know what you have in mind and we will provide instructions for how to bring food into the museum while keeping our collections safe.
For convenient onsite catering, we recommend contacting the museum's Off the Rez Cafe at catering@offthereztruckcom.
Can I bring alcohol for the adults to drink during the party?
Alcohol is not permitted at youth programs.  
What is the cancellation policy?
Parties cancelled 14 or more days PRIOR to the reserved date will be refunded 50% of the total cost. We do not refund cancellations that are made with less than two (2) weeks from the reserved date, but we can work with you to move your booking to another date. 
Yes! Burke Museum members get 10% off birthday reservations and receive unlimited admission to the museum for one year. Join today!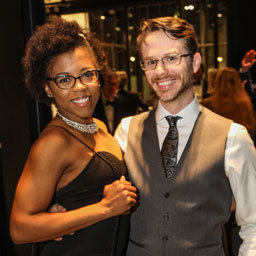 Your event supports the Burke
Revenue from private events supports ongoing programming and exhibits, and helps the Burke protect the collections and information we hold for future generations—thank you!