Make your child's birthday dino-mite! 
Celebrate among the only real dinosaur fossils on display in Washington state, become a junior paleontologist with an optional Dig Pit activity, and enjoy all of the Burke Museum galleries with a party your birthday kid and guests will remember for years to come!
All Dino Birthday Parties at the Burke include:
Private party room
Museum admission for all guests
Take-home craft
Scavenger hunt
Burke Members save 10%!
Join Today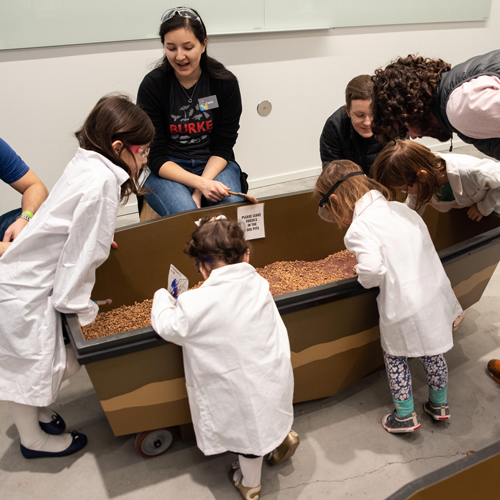 Add on a Dino Discovery Pack
More to ROAR about! We'll bring out the Dino Dig Pit, decorate the room, and have dinosaur costumes ready to add to your prehistoric fun. Add on a Dino Discovery Pack for an additional $100 and get the party started!
Common Questions & Answers
What if I have more than 30 kids attending my birthday party?
The birthday party program can only have up to 30 youths at a time, but we do have opportunities to rent a larger part (or all) of our facilities for private events through our Event Rentals program. Please contact useburke@uw.edu for more information.
What kind of decorations can I bring?
You're welcome to bring table decorations, streamers, and any hats/costumes you would like! However, to protect our collections, we do not allow helium balloons, glitter, open flame, or anything that needs to be attached to a wall with more than tape.
Do you have parking available for guests?
There is a UW parking lot directly adjacent to the Burke Museum that is available to all museum visitors, including birthday party guests. Birthday parties are offered at times on Saturdays and Sundays when parking is free within UW campus. Please visit our Directions and Parking page for more information.
Who is included in the admission package?
All youth attending the party and their adult chaperones get admission to the Burke Museum as part of the birthday package.
Where do I direct my guests to go?
Please tell your guests to check in by the Burke Museum Admission desk just inside the main entrance. They will see a staff member by a "Birthday Check-In" sign who will direct them where to go.
Can I bring my own food or have the party catered?
Yes, outside food is allowed for birthday parties. Please let us know what you have in mind and we will provide instructions for how to bring food into the museum while keeping our collections safe. For convenient onsite catering, we recommend contacting the museum's Off the Rez Cafe at catering@offthereztruckcom.
Can I bring alcohol for the adults to drink during the party?
Alcohol is permitted on a case-by-case basis. You must provide the required banquet permit and work with our team to ensure we have all of the necessary information.
What is the cancellation policy?
Parties cancelled seven (7) or more days PRIOR to the reserved date will be refunded 50% of the total cost. We do not refund cancellations that are made with less than 1 week from the reserved date, but can work with you to move your booking to another date.
Yes! Burke Museum members get 10% off birthday reservations and unlimited admission to the museum for one year. Join today!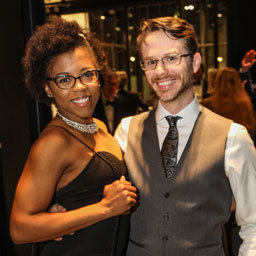 Your event supports the Burke
Revenue from private events supports ongoing programming and exhibits, and helps the Burke protect the collections and information we hold for future generations—thank you!