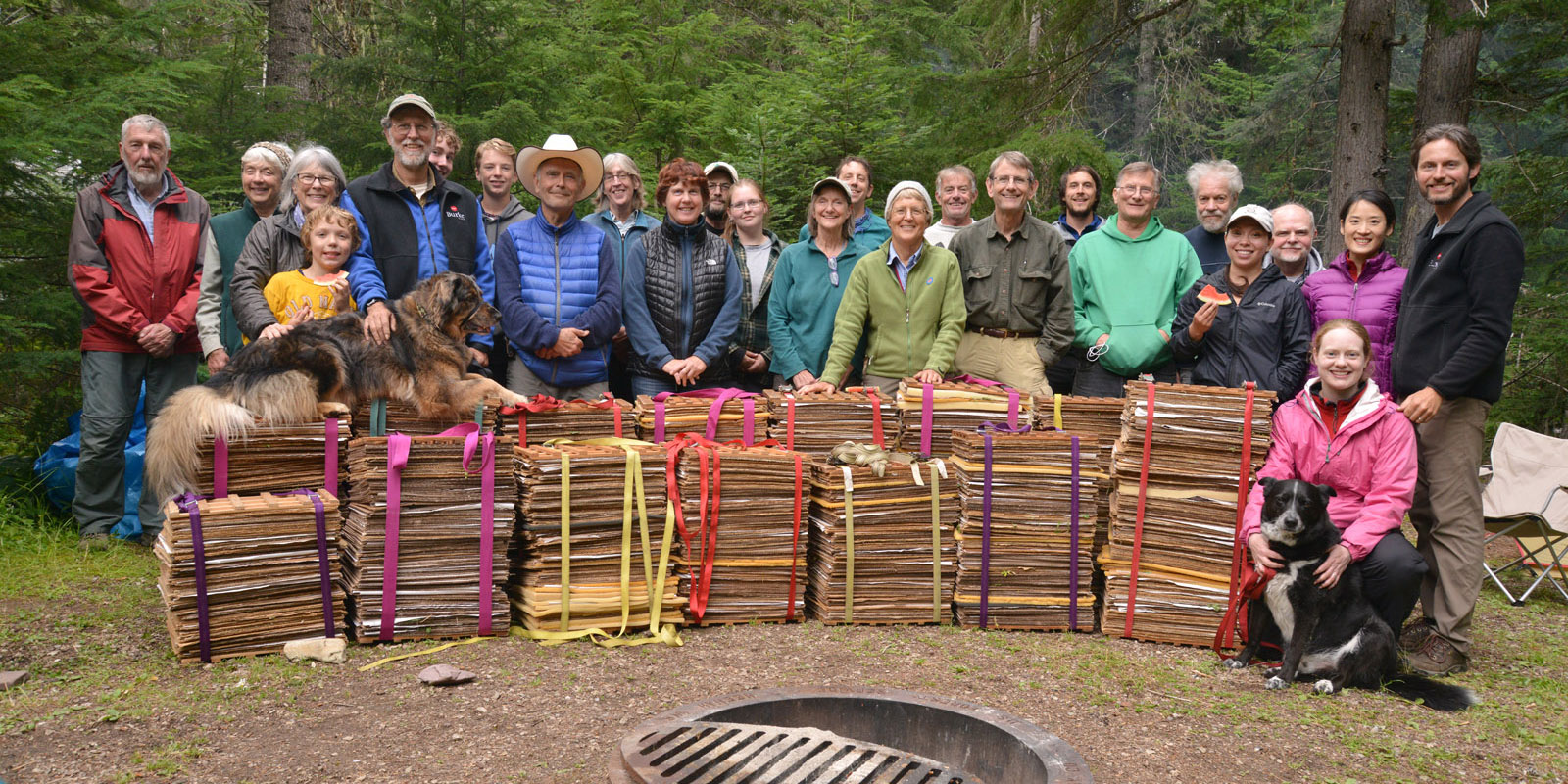 Photo: Burke Museum
Photo: Burke Museum
I went on to say that Herbarium is the "home herbarium for the Vascular Flora of the Pacific Northwest, the standard reference manual for plants of a large region encompassing all of the state of Washington, much of Oregon and parts of Idaho, Montana, and British Columbia. The Herbarium houses many historically important collections that were critical for the preparation of the Flora, but no systematic collecting of the region encompassed by the Flora has occurred since the middle of this century. The role of a regional herbarium should be to provide a continual record of the flora of the region it covers. Concerns about biodiversity and the state of our native flora have increased dramatically during the time since the Flora was written, but our collections essentially represent a still picture of its status at that time. To this end, it is my hope that during the coming years we will visit all of "our" region with organized collecting in mind, to update our collections." The announcement wrapped up by noting: "I think this will be a fun and productive outing that can help build a community around the Herbarium and its role in documenting the biodiversity of the Pacific Northwest. Please contact me if you are interested in participating."
At the time I wrote that, I don't think I would have believed that, 20 years and 21 forays later, all that I had hoped for and more has been accomplished and that the Foray program has become central to so much that we do in the Herbarium today.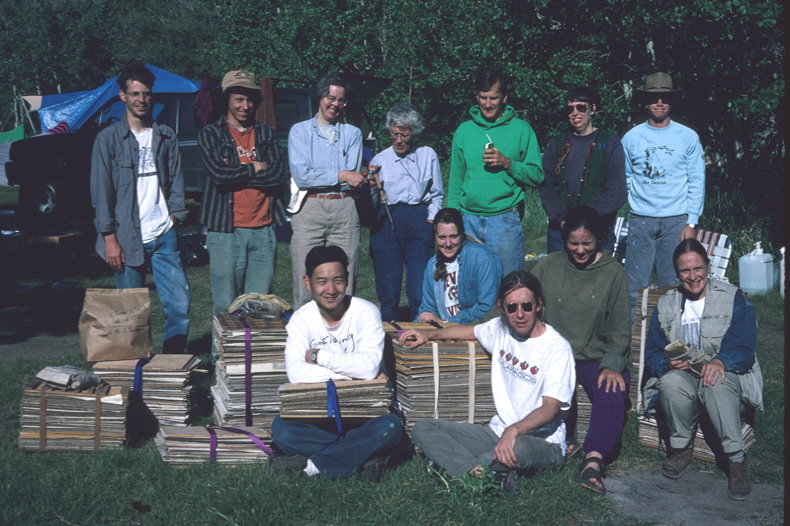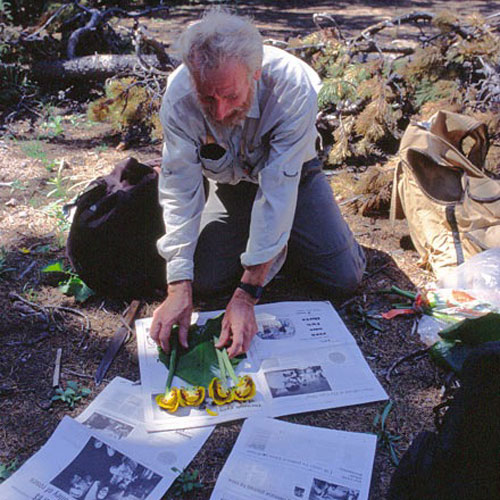 Fred Weinmann pressing yellow pond lily, Nuphar polysepala.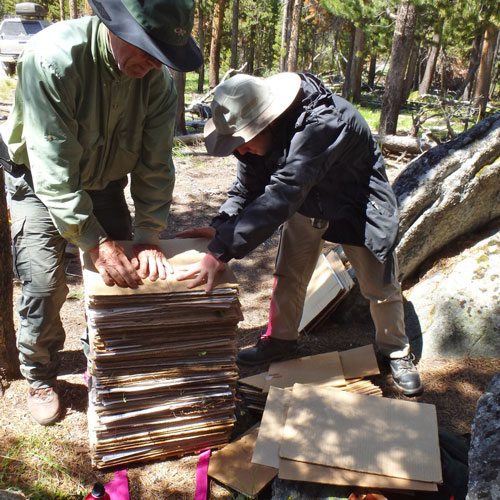 Doug Williams and Alex Harkness build a plant press at Big Hole River, Montana, in 2014.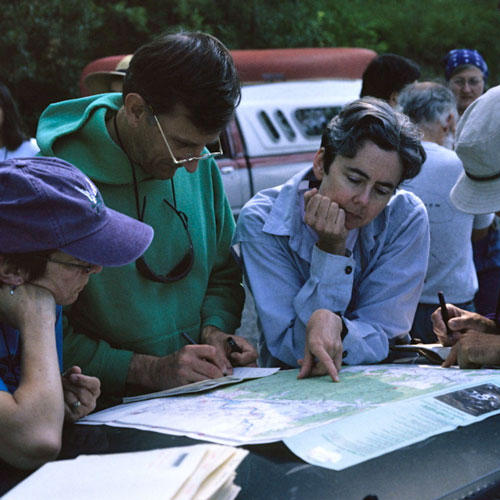 Robert Goff and former Plants & Fungi Collections Manager Sarah Gage plan where to collect for the day in the late 1990s.
Sheila Olmstead pressing shrub honeysuckle (Lonicera involucrata).
A total of 172 individuals have joined our "community" by participating in forays and over 12,000 specimens have been collected, most of them in triplicate for exchange with other herbaria. Collecting and documenting our regional flora has once again become an important mission of the Herbarium, with growth rates comparable to those of the Hitchcock years.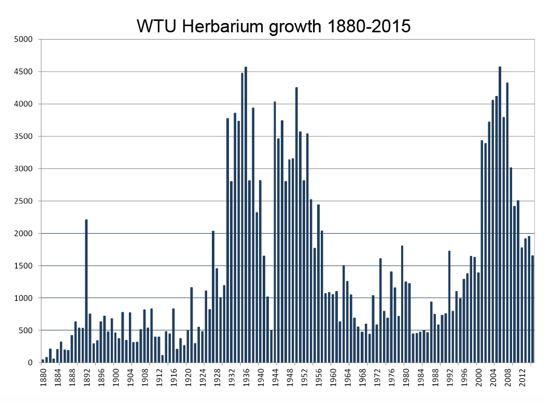 The development of a specimen database (subsequently integrated into a regional Consortium of Pacific Northwest Herbaria data portal) and an image library (with over 56,000 photos, species descriptions, and range maps) has led to a project to revise Hitchcock & Cronquist's Vascular Flora of the Pacific Northwest with an anticipated publication date in 2018.
The Foray has grown and matured in those 20 years, but its mission remains the same, and I look forward to the next 20 years of documenting our regional flora and finding new ways that information about the plants we collect for the Herbarium can be applied to both scientific research and projects that benefit the public.
___
Watch Richard's presentation about the 20th year of the Herbarium Foray Program here.
___
*Collections database funding supported by the Washington State Department of Natural Resources (DNR) and the National Science Foundation (NSF).