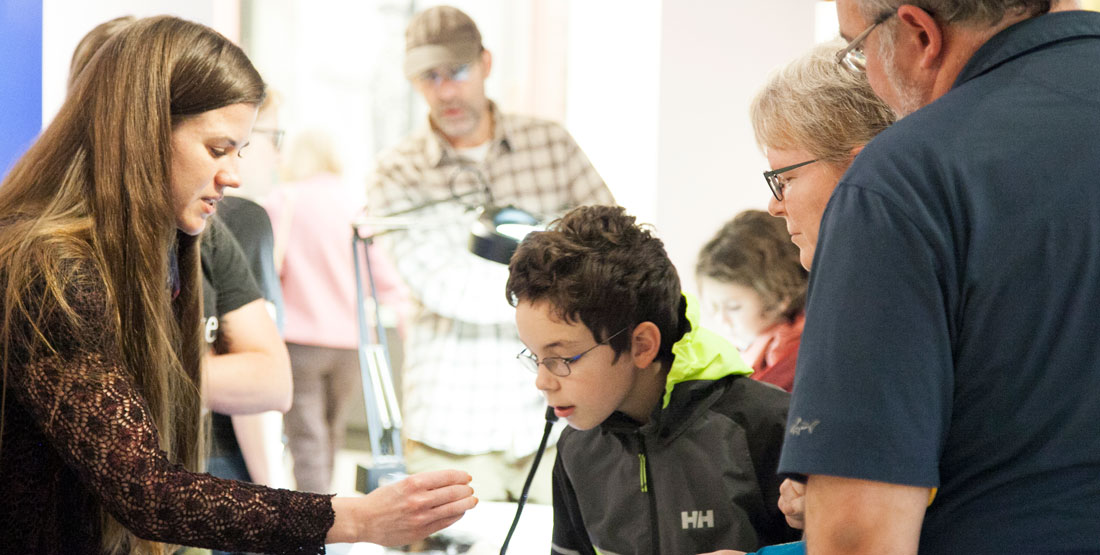 How far in advance should I book a BurkeMobile program?
Reservations for BurkeMobile programs must be made a minimum of three (3) weeks in advance. However, groups are encouraged to book as far in advance as possible. 
Reservations for the current school year are taken on an ongoing basis. Reservations for the following school year open on June 1. 
How many students can participate in an Early Learners Program?
Early Learners Programs can accommodate a maximum of 24 students per 45-minute lesson. A maximum of six (6) back-to-back lessons can be booked in a single day. 
How do Mini Museum Programs work?
Each Mini Museum Program can be booked for an In-School Experience or a Community Event such as a STEM night, library program, or a family night. Only one Mini Museum program can be booked per visit. COVID-19 safety protocols are in place in addition to following the hosting organization's protocols. 
The In-School Experience provides school classes a structured exploration of the mini museum, facilitated by Burke educators. The length of time the mini museum will run depends on the number of students you wish to participate. Program time will be broken into 45-minute exploration blocks for each class or group of students in which groups of students will visit the Mini Museum. A maximum of six (6) exploration blocks can be scheduled in a day. Mini Museum programs can be booked for multiple days if needed.
The Community Event provides participants a drop-in style exploration of the mini museum for 2-3 hours. Burke educators are present to help participants engage with the exhibits. BurkeMobile has no limit on the number of people that can participate in the program during the 2-3 hour time period, however, please keep in mind the restrictions on total occupancy for your particular space.
What type of space is required for a BurkeMobile visit?
Early Learners programs require: a designated room with tables, chairs and a carpet or storytelling area. 
Mini Museum programs require:  
a dedicated space for the full duration of the program. 

6-8 six-foot tables. 

at least 600 square feet of open space. 
access to an electrical outlet. 
How much does BurkeMobile cost?
Pricing for BurkeMobile programs is based on location, number of participants, and includes travel. Below are pricing ranges by region and program type: 
In Kitsap, Pierce & Snohomish Counties 
Early Learners: $350–$600 
In all other counties (includes overnight travel) 
Early Learners: $850–$1,250 

Mini Museum: $900–$3,100 
For an exact quote prior to making a reservation, please Contact us. 
Do you offer cost assistance or scholarships?
Yes! Our generous donors make it possible for us to offer cost assistance to schools and programs across the state. To apply, please select 'Yes' and fill out the section titled 'Cost Assistance Request?' in the BurkeMobile Request Form. 
How early can BurkeMobile programs start?
The earliest that programs can be scheduled is 8:30 am. BurkeMobile educators will need to arrive earlier in order to have enough time to set-up before teaching the program. Set-up time required depends on the type of program. 
Can I make changes to my program?
Yes, if you need to change or cancel a reservation, please call the Education office at 206.543.5591 or email burked@uw.edu as soon as possible. 
Cancellations must be made a minimum of two weeks before the BurkeMobile visit for a refund. Cancellations made with less than two weeks' notice will be charged the full fee. 
How do BurkeMobile reservations work?
BurkeMobile programs require a minimum of three weeks advance booking, and can be scheduled beginning June 1 for the following school year.
If you have any questions about our programs, please contact us via email or by phone before submitting a request. When you're ready, you can submit your request via our online form. 
Once we have received your request, we will respond within three (3) business days with more information. If we can accommodate your request, you will receive an email with your reservation details and a link to accept or decline the reservation. If we are unable to accommodate your request, we will contact you to discuss alternative dates or options. 
Once your program is finalized, you will receive an invoice and a packet of pre-visit information via email. You can pay for your program by check, credit card or purchase order. Payment is due on or before the date of your program. If you choose to pay by credit card, you can do so via our online portal. You will receive a link to this portal when you confirm your reservation. 
Please note: 
Placing a hold on a tentative date and time will hold your program for one week. If you do not confirm your program within one week of placing a hold, your hold will be released. 

Cancellation for school programs must be made two weeks in advance in order to receive a refund. Efforts will be made to reschedule your program if you must cancel within two weeks prior to your program, but refunds cannot be offered.