Robin Lovelace in the Artist Studio
Date & Time
Friday, November 26
10 AM – 12 PM
12:30–3:30 PM
This event is in the past.
Location
transparent
4300 15th Ave NE
Seattle, WA, United States
0
0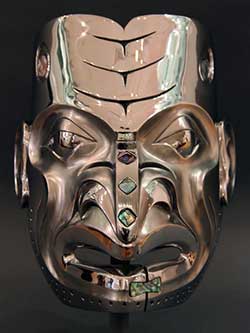 Tlingit artist Robin Lovelace will be working on her recent carving projects in the Artist Studio.
Stop by and learn more about her work!
About the Robin Lovelace
Robin has spent over 20 years researching, apprenticing, and collaborating with many of the finest Northwest Coast and International artists. Robin has received much acclaim and many awards for her groundbreaking works in mixed media, including hardwoods, stainless steel, bronze, copper, and stone.
Although Robin was born in Sitka Alaska she spent most of her formative years in Anchorage, and has family ties on both sides of the US/Canadian border. Lovelace traces her matrilineal roots to the Headwaters of both the Taku river and the Yukon. Robin is a proud member of the Carcross Tagish First Nation where she currently sits on the executive council for the Yanyedi clan or wolf clan.
Robin currently lives and works in Seattle with her son.
Robin Lovelace sees and hears clues everywhere in the art and cultural tradition of her Tlingit and Tagish forebears. While Lovelace recognizes and honors tradition, she feels that it's vitally important for Northwest Coast art to be viewed as highly evolved and ever-progressing.
"My artwork is a vital part of my own self-determination and I create objects of power and cultural-wealth to foster my people's indigenous pride," says Lovelace. "It's my goal and desire to pass down this knowledge and skill to future generations."
Image: Predator Cannibal, Robin Lovelace, 2011. Cast in stainless steel with abalone.