Cruisin' to Alaska: Ray Troll's Studio & Dino Draw-along
Illustration: Cruisin' the Eternal Coastline, 2016, Ray Troll
Illustration: Cruisin' the Eternal Coastline, 2016, Ray Troll
Date & Time
Friday, February 12
5:30–6:30 PM PT
This event is in the past.
Tickets
Registration is required.
General admission: $5
FREE for Burke members.
Not a member? Join today.
Meet Ray Troll, the artist behind our new exhibit, Cruisin' the Fossil Coastline!
We're kicking off a new virtual event series about our new exhibit, Cruisin' the Fossil Coastline. Travel virtually to Ketchikan, Alaska, where you'll get a peek inside his studio, learn about his creative process while drawing dinosaurs with him, and even get a chance to ask him questions in a live Q&A.
Draw-along: Recommended art materials and where to find them
During the Draw-along, Ray will teach you to think in reverse as he introduces his unique drawing technique, which is about drawing the light instead of the shadows as we usually do. For this, he recommends picking up special paper and crayons—check out the links below for more information and where to find them. 
You certainly don't need to have the special art supplies on hand to participate in the Draw-along! In a pinch, you can use what you might have lying around the house by substituting black construction paper and colored pencils or oil or chalk pastels.  
Recommended paper: Black Canson Mi-Teintes paper, 19"x25"
Black paper is important, as you'll be drawing the light!
Black Arches, Black Stonehenge or Strathmore Coal Black paper also work well with this technique.
Recommended crayons: Caran d'Ache Neocolor crayons
These highly pigmented, professional water-soluble crayons look great on dark paper.
Both the water-based Neocolor II and oil-based Neocolor I wax crayons will work beautifully.
One white colored pencil for sketching in your composition.
Where to find the art supplies:
For Seattle locals, check out University Book Store! Supplies are limited so we recommend calling before placing your order or stopping by the store: 206.634.3400.

Supplies from University Book Store:
Black paper

For our far away friends, try your neighborhood art store or favorite online retailer. Blick Art Materials offers both the black paper and crayons in their online shop, and ships nationwide!

Supplies from Blick:
Black paper

Neocolor II crayons (water-based)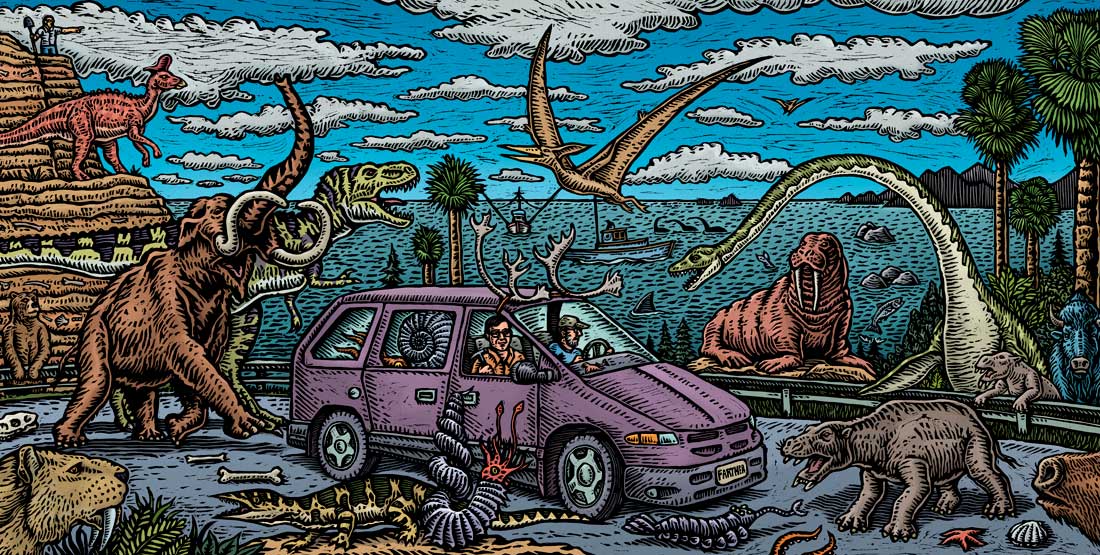 Image: Cruisin' the Eternal Coastline II, 2016, Ray Troll
Image: Cruisin' the Eternal Coastline II, 2016, Ray Troll
About Cruisin' the Fossil Coastline
Uncover the diverse fossil bouquets of Republic, Seattle's ice age make-over, and more. Curated by paleontologist Kirk Johnson and artist Ray Troll, Cruisin' features life-size sculptures and models, images of prehistoric creatures and real fossils along with paintings, drawings and a light and audio installation. Step into a world where fossils come to life.