Community Storytime with Mr. D
Photo courtesy The Unspoken Truths
Photo courtesy The Unspoken Truths
Date & Time
Saturday, February 27
10 AM PT
This event is in the past.
Tickets
Pay-what-you-wish admission;
Registration is required.
Ask questions and join this lively discussion for families of all ages!
Join the national award-winning museum The Unspoken Truths Founder Mr. D (Delbert Richardson) and Burke Museum Education Director Dr. Alvin Logan for a special virtual program sharing the unspoken truths of Black contributions to STEM since Time Immemorial. See Dr. Logan live in the Burke's African collections as he takes a closer look at wood, terracotta, and metal pieces with Mr. D over Zoom.
Pay-what-you-wish to support this and future Burke programs. Everyone is welcome; no one will be turned away for lack of funds.
Please note: Those 13 or younger must be registered by, and accompanied "to" the event by an adult.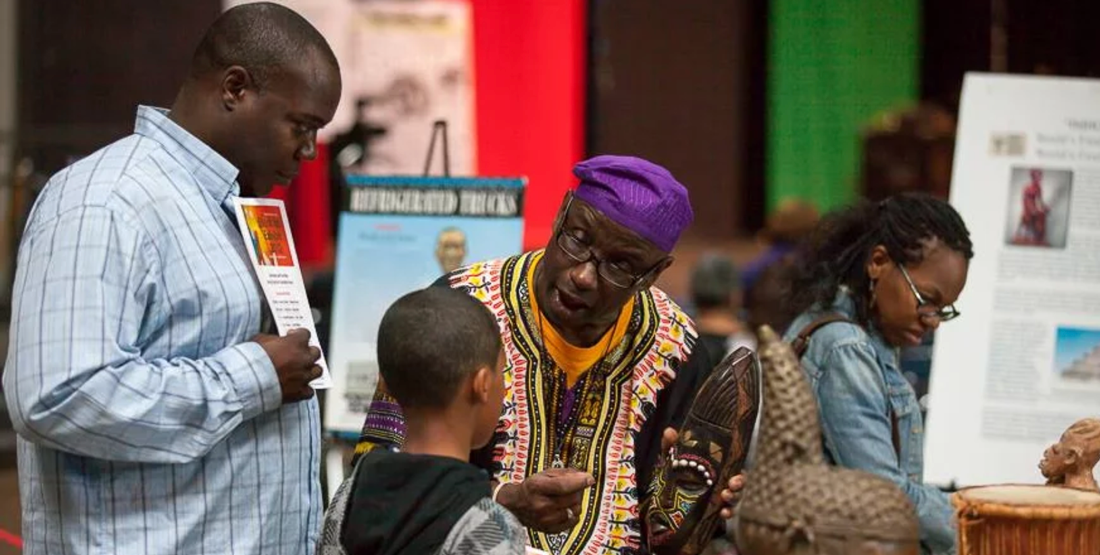 Image: Courtesy The Unspoken Truths
Image: Courtesy The Unspoken Truths
Delbert Richardson, Founder, The Unspoken Truths Traveling Museum
Mr. Delbert Richardson is a Community Scholar, Ethnomuseumologist, and Second Generation Storyteller, of the National Awarding Winning American History Traveling Museum: The "Unspoken" Truths.  With the use of authentic artifacts, storyboards, and the ancient art of "storytelling", Mr. Richardson teaches "American History" through an afrocentric lens. His work is broken into four sections: Mother Africa: which focuses on the many contributions by Africans in the area of science, technology engineering, and mathematics (S.T.E.M.), American Chattel Slavery: the brutal treatment and psychological impacts on African Americans of the Diaspora, The Jim Crow era: The racial caste system that focused on the creation and enforcement of legalized segregation, and Stil We Rise: which focuses on the many contributions in the Americas; Black inventors/inventions.
Mr. Richardson's work is primarily geared towards grade K–12 students as well as professional development training for (primarily) white female teachers that make up over 79% of the national teaching force. D.E.I. (diversity/equity/inclusion) training is also a part of Mr. Richardson's portfolio.
Awards:
2013 National Campus Compact Newman Fellows Award
2017 National Education Assoc. (NEA) Human and Civil Rights Award
2019 Seattle Mayor Arts Award
2019 Seattle Crosscut Courage in Culture Award
2020 Assoc. of King County Org. (AKCHO) Heritage Education Award
2020–2021 National Marquis Who's Who Award
Dr. Alvin Logan, Director of Education, Burke Museum of Natural History and Culture
Dr. Logan was raised in Denver, Colorado, but his lineage takes him back to Ghana and Cameroon. He has been an educator for over seven years, including teaching preservice teachers and seasoned educational administrators. Dr. Logan is the son of two educators and previous collegiate athletes. As a two-time UW graduate ('12 & '13), Dr. Logan returned to the Pacific Northwest after earning his PhD in Cultural Studies in Education at the University of Texas at Austin. Dr. Logan has a track record of building support systems to catalyze learning for marginalized communities from middle school to graduate school. Dr. Logan's focus on culturally relevant pedagogical approaches, decolonization, and multicultural curriculum development brought him to join the leadership team at the Burke. Having attended multiple types of schools in his educational and professional journey, he has garnered a plethora of experiences and knowledge necessary to effectively enhance informal education and leadership.