Volcanic Islands Approach the Northwest Coast
Looking westward from Spokane or Pullman 195 million years ago, you would have had a sweeping view of endless ocean, or at least so it would have appeared. Some 800 to 1000 miles out to sea, however, changes loomed on the horizon.
A giant island chain, 600 to 800 miles long, rode atop a small fragment of the Farallon Plate called the Intermontane Microplate. These islands were an active volcanic chain known as the Intermontane Volcanic Islands.  "Intermontane" is a French word meaning "between the mountains."    The rocks of the Intermontane Islands eventually ended up between the Rocky Mountains and the Cascade Mountains, thereby earning their name. 195 million years ago, the Intermontane Islands were distant, exotic lands on a collision course with the Pacific Northwest.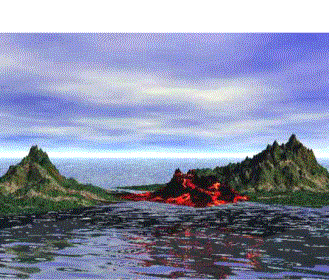 Artist's conception of the Intermontane Volcanic Islands
approaching the distant margin of Washington 195 million
years ago. (Image:  C. L. Townsend)