The Cascade Arc
Over the last 37 million years, the Cascade Arc has been erupting a chain of volcanoes along the trace of the modern Cascade Range in Washington and British Columbia. To the south of Snoqualmie Pass, the remnants of those volcanoes are the dominant rock of the modern Cascades. A good example is the large Ohanapacosh Formation, which underlies much of the area around Mt. Rainier. To the north of Snoqualmie Pass, owing to greater uplift, the surface volcanoes have long since been eroded away. Here, the plutonic ìrootsî of those volcanoes outcrop in the large Chilliwack Batholith, the smaller Cloudy Pass Pluton, and the Snoqualmie Batholith, among others. In Oligocene and Miocene time, these probably supported large surface volcanoes.
It is important to realize that that the accumulation of these Cascade Arc volcanic and plutonic rocks is not the origin of the modern Cascade Range. The modern range is a much younger feature dating from only the last 5-7 million years. The volcanoes of the Cascade Arc before that time occupied positions along a divide of only modest relief, one that did not constitute a major weather barrier. The old volcanoes left us quite a geologic record, however: Mudflows off these old volcanoes appear in the ~ 25 million year old (Miocene) Blakely Formation around Issaquah, and in the Ellensburg Formation (of roughly the same age) on the other side of the modern range. To the west, the Olympic Peninsula region remained below sea level until at least mid to late Miocene time, perhaps 15-20 million years ago.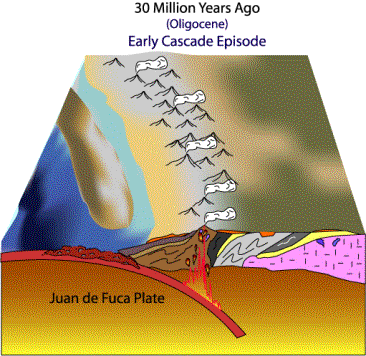 The Farallon Plate finally reclaimed dominance in the Pacific Northwest after the Kula Plate fragmented.The last remnant of the Farallon Plate, now called the Juan de Fuca Plate after a Spanish explorer, began subducting along the western margin of Washington. Melting of the Juan de Fuca Plate at depth intruded magma into the continental margin to form the Cascade Arc. The îblobî of volcanic rock riding on the top of the Juan de Fuca plate is the Crescent Basalt, unsuccessfully trying to subduct beneath the continent. These rocks were uplifted to form the Olympic Mountains.