Like the earlier accretion of the Intermontane Belt, the collision of the Insular Islands with the edge of the continent was a dramatic affair. The rocks of the Intermontane Belt along the old continental margin were once again crushed by compression, folding and fracturing.
In the Insular Belt itself, and particularly in the remaining fragments of the Bridge River Ocean, deformation was even more extensive. As in the accretion of the Intermontane Belt 60 million years before, these rocks were crushed, folded and stacked together to form a thick "welt" along the new edge of the continent.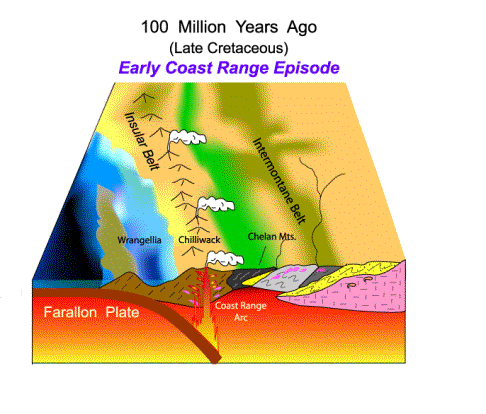 As the Insular Volcanic Islands collided with the Pacific Northwest, the old subduction zone of the Insular Plate jammed and shut down entirely.  The descending Farallon Plate took over as the active subduction zone.  As molten rock from the Farallon Plate rose upward through the accreted Insular Belt, the Coast Range Arc intruded molten granitic rocks to form the Coast Range Mountains from Washington to Alaska.