The Great Tectonic Plates
The rigid lithospheric plates differ in size, direction of motion, and in the type of crustal rocks included in the plate.  Some plates (such as the Pacific Plate) are completely covered by oceans and are made of oceanic crust.   Other plates (such as the North American Plate) carry continents and adjoining pieces of the ocean floor.
The tectonic plates move ponderously about the Earth's surface about as fast as your hair grows.  Convection cells operating within the mantle power their motion.  The entire jigsaw puzzle of plates interconnects at a global scale, and no single plate can move without affecting its neighbors.  As we'll see, the activity of one plate can profoundly change the behavior of other plates on opposite sides of the Earth.   
The map below shows the global distribution of lithospheric plates.  Notice how the North American plate includes both continental rocks and oceanic rocks of the Atlantic Ocean.  The Pacific Plate, in contrast, carries only oceanic crust.
 Closer to home, notice the Juan de Fuca Plate offshore of Washington and the Cocos Plate adjacent to Mexico and Central America.  As we'll see, the Juan de Fuca and Cocos plates are the last remnants of a once huge oceanic plate (called the Farallon Plate) largely destroyed beneath the North American continent.  The Farallon Plate and its descendants played a major role in the geologic evolution of Washington and the Pacific Northwest.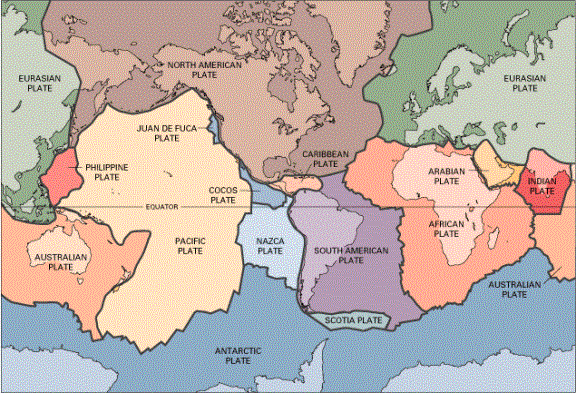 Distribution of the major lithospheric plates of the Earth.  These plates move ponderously about the globe, powered by convection in the underlying asthenosphere.  (Image:  USGS)
Plate Boundaries
There are three types of boundaries between the tectonic plates:
1) Divergent boundaries – mid-ocean spreading ridges that generate new oceanic crust.  Because the plates are pulling apart, these are "extensional" boundaries.
2) Convergent boundaries -- where lithosphere one lithospheric plate dives under another in a process called subduction.  These are "compressional" boundaries. 
3) Transform boundaries -- where plates slide horizontally past each other along giant faults.  California's San Andreas fault is the best-known transform plate boundary.