Cultural Theft in Twilight
The Quileute wolf pack is integral to the Twilight story, yet the Quileute Tribe has not received any of the billions of dollars of profit garnered by Stephenie Meyer, Summit Entertainment, and the many retail companies selling Twilight merchandise. Those profiting have avoided any legal claims, but the misrepresentation and misappropriation of Quileute culture causes deep ethical concerns.
Redefining a Culture on Her Terms
The most salient offense of misrepresenting Quileute culture is Meyer's fabrication of a fictional origin story. In Eclipse, Billy tells of Kaheleha, "the first great Spirit Chief in [Quileute] history," who used magical animal shape shifting powers to defend Quileute land (Eclipse, 245). The true Quileute origin story differs greatly, wherein Qwati transforms the first Quileute people from wolves.
Such an incorrect representation of Quileute origins is tantamount to altering the creation story of the Judeo-Christian world, and unlike the common knowledge of Genesis, it is a further affront in this instance because the Quileute origin story is relatively unknown. In presenting a real tribe to the far reaches of Twilight's mass popularity, Meyer has unjustly rewritten Quileute identity into that of magical werewolves.
Everyone Profits Except the Quileute
Summit Entertainment and the ensuing merchandising surrounding The Twilight Saga add insult to Meyer's injury, not only in visually manifesting and reinforcing the misrepresentation of Quileute traditions, but also in misappropriating Native art in the wolf pack tattoo.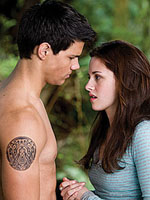 The tattoo, seen on the sculpted shoulders of all the wolf pack boys in the Twilight movies, may not be grounds for visual copyright, as Summit Entertainment hired Canadian artist Lesza Snowdon to design the tattoo, but it does exemplify abuses of cultural appropriation. After visiting La Push and hearing a story about twinning wolves representing strength and solidarity, production designer David Brisbin passed the story on to Snowdon who then featured two wolves in the tattoo.
In addition to appropriating Quileute stories to create the narrative symbolic to the tattoo, Snowdon artistically appropriates Native graphic arts in her tattoo design. Particularly drawing from the Haida form-line style, the tattoo not only takes from Quileute oral traditions, but also does a disservice to all Northwest Coast tribes as it confuses and alters their rich and varied visual culture.
With the pervasiveness of Twilight merchandise at retailers like Dazzled by Twilight, Nordstrom, and Hot Topic, the tattoo has become visually synonymous with the Quileute, all without any approval given or royalties earned by the actual tribe.