As part of the exhibit, Wildlife Photographer of the Year, a number of events were set to celebrate both the delicacy and the drama of the natural world. The Burke Museum brought together the art of wildlife photography with the science of wildlife research in the following events:

The Living Wild with Photographer Art Wolfe
Sat., July 22, 2006 10:30 am
This slide-illustrated talk is a celebration of wildlife worldwide. Through lavish photographs visitors learned about the present and future status of the Earth's wildlife and wildlife habitats. The talk covers more than 140 species, ranging from jaguars to Bengal tigers and mountain gorillas to giant pandas from as far away as Antarctica to the high Canadian Arctic.


Family Day: Meet the Mammals
Sat., August 5, 2006, 10 am – 4 pm
Visitors joined Burke staff, including Curator of Mammals Professor Jim Kenagy, for interactive demonstrations, hands-on activities, and illustrated presentations designed to bring the power of nature and the diversity of wildlife to a family audience.

Wanderings a film by Robert Chrestensen
Now – September 4, 2006
Wanderings was filmed in Washington's legendary Enchantment Lakes Wilderness. It is a nature film portraying the essence of a unique environment through stunning imagery, a captivating soundtrack by acclaimed Northwest talent Hanz Araki, and lyrical words that send a heartfelt message for preservation.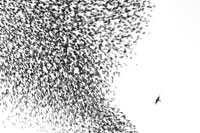 Manuel Presti