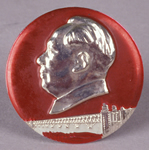 > View Large <
BADGES
Everyone wore Mao badges. There was a brisk trade in badges from different places with different motifs. In general, Mao faces left on badges, symbolizing the leftist movement. On these five badges, look for:
Sunflowers (which always face the sun of Mao)

Nanjing Bridge, a major structure completed in 1968

Tiananmen Gate (Gate of Heavenly Peace), the political center of China

Revolutionary peoples of Africa, Asia, and Latin America raise their adoring hands to Mao.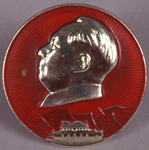 > View Large <