Send Your Daughter to Become a Peasant
An army officer and his wife help their daughter pack for life in the
countryside.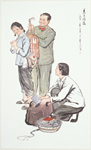 > View Large <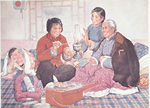 > View Large <
Auntie's Recovered
A young urban woman who settled in the countryside has become a "barefoot doctor," who provides basic medical care to the peasants. She is treating Auntie.