On August 8, 1914, four days after the First World War began, Shackleton and his crew of seamen and scientists set sail on the Endurance from Plymouth, England. They would not be heard from again for nearly two years.

It was a particularly cold season and the pack ice of the Antarctic Weddell Sea extended further north than anyone could remember. The Endurance attempted to navigate through the pack ice to its intended landfall. Just one day's sail from the Antarctic continent, temperatures plummeted and the ship was trapped. Frozen fast for ten months, the Endurance was eventually crushed by ice pressure. Shackleton and the 28 crew members were forced to abandon ship on October 27, 1915. They were stranded on the ice.


After five months of exposure and a lifeboat escape to desolate Elephant Island, Shackleton recognized their increasingly desperate situation. Rather than endure yet another Antarctic winter with little shelter and less food, he took a bold gamble. On April 24, 1916, he and five crewmen set forth in the 22-foot

James Caird

, braving 70-foot waves and 800 miles of treacherous Antarctic seas to reach South Georgia Island. They landed safely 17 days later, having achieved what is widely considered one of the greatest boat journeys in maritime history.

Unfortunately, the only help was at Stromness Station—still 150 miles away by sea, or 22 miles over rugged, uncharted mountains. With two of his men, Shackleton trekked for 36 hours in flimsy clothing and worn boots with only screws from the

Caird

driven through the soles for traction. When they finally arrived, they were greeted with disbelief and awe.

Within hours, a ship was dispatched to collect the rest of the

Caird

party. But it would take three failed attempts and more than three months to finally rescue the men left behind on Elephant Island. Finally, on August 30, 1916, the trawler

Yelcho

made it to Elephant Island and retrieved the stranded men. On September 3, the

Yelcho

arrived, with Shackleton and his entire crew, in Punta Arenas, Chile. All 28 men had survived the grueling 22-month odyssey.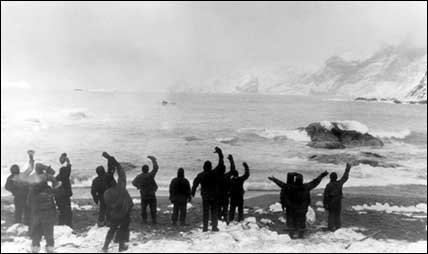 Epilogue

Shackleton himself best expressed the enormity and ferocity of the adventure: "Not a life lost, and we have been through Hell."

Shackleton returned to a world still torn by World War I. Some of the crewmen who had survived two years in the Antarctic were soon killed in the fighting. Shackleton himself set out to pick up the pieces of the other half of his expedition: the Ross Sea depot-laying party in the Aurora, who were to have aided the trekkers walking across the continent. Like the men of the Endurance, they were caught in the horrific pack ice of that year.

In 1921, Shackleton set out again for Antarctica in the Quest, in the company of several hands from the Endurance. He died of a massive heart attack January 5, 1922, on South Georgia Island, where he was buried with all honor.

Today, Shackleton is revered as a leader who not only put his crew's welfare before personal glory, but who, as author Caroline Alexander puts it, "elicited from his men strength and endurance they had never imagined they possesssed."





Links and book list about Shackleton and Antarctica
Buy books about Shackleton

Back