A message from Julie K. Stein, Executive Director of the Burke Museum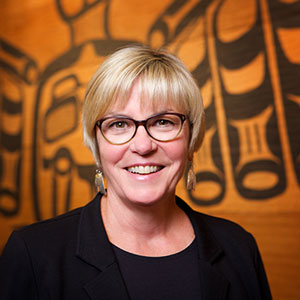 Photo: Richard Brown Photography
Photo: Richard Brown Photography
When we selected Metamorphosis as the theme for our Spring Gala, we were thinking about all the changes that the Burke Museum has gone through in the past year as we opened a very new kind of museum to the community. But right around the time the event invitations dropped in the mail, everything changed with the arrival of COVID-19. 
Cancelling an event in the midst of the crisis is not a difficult decision to make. It is simply the right thing for the health and safety of our community. But when the event is our signature annual fundraiser, we must still consider how to raise the funds that enable the Burke to serve its many audiences—from K–12 students to artists to researchers and members of the general public, all of whom were just getting to know the New Burke since we opened in October 2019. As we now navigate running a museum and serving the public while our doors are temporarily closed, your support is more important than ever.
Please consider making a gift in support of the Burke Museum. Thank you for your support of the Burke Museum and our community.
YES, I WILL SUPPORT THE BURKE!
To make a gift, please contact Bryndis Jonsson at (206) 543-0421 or bjonsson@uw.edu.
2020 Spring Gala Committee
Alicechandra Fritz, Chair; Mary Dunnam, Cezanne Garcia, Indira Gillingham, Kristin Luttinen
Questions:
Bryndis Jonsson
206.543.0421
bjonsson@uw.edu
With deep gratitude, we recognize our sponsors
The National Award Winning The "Unspoken Truths" American History Traveling Museum
Individual Sponsors
Nancy & Craig Abramson
Kym Aughtry
Luther Black & C. Christina Wright
Greg & Paula Blume
Beatrice & William Booth
Linda & Frank Bothwell
Casey Bradshaw
Michael & Sarah Bruemmer
Tom & Sonya Campion
Helen Carlson & Paul Nicholson
Walt & Maggie Carr
Ross & Julie Case
Christine Charbonneau
Jon & Joan Christoffersen
Robert Colwell
Valerie Conn
Elizabeth Coppinger
George & Anne Counts
John Creighton III
Anne Delaney & Brad Bashaw
Richelle & Tom Dickerson
Sandra Dunn
Mary & Jim Dunnam
Carol & Russell Faucett
Ellen Ferguson
Micki & Bob Flowers
Alicechandra Fritz & Jeff Hazeltine
Kai Fujita
Cezanne Garcia & David Grossman
David Giblin
Indira Gillingham
Peggy Glick
Bert Green & Alexandra Brookshire
Sven & Balika Haakanson
Marie & Fred Halverson
Judith Hance
Michele Hasson
Elise Hebb
Sydnie Heberling & Dustin Ruh
Mary Hotchkiss
Chris Hurley & Marlys Erickson
Ron & Gail Irving 
Arthur & Glenda Israel
Hunter Jeffers & Lauren Cascio
Sally & Warren Jewell
Jones Family Foundation
H. David Kaplan
John Kincaid
Nicole Klein
Martha Kongsgaard & Peter Goldman
Betsy Lieberman & Richard Groomer
John & Karen Loeser
Ellen Look & Tony Cavalieri
Kristin & Scott Luttinen
Molly & Gary Madson
Ed & Linda Marcuse
Katie Bunn-Marcuse & Andrew Marcuse
Ruth Martin
Russ & Tobae McDuff
Joseph & Jill McKinstry
Doug & Thelma McTavish
Alison & Glen Milliman
Donald & Pamela Mitchell
Elizabeth Mooney
Bob & Rita Moore
Lynn Pigott Mowe & Steven Mowe
John Mullen
Gene & Martha Nester
Shannon Nichol & Travis Godbout
Anna & Kevin O'Donnell
Jim & Mariette O'Donnell
Tracy & Todd Ostrem
Kisha X. Palmer
Darcy & Enzo Paschino
Jenna Pieczonka
Mary Pigott
John & Susan Pohl
Susan & Bill Potts
John & Joyce Price
Patricia Radeke
Suzanne Ragen
Michelle Reichelt
Brent & Heidi Reys
Norman & Constance Rice
Kate Roosevelt & Caroline Maillard
Robert & Martha Sander
Briana Mordick Schmidt
Jennifer Schubert
George & Laurie Schuchart
Jeff Sconyers & Debra Godfrey
Brian Screnar
Christian Sidor & Kristina Lin
Spencer & Patricia Smith
Robert & Robin Stacey
Julie K. Stein & Stan Chernicoff
Kirk & Jennifer Stephens
Philip Stoiber
Hally Swift & Eric Strandberg
Barbara Thompson & Tim Malone
Natalie Thompson
Judy Tobin & Michael Baker
Stephanie Toothman
Brian Vautour
Margaret K. Walker
Marilyn Wandrey
Robert & Juanita Watt
Bob Wiley
Rebecca Wilson
Sylvia Wolf & Duane Schular
Wyman Youth Trust
Sharon & Stephen Yamada-Heidner
Melissa Yeager
Erin Younger & Ed Liebow