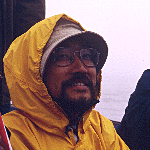 HIDEKI TAKAHASHI
Hide@A1.hines.hokudai.ac.jp
TITLE:
Associate Professor, Botanic Garden, Faculty of Agriculture, Hokkaido University, Sapporo 060, Japan
EDUCATION:
B.S., Botany, Faculty of Science, Tohoku University, 1976
M.S., Botany, Graduate School of Science, Tohoku University, 1978
Ph.D., Botany, Graduate School of Science, Tohoku University, 1981
POSITIONS:
Research Associate, Hokkaido University, 1981-1989
Associate Professor, Hokkaido University, 1989-present
CURRENT AFFILIATIONS:
Botanical Society of Japan, Japan Society of Plant Taxonomists, Ecological Society of Japan, Palynological Society of Japan, Botanical Society of America, International Association for Plant Taxonomy
FIELD EXPERIENCE:
Extensive field work throughout Japan, especially the northern island of Hokkaido since the early 1980s; overseas collecting expeditions include the following: plants of Korea, 1986 and 1987; plants of Scandivania, 1989; three field seasons collecting plants in Yakutia, east Siberia, 1992-1994.
PUBLICATIONS:
Since 1979, 61 scientific publications on the systematics, pollen morphology, and distribution of vascular plants.
Five publications most relevant to the present proposal:
Haber, E. and H. TAKAHASHI. 1988. A comparative study of the North American Pyrola asarifolia and its Asian vicariad, P. incarnata (Ericaceae). Bot. Mag. Tokyo 101: 483-495.

TAKAHASHI, H. and E. Haber. 1992. Morphological variability of Pyrola minor in Sweden, Asia, and America. Journ. Fac. Agr. Hokkaido Univ. 65: 275-287.

Haber, E. and H. TAKAHASHI. 1993. Taxonomic status of the east Asian Pyrola faurieana (Ericaceae). Journ. Jap. Bot. 68: 8-22.

TAKAHASHI, H. and T. Sato, N. G. Solomonov and B. I. Ivanov. 1994. Phytogeographic notes on aquatic plants in Yakutia, eatern Siberia. Acta Phytotax. Geobot. 45: 111-118.

TAKAHASHI, H. 1994. Phytogeography of vascular plants in Yakutia (Sakba). Proc. Jap. Soc. Pl. Tax. 10: 21-33.