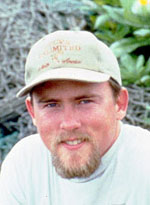 DUANE E. STEVENSON
des@fish.washington.edu
TITLE:
Graduate student, Ph.D Program, School of Aquatic and Fishery Sciences, Box 355100, University of Washington, Seattle, WA 98195, U.S.A.
EDUCATION:
M.S. (Marine Biology) University of Charleston, S.C., 1996
B.A. (Biology) Washington & Jefferson College, Washington, PA, 1993
POSITIONS:
Research Assistant, University of Washington, June 1997-present
Research Assistant, South Carolina Dept. of Natural Resources, June 1994-September 1996
Teaching Assistant, College of Charleston, General Biology, September 1993-June 1994
Resource Assistant, U.S. Fish and Wildlife Service, Kenai, Alaska, May 1993-August 1993
Teaching Assistant, Wash. & Jeff. College, Introductory Botany, February 1993-May 1993
FIELD EXPERIENCE:
International Kuril Islands Project (IKIP): biotic survey and inventory of the Kuril Islands, 1997-9
Belize, Central America: four sampling expeditions to collect samples of large grouper species for DNA analysis, 1994-1996
R/V Palmetto: two sampling cruises to collect data for the South Carolina MARMAP program, 1994-1996
Tuluksak River, Alaska: field camp established for the collection of run timing and life history data from Pacific salmon, 1993
PUBLICATIONS:
Stevenson, D. E., R. W. Chapman, and G. R. Sedberry. 1999. Stock identification in Nassau grouper, Epinephelus striatus, using microsatellite DNA analysis. Proc. Gulf. Carib. Fish. Inst., 50: 727-749.
Stevenson, D. E. 2000. Discovery of the holotype of Chaenogobius annularis Gill (Perciformes: Gobiidae) and its taxonomic consequences. Copeia, 2000: 835-840.
Pietsch, T. W., K. Amaoka, D. E. Stevenson, E. L. MacDonald, B. K. Urbain, and J. A. López. Accepted. Freshwater fishes of the Kuril Islands and adjacent regions. Species Diversity, 52 ms. pp., 2 figs., 1 table.
Stevenson, D. E. In preparation. A complete revision of the Asian gobiid genera Gymnogobius Gill and Chaenogobius Gill (Teleostei: Perciformes).