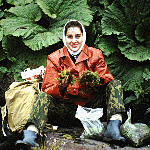 MARINA V. ILYUSHKO
zoology@ibss.marine.su
Shared email account, please include my name in the subject line.

TITLE:
Graduate Student, Department of Plant Physiology, Institute of Biology and Soil Sciences, Far East Branch, Russian Academy of Sciences, Russia.
EDUCATION:
B.S., Agronomy, Primorsky Agricultural Institute, 1994.
POSITIONS:
Primorsky Scientific-Research Institute of Agriculture, Laboratory of Biotechnology, 1994-1995.
PROFESSIONAL INTERESTS:
Ecology, taxonomy, anatomy, reproduction, and biogeography of the plants of boreal Russia, with special interest in the genus Iris Linnaeus.
FIELD EXPERIENCE:
Participant, International Kuril Island Project, 1995-1998.