Endurance
| Antarctica |
Animals
|
Survival
|
Bibliography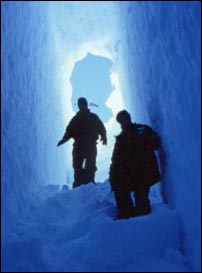 Scientific Committee on Antarctic Research
Quick overview of Antarctic research conducted by at least 18 countries. The Scientific Committee on Antarctic Research (SCAR), an interdisciplinary committee of the International Council for Science (ICSU), is charged with the initiation, promotion, and coordination of scientific research in Antarctica. It also provides scientific advice to the Antarctic Treaty System.
US Antarctic Resource Center
You will find more technical information on this site including all kinds of maps, the Atlas of Antarctic Research, and satellite images.
British Antarctic Survey
A good site for general information about Antarctica including updates on such topics as the ozone hole and glacier thinning as well as diaries of people who have overwintered there.
Educational Vacation Resources: A Guide to the Arctic
From the Uptake Blog, information on the Arctic and a large list of resources.
Live from Antarctica
Resources and K-12 classroom activities about Antarctica and background information about the Live from Antarctica project. This project inaugurated the Passport to Knowledge series of electronic field trips via public television in 1994 and 1995.
Bancroft and Arneson Expedition
Learn more about the first women, Liv Arneson and Ann Bancroft, to traverse the Antarctica land mass unaided on skis. The 2,400-mile historic journey ended February 11, 2001.