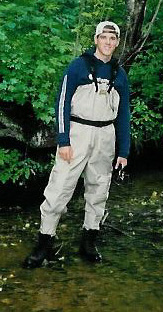 Daniel L. Garrett
TITLE:
School of Aquatic and Fishery Sciences
Box 355100, 1140 Boat Street
EDUCATION:
M.S., Fisheries, University of Washington, Seattle, WA,  In progress.
B.S., Marine Science, University of Hawaii at Hilo, May 2002
POSITIONS:
Teaching Assistant for Biology of Fishes (FISH 311) with Dr. Ted Pietsch, University of Washington. Winter 2001
RESEARCH AND FIELD EXPERIENCE:
International Sakhalin Island Project (ISIP):  biotic survey and inventory of Sakhalin Island Summer 2002
Research Assistant. University of Washington Fish Collection. Identification, preservation, and curation of fish specimens from the Northeast Pacific and Bering Sea. Autumn 2002.