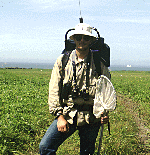 WAYNE A. PALSSON
palsswap@dfw.wa.gov
TITLE:
Fish Biologist 3, Marine Fish and Shellfish Program, Washington Department of Fish & Wildlife, 600 Capitol Way N., Olympia, WA 98501-1091, U.S.A.
EDUCATION:
A.S., Zoology, City College of San Francisco, San Francisco, 1975.
A.B., Zoology, University of California, Berkeley, CA, 1977.
M.S., Fisheries Science, University of Washington, Seattle, WA, 1984
POSITIONS:
Fish Biologist, Washington Department of Fisheries, January 1985-present
Instructor, Westem Washington University, 1985.
Fish Biologist, University of Washington, 1979, 1981, & 1984.
Research and Teaching Assistant, University of Washington, 1981- 1984.
Fisheries Biologist, National Marine Fisheries Service, 1979-1981.
CURRENT AFFILIATIONS:
American Fisheries Society, Pacific Fisheries Biologists, Westem Society of Naturalists, Gilbert Ichthyological Society, Society for the Protection of Old Fishes
PROFESSIONAL INTERESTS:
Marine Fish Biology, Stock Assessment, Recruitment Processes, Catch Estimation, Creel Survey Design, and Undersea Technology
PUBLICATIONS:
Palsson, W.A. 1991. Using creel surveys to evaluate angler success in discrete fisheries. American Fisheries Society Symposium 12:139-154.

PALSSON, W.A. and T.W. Pietsch. 1989. Revision of the acanthopterygian fish family Pegasidae (Order Gasterosteiformes). Indo-Pacific Fishes 18, 38 p.

PALSSON, W.A. 1984. Egg mortality upon natural and artificial substrata within Washington state spawning grounds of Pacific herring (Clupea harengus vallasi). M.S. Thesis, University of Washington, Seattle, WA, 191 p.

PALSSON, W. A., G. Lippert, and R. Goff. 1991. The recreational dive charter fishery in the San Juan Islands, 1979-1985. Wash. Dept. Fisheries Tech. Rep. No. 116, 74 p.

Lippert, G., W.A. PALSSON, S.G. Hulsman, and S. Hoffmann. 1991. The Puget Sound charter fishery for bottoMfish, 1986 and 1987. Wash. Dept. Fisheries Tech. Rep. No. 114, 72 p.