Events
Opening Day
Sat., September 30, 2006
10 am – 4 pm
Visitors learned to make skeleton string puppets (calaveras), paper banners (papel picado), and traditional paper marigolds. Dr. James Nason, Burke curator emeritus, and Isaac Hernández Ruiz, guest artist-in-residence, gave illustrated talks at 11 am (Nason) and 1 pm (Ruiz) on the origin, history, and contemporary significance of the practices marking this ancient tradition.
The musical group Correo Aereo, preformed traditional Mexican and Latin American music and shared information on traditional instruments.
Día de Muertos: Traditional Arts for Your Classroom
A Two-Day Teacher Workshop
Sept. 30 and Oct. 7, 2006
The first workshop on opening day, Sat., Sept. 30 began at 9:30 am with an exhibit tour by Isaac Hernández Ruiz, then a look at the museum's cultural resources for classroom use. Teachers attended two lectures and a final Q&A session. The second workshop on Sat., Oct. 7, focused on the artistic traditions of the celebration. Hands-on sessions taught how to make sand-paintings (tapetes) and paper kites from Guatemala.
In-gallery Demonstrations
Oct. 2–6 and Oct. 9–13, 2006*
11 am – 2 pm
Seattle-based Mexican artist, Isaac Hernández Ruiz, was in the Burke Museum for two weeks as artist-in-residence for this exhibition.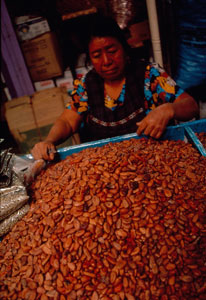 Scott Vlaun