Isaac Hernández Ruiz
Isaac Hernández Ruiz, a Mexican-born artist, has been an important cultural and artistic leader in Seattle over the last decade. With art training from the National Institute of Fine Arts in Mexico City, Hernández Ruiz uses his artistic skill and vision to encourage people of all ages to think about life through art. "Art can be a tool for education," says Hernández Ruiz, whose work and teachings inspire communities to reflect on their cultural heritages.
Hernández Ruiz is best known locally for his creative contributions to Seattle's Day of the Dead celebrations. He has contributed sand paintings (tapetes) and installations to the Burke Museum, Tacoma Art Museum, Seattle Art Museum, South Park Community Center, Cooper Elementary School, and more. He has also contributed to Seattle Center's Day of the Dead festivals, and this year, he serves as a lead organizer for the event. Hernández Ruiz's large-scale altar installation in the Burke Museum's Celebration of Souls exhibit continues this legacy of bringing authenticity to Seattle's Day of the Dead celebrations.
"It is important to me to act as a facilitator and show children how you can express yourself through art," says the artist of his work. This year the Burke Museum is proud to host Hernández Ruiz as an artist-in-residence from Oct. 2-6 and 9-13. While at the Burke Museum, Hernández Ruiz will interact with visitors in the galleries, bringing them insight into the origin and traditions of Mexican artistic styles associated with Day of the Dead.
Howard-Yana Shapiro, Ph.D.
Howard-Yana Shapiro, has been involved with sustainable agriculture and sustainable tree cropping systems for over thirty years with projects in the USA, Europe, Mexico and Latin America, South America, West Africa, and South East Asia. A two-time Ford Foundation Fellow, Fulbright Scholar, and recipient of a National Endowment for the Arts award, he has been Vice President of Agriculture for Seeds of Change, an organic seed and food company.
He farms on the banks of the Rio Grande in Northern New Mexico on land that was first farmed by the Tewa Indians then by Spanish conquistadors, and has been cultivated continuously for over 3,000 years. The farm, which includes orchards and a seed cleaning facility, has been certified organic for more than a decade.
Scott Vlaun
Scott Vlaun has studied art and photography all his life. He earned a bachelor of fine arts in photography from Portland School of Art in Maine and received his masters of fine arts in photography from the University of New Mexico. Scott has worked as a fine artist, educator, exhibition printer, and commercial photographer. He has traveled widely, documenting the movement towards sustainable agriculture and biodiversity. His photographs appear in Seeds of Change catalogs and numerous books. His commitment to sustainability and biodiversity has led him to his current post as the editor and principle photographer for the Seeds of Change electronic newsletter. He lives with his wife on a small organic farm in Otisfield, Maine where he is working on a new book about biodiversity and gardening.
Ricardo J. Garibay Ruiz
Born in Mexico City in 1960, he got started in photography in 1981 while pursuing a degree in industrial engineering. Ruiz has worked as a freelance photographer, primarily working for editorial projects with architecture, fine art reproduction, and portraits. His work has been published in magazines such as Mundo Plus, Este Pais, Mexico en el Tiempo, Artes de Mexico, and Architectural Digest Verlag. He is currently collaborating with The Field Museum and Mars, Incorporated on a project of traditional uses of cacao in Mesoamerica.
Ruiz is currently working at Laboratorio Mexicano de Imagenes, in charge of Quality Control of photographic and digital processes, as well as coordinating special and fine art projects.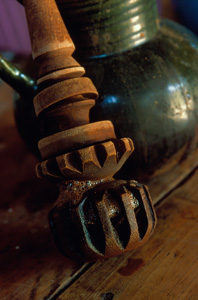 Scott Vlaun